General Management Plan and Foundation Document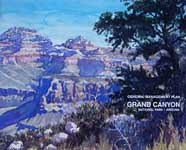 The General Management Plan for Grand Canyon National Park was developed in 1995, and it guides the management of resources, visitor use, and general development at the park. The primary purpose of the plan is to provide a foundation from which to protect park resources while providing for meaningful visitor experiences.

While the General Management Plan provides overall direction for park management, most of the specific actions needed to implement the plan are provided through subsequent planning efforts and additional management plans. It describes management objectives for undeveloped and developed areas of the park; however, the focus is on the following developed areas:
1. South Rim: Hermit's Rest, Grand Canyon Village, and Desert View
2. North Rim: Bright Angel Point and Walhalla Plateau
3. Tuweep
4. Corridor trails: primarily the Bright Angel Trail, the North and South Kaibab Trails, and the River Trail

Subsequent planning documents, such as the 2005 North Rim Development Plan and the 2008 South Rim Visitor Transportation Plan amend the General Management Plan and are available in the Portfolio of Management Plans.
Foundation Document
The document was updated in 2017 and describes the park's basic purpose, significance, resources, and values. It serves as the foundation for future planning and management. Check out the
Foundation Document Overview
or review the entire
Foundation Document
.
Additional and Archived Plans
Additional plans and environmental documents for the National Park Service are available on the Planning, Environment and Public Comment site (PEPC). PEPC is an online collaborative tool dedicated to facilitating the NEPA/NHPA process in conservation planning, environmental impact analysis and informed decision-making.

Other options include contacting the Grand Canyon Museum Collection or checking the NPS Electronic Technical Information Center.
Last updated: December 6, 2022