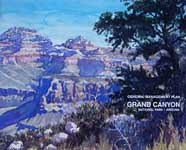 The
1995 General Management Plan (GMP)
[7.33MB pdf]
for Grand Canyon National Park guides the management of resources, visitor use, and general development at the park. The primary purpose of the plan is to provide a foundation from which to protect park resources while providing for meaningful visitor experiences.
The park developed a
Foundation Statement
[760kb pdf] in 2010; this document records our shared understanding of the park's purpose, significance, and resources and values. Additionally, it serves as a foundation for future planning and management.
In 2008, an interdisciplinary team of Grand Canyon National Park employees completed a thorough review of the GMP. This review documented which GMP projects still require implementation, and served as a useful tool to determine park priorities. In 2009, the park expects to initiate compliance processes and public scoping on several projects identified during the review. More information about these projects will be available through PEPC.