Commercial Use Authorizations (CUA)

A Commercial Use Authorization (CUA) is a permit that authorizes suitable commercial services for park visitors within Grand Canyon National Park. The term of a CUA may not exceed 2 years and no preferential right of renewal or similar provisions for renewal may be provided. Grand Canyon National Park authorizes a variety of commercial services.
For 2017 CUA Forms, check back in early November 2016.
As of July 5, 2016: Transportation CUAs are currently being issued for 1 (one) year. All new Transportation CUAs will expire in 2017.
Please note: Commercial Tour Passenger
Certification
and
Pre-Authorized Debit Sign Up Forms (PAD)
were discontinued October 1, 2015 >
Learn More...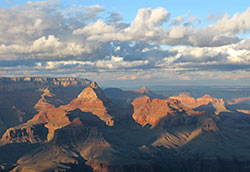 2016 CUA APPLICATION CHARGES:
Fees for Backpacking, Day Hiking, Bicycle Tours, and Tuweep CUAs are $375 during calendar year 2016.

Fees for Equipment Rental and Delivery CUA are $275 during calendar year 2016.

Fees for Photography & Art Workshop CUA are $150 during calendar year 2016.
The CUA fees are determined by a cost analysis in compliance with the 2005 Interim Guidelines for CUAs. This guidance authorizes the National Park Service to recover, at a minimum, associated management and administrative costs associated with CUAs.
2017 CUA charges are currently being reviewed and will be posted on this page after cost recovery analysis is complete.
NOTE (updated January 21, 2016)
Grand Canyon National Park is now accepting applications for Commercial Use Authorizations (CUA) in the Tuweep area through December 31, 2016. All CUA permits will expire at that time. Permits will be considered to the extent they do no have unacceptable impacts on park resource and values.

Permits issued during this time period are not guaranteed CUA permits in 2017. The park's Backcountry Management Plan is being revised and will provide guidance on managing Commercial Use in the Tuweep area. The NPS has posted a Draft Environmental Impact Statement for the revised plan, which is available for public comment until March 4, 2016. This document can be found at parkplanning.nps.gov.
Information on the CUA requirements can be downloaded from the "Commercial Use Application Checklist" below as PDF files.
CUA Application Processing

A minimum of 4 weeks is required to process a completed CUA application packet.

Applications are processed in the order in which they are received.

All required documents must be submitted in one complete packet.

Incomplete applications are placed on hold, which delays the review process.

Requests cannot be expedited.
The Annual Report is a requirement of the CUA. Download the 2016 Annual Report Form 10-660 here (PDF size 385 KB)
The required documents listed in the "Commercial Use Application Checklist" below must be submitted in an application packet:
Commercial Use Checklist and Application
(68.8kb PDF File - Revised December 2015)
Email submission is preferred. All documents can be emailed to: grca_permits_mail@nps.gov
You may also mail the complete application packet to:
Grand Canyon National Park
Attn: Commercial Services
PO Box 129 (3 Camper Services)
Grand Canyon, AZ 86023
For questions regarding CUAs please contact Commercial Services at 928-638-7707 between 8:00 a.m. and 3:00 p.m. Mountain Standard Time (MST), Monday through Friday, excluding Federal holidays or contact us by e-mail.

---

PDF Display or Printing Issues?
Using a web browser to view and print our PDF forms and publications? You may experience issues where the PDF does not display or print correctly. Some web browsers do not automatically open PDFs using the Acrobat Reader application.


Things to try
(1) Select the Acrobat Reader plug-in for your browser's default application for viewing/ printing PDFs. or (2) You can right click and save the PDF document to your desktop and then open it with the Adobe Reader application, and print from there.
Get the newest version of free Adobe Reader.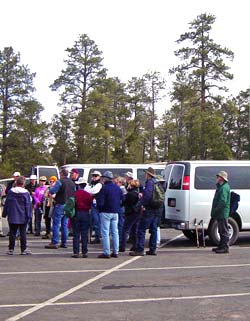 Entrance fees for tour operators are based on vehicle's seating capacity as follows:
26+ seats -- $300; this fee is a flat rate per vehicle and not pro-rated for passengers who may be exempt from fees. No Golden Eagle, Golden Age, Golden Access and Grand Canyon Park Passes will be accepted and No exemptions for age.


1-25 seats -- $8 per person.

Beginning January 1, 2016, Grand Canyon National Park will no longer accept any passes or private vehicle receipts for waiving entrance fees for any commercial vehicles.

This includes the Grand Canyon Annual Pass and all of the passes in the America The Beautiful –The National Parks and Federal Recreational Lands Pass program, also known as the Interagency Passes.

By policy, "a vehicle fee is an entrance fee for entry of a single, private, non-commercial vehicle and its passengers." Private vehicles or individuals with entry receipts are non-transferrable to any other entity or organization and may not be used to waive commercial vehicle entrance fees.

As stated on the back of all Interagency Passes: "Admit the pass owner(s) and any accompanying passengers in a private non-commercial vehicle at per vehicle fee areas . . ." this is a clear prohibition the use of these passes for commercial entry.

To be consistent with National Park Service policy and the other park units across the service, Grand Canyon National Park will no longer accept these receipts or passes for commercial entry into the park.

If you have any questions, please contact the Fee Management Office at 928-638-7850. Thank you for your cooperation and understanding of this correction in procedure.
Learn more here

For questions about entrance fees please contact the Fee Management Office at 928-638-7604


---
Entrance Fees
for Commercial Vehicles
Beginning October 1, 2015, the Pre-Authorized Debit (PAD) payment system and checks will no longer be accepted for park entrance fees at Grand Canyon National Park for Commercial Use Authorization (CUA) holders.
In an effort to streamline the process for managing entrance fees, the Park is phasing out the PAD payment system and the acceptance of checks. If you are currently using the Commercial Tour Passenger Certification Form (half sheet) for entry into the park, you will no longer be required to submit this form.

Cash, credit card and traveler's check will be the only approved forms of payment for entrance fees starting October 1, 2015. Card-Not-Present transactions are not permitted, including payment over the phone. Any company arriving at the entrance station without one of the approved forms of payment for entry fees will be denied access to the park.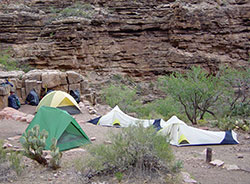 Backcountry Camping Permits
for Overnight Backpacking Operators

In addition to the CUA, Backpacking CUA holders are required to obtain all necessary backcountry camping permits from the Backcountry Information Center. Find more information about Backpacking Permits on the Backcountry Permits page.

CUA Backcountry Permit Request Form (400kb PDF File)