Grand Canyon River Ranger Crew Blog
By Jeri Riley - River Patrol Ranger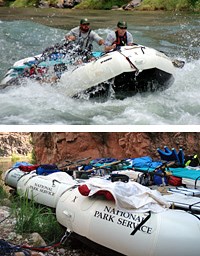 The National Park Service River Ranger Crew is a year-round operation dedicated to taking care of the river corridor through the Grand Canyon. We are on the river every month of the year to assist park scientists in their research, support resource specialists with monitoring programs, clean up campsites and heavily used beaches, maintain scout trails at rapids, remove non-native plants, train for swift water rescues, and to educate river runners on how to be stewards of the canyon and of the Colorado River.
Unfortunately, we don't always have the opportunity to meet every river runner. This web page is designed to let you know what changes we see in the canyon, what we as a crew are working on and how you can help. We encourage you to check in often and pass on information to other river runners.
---
Here's what you can do to help...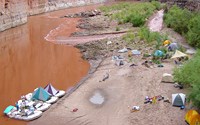 1. Respect the "Old High Water Zone"

It's important that you identify where the historic high water line is and encourage everyone in your group to camp below it. This can be done by staying below the mesquite trees and off the fragile sand dunes they grow on. Spread out near the river and stay under the tamarisk trees. We know that folks like to find their own secluded little spots to set up camp in, but please try to stay below the high water zone. When you camp far away from the river, you are often trampling vegetation and creating new social trails to get there. This speeds up the erosion of the precious sand that is needed for all that vegetation to grow.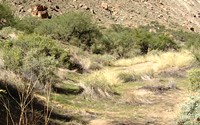 You may often notice a social trail into these areas that appears blocked off by dead and down trees, or what we call "vertical mulch." This is usually vegetation from another area that have been transplanted by the river crew to block the trail. Please respect the work that has gone into protecting this area and don't remove the debris. Please let that area heal and stay covered.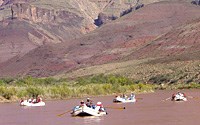 2. Travel Together

For the safety of your group, while on the water, it's important that your boats don't get too spread out. Make sure you have visible contact with the boat behind you. If that boat pulls over or you lose sight of it, you should pull over and wait. This will prompt the boat in front of you to wait for you. You are responsible for the boat behind you. This will keep everyone accounted for and running rapids safely.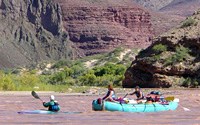 3. Don't Split Up
This also applies to splitting trips. This is explained in your river permit information, yet we continue to see it. Please DO NOT send a boat ahead to secure a camp. We see this a lot below Elves Chasm and Deer Creek. If some of your group is hiking (except for loop hikes) your entire party needs to wait to go downstream. It's important to stay together in case someone needs help. You want to keep your first aid supplies and satellite phone available to everyone on the trip. It doesn't do an injured hiker at Deer Creek any good if most of his or her group is making dinner at Poncho's. There are plenty of great camps in the canyon. Don't get so locked in to snagging a particular one that you jeopardize the safety of your trip.
4. Communicate and be Flexible about Camps

Communication is key when it comes to camps, but so is cooperation. Be flexible with where you are thinking about camping. Have a few backups in mind. If you are not familiar with the camps along the river, don't be afraid to ask a commercial guide for advice. These folks know the place well and generally want to give not only their own passengers an amazing experience, but private trips as well. You could get turned on to an even better place to camp or hike.
---
Winter Boating Tips: October 1 - April 30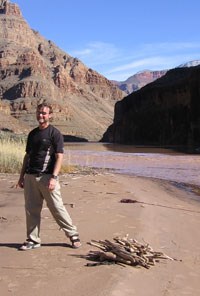 If you choose to have a fire at your river camp in the Grand Canyon, please do so responsibly.
The collection of driftwood for fires is only allowed from November 1 through February 28, and driftwood is the only wood that may be gathered and burned in the Grand Canyon. Driftwood should only be collected close to the water in areas where the river is still actively depositing it. Wood found far from the water's edge may be historic or from past flood events, and should not be collected. Driftwood is found near the strand line at the water's edge and has been obviously worked by the river. So, please stay close to the water when collecting.
In many parts of the country, the collection of dead and down wood is encouraged. This is prohibited in the Grand Canyon. This wood is important for the stabilization of fragile sand dunes and the ecological survival of the area. At popular camps, dead and down wood is often used to rehabilitate impacted areas; so it may be protecting sensitive resources. Never collect dead and down wood and don't tear down or cut living trees, even if they are non-native.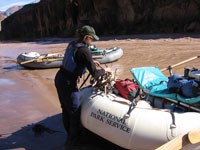 If you want to have a fire on a winter trip, plan ahead.
Driftwood is hard to find along many parts of the river, so start shopping early in the day while you are still on the water. Don't wait until camp or you may have to do without.
Remember to look for driftwood piles at the water's edge. Collect and bundle the driftwood, then rig it to your boat and carry it to camp
Because driftwood can be hard to find and is not easily replenished in the canyon, we encourage you to bring your own firewood from home. Packaged in a dry bag or ammo can, bringing your own ensures that you will have dry wood following a wet day on the river. A propane powered heat source is also a good alternative in the winter.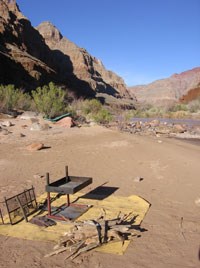 As of January 1, 2011,
both a firepan and a fire blanket
are required. Your firepan must have free-standing legs to keep the fire from scarring the beach. Don't try to balance your firepan on rocks.
The required fire blanket will prevent scarring and will catch any burned wood that falls out. Choose wood that is an appropriate size for your firepan.
Manage your fire until it burns down. Don't throw on a huge log right before everyone goes to bed.

In the morning, the cool ashes should be shoveled into a separate ammo can or your trash for carrying downstream. Don't ever throw your ashes or unburned driftwood into the river. If you choose to have a fire, you are responsible for it's cleanup.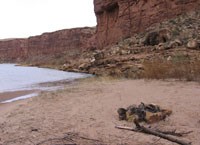 Every winter we see the impacts of improperly managed fires in the canyon: new social trails into fragile areas where wood is being collected; the removal of dead and down wood that is much needed habitat for smaller animals and plants; ugly fire scars and burned wood left on beaches, and live trees being damaged when driftwood is not found in camp. All of these impacts are preventable. Please educate your group and others that you meet in the backcountry about how to properly have a fire on the river.
Last updated: October 12, 2022