Past Residencies - Lauren Camp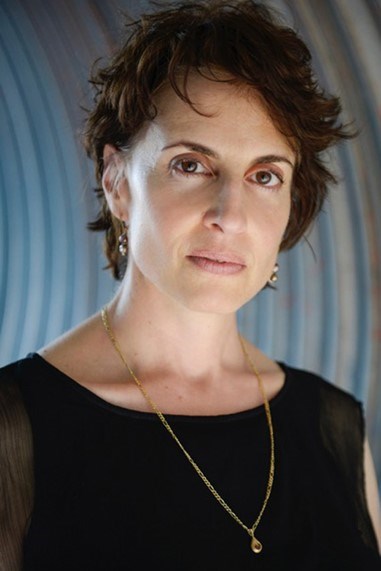 Lauren Camp is the author of five books, most recently Took House (Tupelo Press), which received the American Fiction Award in Poetry. Other honors include the Dorset Prize and finalist citations for the Arab American Book Award, North American Book Award, and New Mexico-Arizona Book Award. Her work has appeared in Kenyon Review, Poem-a-Day, Blackbird, World Literature Today and The Los Angeles Review, and has been translated into Mandarin, Turkish, Spanish, Serbian and Arabic. Camp's work has been supported by fellowships from Black Earth Institute, Denver Botanic Gardens and the Taft-Nicholson Center. She currently lives in New Mexico, where she teaches creative writing to people of all ages.

As Grand Canyon's fourth Astronomer in Residence, Lauren spent her time writing poetry about night skies and natural darkness. She offered a few public poetry readings under the stars, which were followed by constellation talks given by park rangers. Lauren also collected poetry from visitors, asking thought-provoking questions about darkness in experimental installations throughout the park. She compiled the responses into collective poems.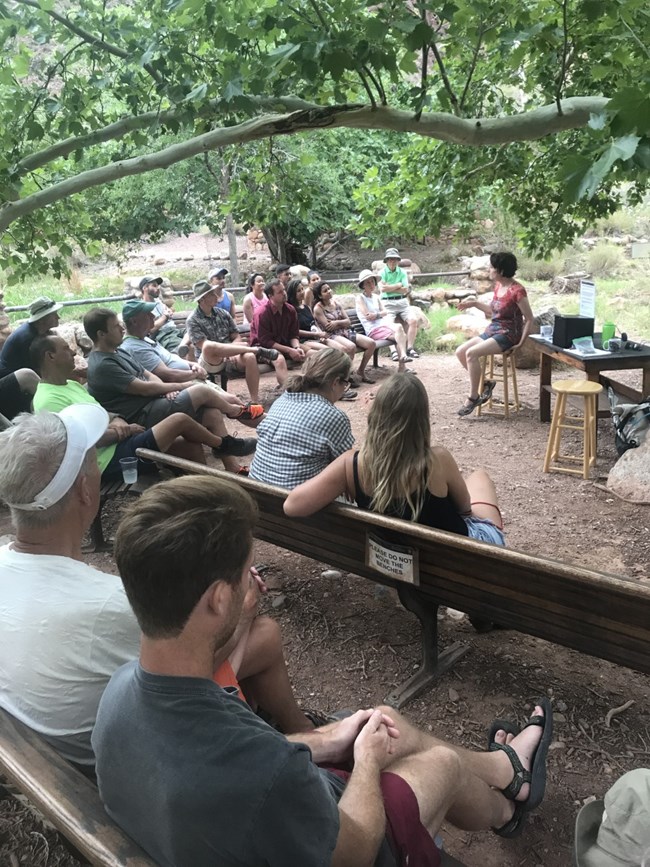 Residency Accomplishments
Created several poems reflecting on natural darkness and night skies.
Created several "dispatch poems" during her residency. The park posted these on its social media platforms.
Setup experimental poetry stations within several historic buildings in the park. The stations invited visitors to respond to thought-provoking questions about night skies and darkness. She compiled the responses into an epic poem. She recorded a reading of the poem for the park.
August 15th: Conducted a "Behind the Scenery" public interview at Phantom Ranch. A park ranger interviewed Lauren about poetry, night skies, and natural darkness. - 40 attendees
August 21st: "The Poetry of the Stars: Join Astronomer in Residence and award-winning poet Lauren Camp for night sky poems under thousands of stars followed by a laser-guided constellation talk with a park ranger." - 30 attendees (overcast night).
August 24th: "The Poetry of the Stars: Join Astronomer in Residence and award-winning poet Lauren Camp for night sky poems under thousands of stars followed by a laser-guided constellation talk with a park ranger." - 60 attendees (overcast night).
August 28th: "The Poetry of the Stars: Join Astronomer in Residence and award-winning poet Lauren Camp for night sky poems under thousands of stars followed by a laser-guided constellation talk with a park ranger." - 130 attendees.
Interviewed on Lowell Observatory's podcast "Star Stuff." "The Fear and Beauty of the Night: We Talk to Grand Canyon's Astronomer in Residence Lauren Camp."
Featured in a Grand Canyon Minute Out In It (watch below).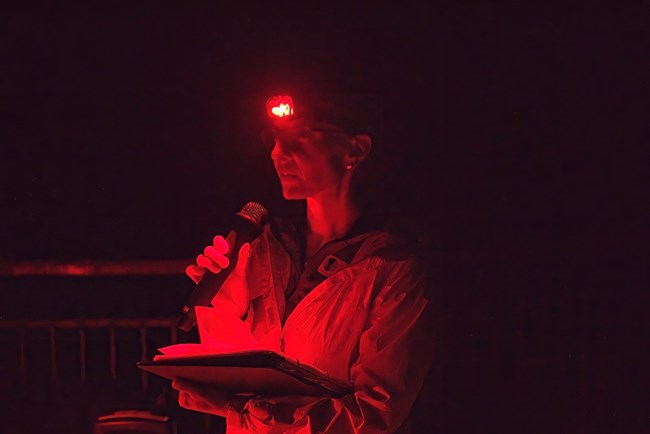 Samples of Work
No Other Place to Go
I was sitting on a bench watching night
move into place. I wasn't doing nothing
and I wasn't doing anything about that
either. It was unlike real life.
Simple, such looking without
having to notice. Stars little by little
gathered in the paunch above
and so I was thinking
about darkness and light, thinking gradations
of points and the uses of wings
and just then two people asked
to share the bench. Though they sat no distance
from me, they were only bodies lived
through voices. The mother began to tell
where they home—a concrete jungle she said,
two hours from this and two hours
beamed to another big city. Her husband
right then was down the road, wanting
to photograph the sky. In position,
awaiting. I sat without taking my eyes
from the vanishing, And that was what I was,
happy and whole. She said he lugs
his equipment on trips to find
any dark. She wanted him
to have what they can't see in Delaware,
the missing data of the impossibly vast.
That night we saw stars fish around
and we filled only with what
they were doing.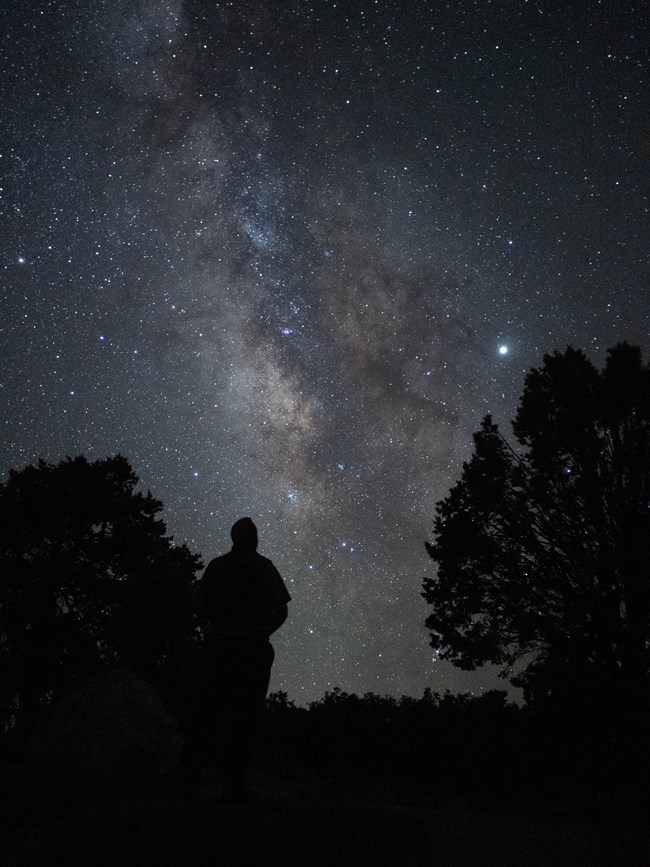 86 Light Years Away
You are inside an equilibrium. Inside a legend
—or many. As all else is bluing, bats
slash without struggle. Dark begins to build
its boundaries. First settles at the bottom then vastly above.
In the middle, a jewel blue stripe. On it goes, the dark
mitering in. You are inside that equilibrium. That orb
overall. Lightning ripens and bisects to the north
without clamor. These are your brief concerns.
You have put on your winter cap because the air is askew
with direction. You see the sky isn't null;
the dark darns itself to some traces.
You think of everyone you love. A tree leans,
undressed, toward the great expanse.
Dark awning. Dark buoy. Stars have started
their exercise. The eye draws from these some triangles
and brushes and dusted animals. Inside
the night a language is decoding. Dark
nips into its flavors and moods.
The blue has become a wedge, impossibly
closing on one edge. Should you look at that—
or how the dark keeps to its holding?
New stars saffron and tassel. You'll never know
more than what leaks out. Before you, the blue road.
Very easy, your ear purposes patterns.
The woven sound of cicadas, the lid of a metal garbage can,
and dark instead of your eye again with its clarity.
The blue has crunched to a line on your left.
You are more inside the unlit and read it like a clock.
When you look at this, do you understand
strength and escape, how to stay, how to emerge?
Or is this only an ornate heaven to watch
for a while? You will need to pick your steps back.
Blue Sphere Cento*

How did it get so late so soon? Moon waited all day until Sun
had reached the peaks. At this point Moon queried, "Now?"

I watch the earth turn back into space.
Hours descend, putting on stars. In the pale light

of the shadow, the whole noble picture, calmly glowing,
only the sky tying the universe together.

I've loved the stars too fondly
in answer to a question. A Night—there lay the Days

between—The Day that was Before—
The traveller all alone, the moon all alone
tumbles in somersaults through the gathering darkness.
People who had never seen daylight, they were out

catching eulachon. Black silk, shelter me.
Press close, magnetic. The point of intersection of all the lines drawn

through all the stars. Come out these envoys
more richly colored. What I want should not be confused

with total inactivity. Night, the reserved, the reticent,
gives more than it takes. You darkness, that I come from.


* A cento is a poetical work wholly composed of verses or passages taken from other authors. In Blue Sphere Cento, Lauren Camp sources from: Thelonious Monk (title), Dr. Seuss, Navajo legend, Paul Bogard, e.e. cummings, Junichiro Tanizaki, John Muir, Naomi Shihab Nye, Galileo Galilei, Wisława Szymborska, Emily Dickinson, Henry David Thoreau, James Joyce, Tlingit legend, Denise Levertov, Walt Whitman, Rebecca Solnit, Ralph Waldo Emerson, Vincent Van Gogh, Pablo Neruda, John Ashbery, and Rainer Maria Rilke.
Visit our keyboard shortcuts docs for details
Duration:

1 minute, 58 seconds
"I grew to love the dark--That I could see so little and within it, just enough." Lauren Camp was selected as Grand Canyon's fourth Astronomer in Residence to explore through the written word the subtle emotions, aesthetic qualities, and complex thoughts we all feel under the vastness of the night skies. The Grand Canyon has welcomed a long history of poets who have attempted to capture its beauty with the pen--spend a Minute Out In It listening to Lauren read a night poem created during her residency.
Last updated: November 6, 2022