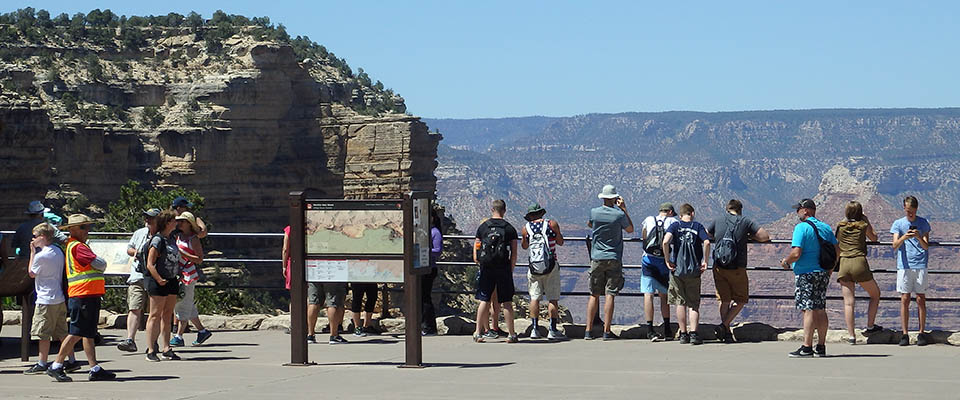 It's YOUR vacation;and you came a heck of a long way. Here on the South Rim of Grand Canyon, we want everything to go well on your visit. Here's a quick rundown that will help you plan effectively beforehand for a smooth experience. This is a busy place, but you can function like a seasoned veteran if you take these ideas to heart.
Let's talk cars first: You will be 80 miles from full-service auto repair in Flagstaff. That's an expensive tow, folks. Although there is a service place here, it only does minor work. Have a good-running vehicle, watch your fluids and tires, and keep the gas tank pretty full. Drive alertly, back up carefully. Just between us, the most dangerous animal here (and they are common) may be the inexperienced RV driver. Obey the speed limits, especially at night. Elk are all over the place, and there is nice grass to eat in the median too.
Arrive early to find convenient parking. Some lots have shaded spots;check out those trees. A windshield shade is a good idea –it can become so hot you can't touch your steering wheel! You can avoid many issues by riding the free shuttle buses. For day trips, take the Purple Bus line in from Tusayan, outside the park, and avoid the Entrance Station lines as well. Transfer within the Park to anywhere you want to go on other bus lines, excluding the long trek east to Desert View. Shuttle buses, especially the Red Route to Hermit's Rest, can be packed by 10 or 11;be patient. The next one will arrive in 15 minutes, and it's worth the wait.
As a matter of fact, go as early as possible. It's cooler for walking the rim. Not only is it less crowded, but the light is better for photos and there is more chance of spotting wildlife. Resting up in the mid to late afternoon, you will also avoid most monsoon thunderstorms.
Which brings us to safety concerns. There aren't many, but they are serious. There are about 25,000 lightning strikes a year in Grand Canyon National Park, most on or near the rims, most in the afternoon. Don't get caught outside, don't hide under a tall tree. Watch the vivid display from inside a building.
Despite the presence of thrilling predators here like the mountain lion, the most dangerous animal in the park (aside from the bad driver) is the squirrel. That's right. DON'T feed the squirrels;they bite and they harbor fleas that can carry bubonic plague. Eat carefully outside;try not to encourage them, or the birds, by spilling food.
Stay a body length from the edge always, so if you stumble, you will still be on the rim. Falling is the quickest way to the river, yes, but it's not recommended. Don't throw anything over, either –it can start a rockfall and injure a hiker far below.
Heat. "Don't get out of the car without your water bottle" is a quotation often heard, for good reason. Keep the sunscreen on, wear a wide-brimmed hat, be aware of the altitude as well, and how it affects your stamina and may affect your medications. Take your time. Don't interfere with anyone else's experience by loud noise or music. All this stuff is common sense, but it continues to happen.
Serious Canyon hikers should consult with the Backcountry Information Center and the park's website;this advice is for everyone else. Refer to the blog post "Heat Advisory" for a fictional hiking emergency.
Grand Canyon Village is a pretty safe place. There are no ticks, no poison ivy, few mosquitoes. Most of the critters that are harmful are shy and nocturnal. You'll likely never encounter them. Both you and them will be happier that way. Enjoy your visit!
Return to
Inspiration Point Blog Index Page.
This blog is meant to encourage awareness and thoughtfulness about the Grand Canyon, one of our most precious resources. It is not merely a story of what happens or has happened here, not a cookbook for what you should make of it yourself, but more an example of the many-faceted inspiration the Canyon nurtures in an artist, perhaps in you. Indeed, inspiration may be the Canyon's greatest resource. These words are sincere, my own take on this world, deliberately non-academic and directed toward users of social media. In no way does it represent the policies or opinions of the National Park Service, although it is done under the auspices of that entity, but is offered in gratitude, with my respect and admiration for these soldiers of conservation. George H. Jacobi 2016