News Release
Record Snowfall at Great Basin National Park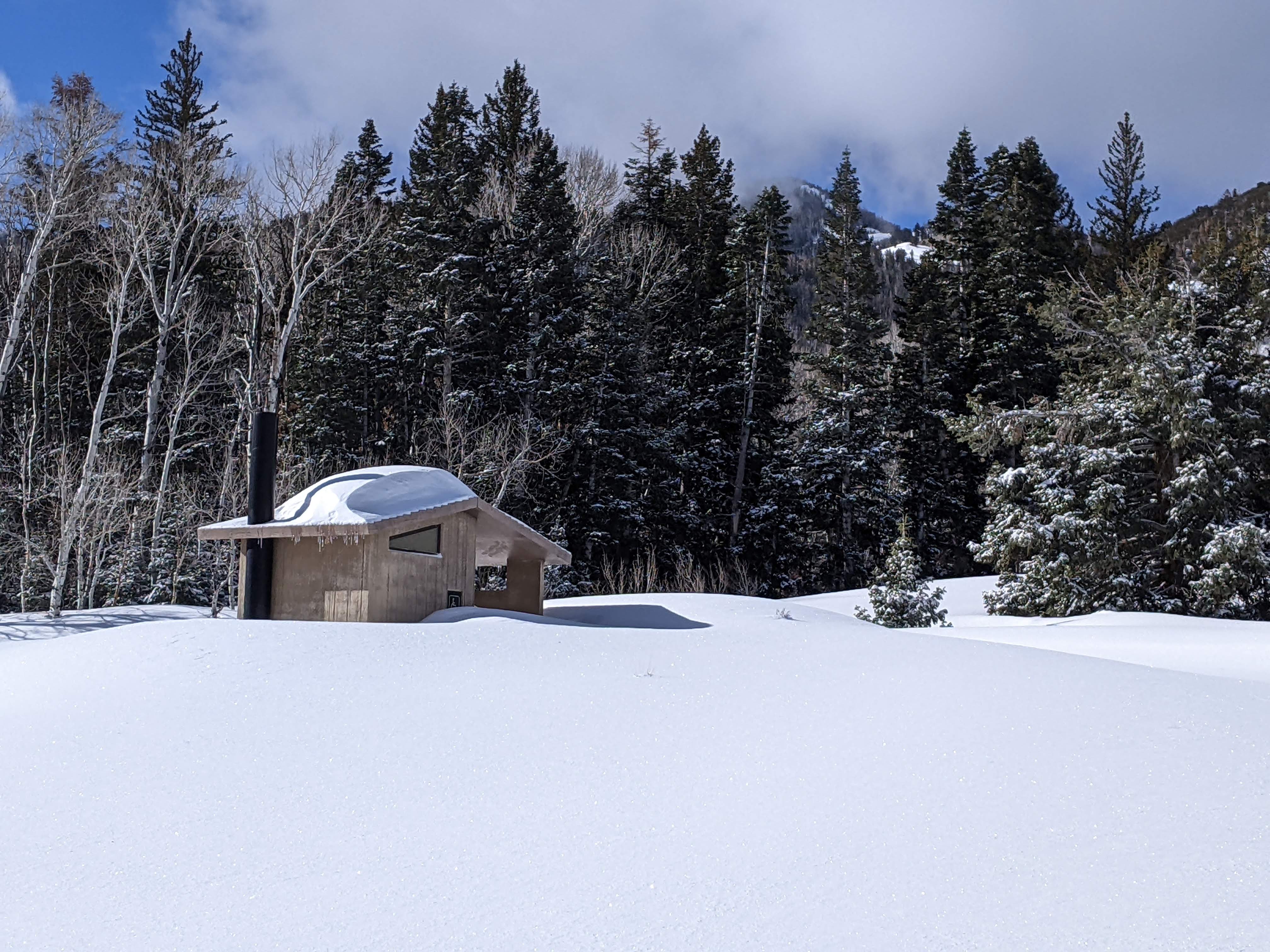 News Release Date:
April 3, 2023
Contact: Christopher M. Amidon, 775-234-7521
BAKER, NV – The winter of 2022-2023 has brought record snowfall to the South Snake Range and Great Basin National Park. On April 1, 2023, two of three snowpack measurement locations within the park revealed snowpack depths several inches greater than records set in 1952 and 2005. 
Baker Creek Site #1 (8,220 ft): 48.2 inches (1952 holds this record at 54 inches) 
Baker Creek Site #2 (9,200 ft): 90.9 inches (breaks the 1952 record of 86 inches) 
Baker Creek Site #3 (9,520 ft): 111.3 inches (breaks the 2005 record of 102 inches) 
Expect Spring Opening Delays 
This record snowfall will likely delay spring opening of the popular Wheeler Peak Scenic Drive, Wheeler Peak Campground, and hiking opportunities such as the Alpine Lakes Loop, Wheeler Peak Summit, and Bristlecone Trails. After a typical winter, the Bristlecone Parking Lot opens in late May, around Memorial Day, each year. After this year's record snowfall, the park anticipates the Bristlecone Parking Lot opening around July 1, 2023. The park will work to open these popular visitor areas as quickly and safely as possible, but on-the-ground spring melt conditions will determine when high elevation locations become accessible. As spring unfolds, follow the scenic drive opening progress at: www.nps.gov/grba/planyourvisit/conditions.htm .  

Your Safety is Your Responsibility 
Before heading out across snow-covered trails, the park reminds all spring visitors to carefully assess conditions, physical fitness, and backcountry experience. During spring melt, conditions change rapidly, snow depths are difficult to estimate, and some high elevation locations are prone to avalanche danger. Hiking through snow can be tiring and increases cold-related dangers such as hypothermia. Dress appropriately for all conditions. Be knowledgeable of your abilities and when you should turn around. Alert others to your plans and estimated return time. Check out park safety considerations at: www.nps.gov/grba/planyourvisit/safety.htm  

Spring Flooding Awareness
As warmer conditions return, record snowfall may cause spring flash-flooding. Currently, there are no immediate flooding concerns. The park is monitoring spring snowmelt conditions closely and will provide up-to-date information on closures and hazards should conditions warrant.  

Visit www.nps.gov/grba/planyourvisit/conditions.htm for the most accurate current park conditions.   


www.nps.gov 



About the National Park Service. More than 20,000 National Park Service employees care for the 424 parks in the National Park System and work with communities across the nation to help preserve local history and create close-to-home recreational opportunities. Visit us at www.nps.gov, on Facebook www.facebook.com/nationalparkservice, Twitter www.twitter.com/natlparkservice, and YouTube www.youtube.com/national park service. 
Last updated: April 3, 2023