Muir Beach & Muir Beach Overlook
Muir Beach is a quiet cove, beach and lagoon favored by locals. Located on the Pacific Coast three miles west of Muir Woods, Muir Beach is accessed over a 450-foot long pedestrian bridge that connects the parking lot to the beach, the Coastal Trail, and Kaashi Way, which is multi-use and accessible.

Tips and Highlights
Always watch the waves. There are no lifeguards at Muir Beach.

The northernmost end of the beach is popular with clothing-optional sunbathers.

Redwood Creek Lagoon and surrounding riparian area provides critical habitat for coho salmon and red-legged frogs and is closed to all access.
Every autumn thousands of monarch butterflies (Danaus plexippus) embark on a once-in-a-lifetime migration to the California coast. Wintering monarchs can sometimes be found decorating Monterey pines in the small grove at Muir Beach; look for their distinctive orange and black wings.

Beach Fire Information
Fires allowed only in provided fire rings. Do not make fire rings with rocks, logs or other items found on beach.

Fires allowed beginning at 9AM and must be extinguished and groups must vacate the beach by 1-hour after sunset.

Fire rings are available on a first-come first-serve basis

Six fire rings are available May through November. Three fire rings are available December through April.

Fires must be extinguished with WATER ONLY. Bring a bucket to collect ocean water, or bring your own water. Covering the fire with sand does not extinguish the fire. Instead it insulates the hot coals and fills the pits with sand.

Groups of more than 50 people must obtain a permit on-line: https://www.nps.gov/goga/planyourvisit/permits.htm

Enjoying the Beach With Your Pets
Dogs are allowed in the beach area proper, but must be either on-leash or under "Voice Control", meaning dogs are within earshot and eye sight of their owner/handler and respond immediately to commands to return to a leash when called.

Dogs on Kaashi Way & Coastal Trail must be on-leash.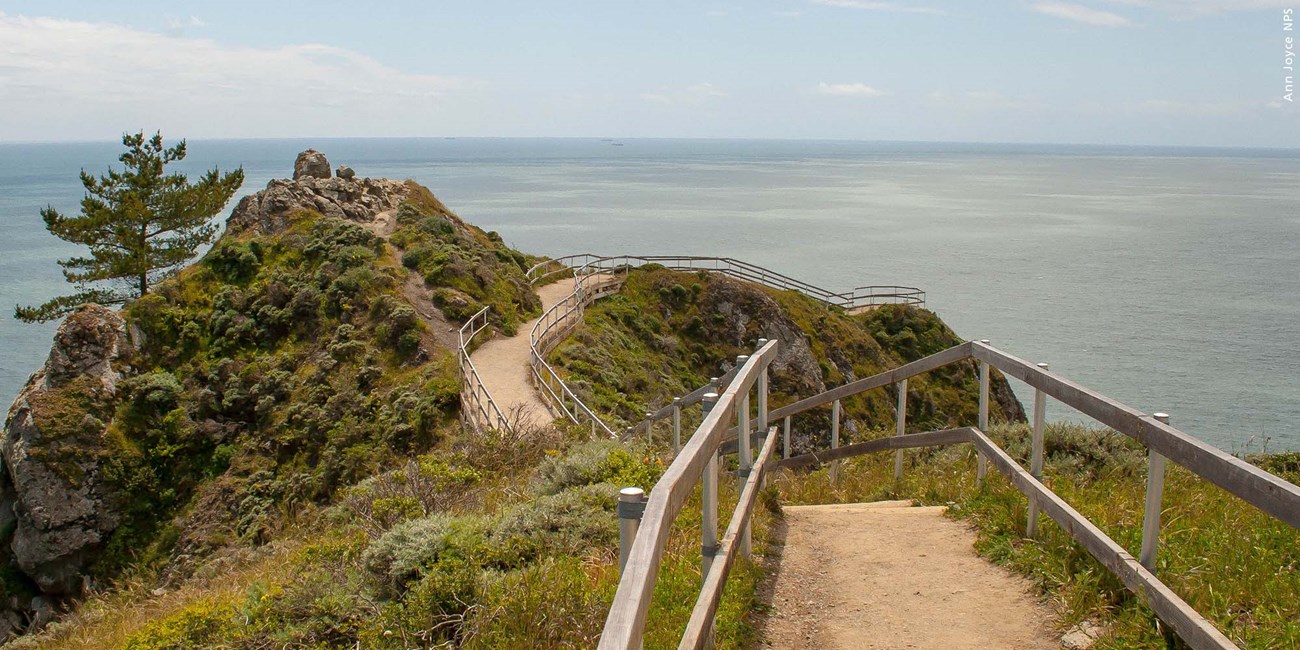 Muir Beach Overlook provides expansive views of the Pacific Coast, including the Point Reyes Peninsula. Visitors can also explore several historic base-end stations, observation posts that were part of the San Francisco Bay coastal defense system. From this vantage point soldiers could view ships through telescopes, and plot their distance, speed, and direction in order to aim nearby coastal defense guns that protected the area from invading warships in the 1900s.. Today, an iconic staircase that leads down to the small overlook has been shared online thousands of times.

Tips and Highlights
Avoid the overlook trail if you're scared of heights. Cliffs along the Rocky Point coast are isolated and very dangerous. Use caution when hiking

Cell phone coverage is not reliable. Rescue crews are further away.
The overlook picnic site is scenic but windy, so remember to carry layers and hold on to your paper plates!

Nature
Whale Watching: Muir Beach Overlook is one of the many spots along the parks' coast for whale lovers to catch a glimpse of these giant marine mammals as they swim by during their winter migrations.

Park Partner:
Slide Ranch
Located between Muir and Stinson beaches. Visitors can milk goats, collect eggs, help bees make honey, and teach little ones about how food is grown. Reservations required.
Last updated: November 27, 2023