Lands End Accessibility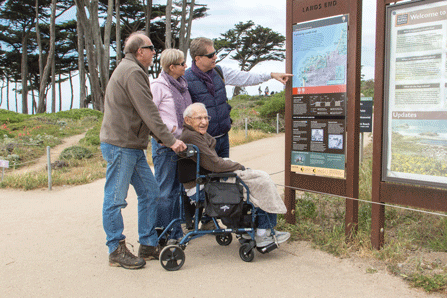 Accessible Features
Accessible Parking

Accessible Portable Toilet

Accessible Restrooms at the New Visitor's Center

Accessible Trail

Accessible Overlook

Audio Described Tour at the New Visitor's Center

Tactile Model of Lands End at the New Visitor's Center

Upon Arrival
As you arrive at Lands End there are two parking lots one located at the end of El Camino Del Mar and the other is located at Merrie Way. Both parking lots provide several accessible parking spaces.

Inside the Park
To the East of El Camino Del Mar parking lot is an accessible portable toilet. At the North end of El Camino Del Mar parking lot is an accessible overlook with accessible benches.

The new Lands End Lookout Visitor's Center is located in the Merrie Way parking lot. A tactile model of Lands End and portions of the surrounding landscape is located outside in front of the visitor's center and adjacent to the parking lot. This scaled concrete model contains Braille Labels. The visitor's center contains accessible restroom facilities and an accessible café. The visitor's center also contains several interactive exhibits. An Audio Described Tour of the Visitor Center and surrounding area is available for check out at the service desk or click here to download a digital file of the recording.

The Lands End trail begins at the Merrie Way parking lot. This trail is accessible until you reach the accessible overlook. Past the accessible overlook you will encounter stairs and uneven terrain.

See what others have to say:
www.wheelchairtraveling.com
www.wheelingcalscoast.org

Departure
The National Park Service is striving to make your experience as accessible as possible. Visit the Parks Conservancy site to learn more about Lands End. Please feel free to submit comments and suggestions via email or by calling the Pacific West Region Information Center at 415-561-4700.

Federal Relay Service Numbers
Individuals who are deaf, hard-of-hearing, deaf/blind or have speech disabilities may utilize the following Federal Relay Service numbers:

(800) 877-8339 Federal Relay Service
(877) 877-6280 VCO
(877) 877-8982 Speech to Speech
(800) 845-6136 Spanish
(866) 893-8340 TeleBraille
Last updated: November 27, 2017