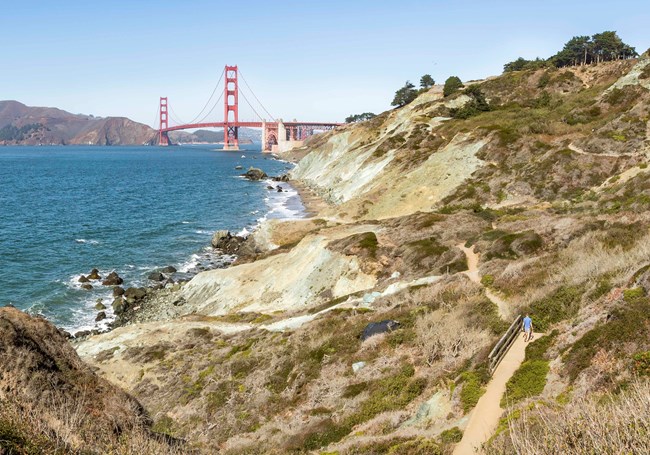 Trail Overview
Distance:
1.6 mi (2.5 km)
Elevation Gain:
260 ft
Time:
1 hour
Trailhead:
Baker Beach
Slope:
Avg 7.5% Max 10%
Side Slope:
Avg 4% Max 5%
Width:
Avg 60" Min 40"
Trail Surface:
Compacted Crushed Rock
Follow the California Coastal Trail (CCT) for some of the most spectacular views anywhere along the CCT's 1200-mile span. For breathtaking views of the Pacific and the entrance to the bay, take a 3-mile roundtrip walk on the Coastal Trail to the Golden Gate Bridge and back. The gun emplacements along the bluffs between here and the Golden Gate Bridge—like Battery Chamberlin (1904), Batteries Crosby (1900), Godfrey (1895), Boutelle (1900), Cranston (1897) and Lancaster (1898), were part of a modernization of the nation's
seacoast defenses
begun in 1885 by Secretary of War William Endicott.