San Francisco Bay Seacoast Defenses 1776-1974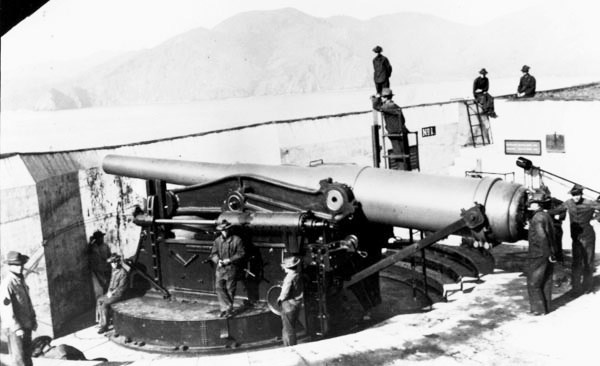 A History of Nations Defending this Land
People have always been drawn to the land around San Francisco, because of its sheltered harbor and its rich natural resources. Overtime, as different communities settled here, they would defend their stake in the land against other potential invaders. The Spanish established the Presidio of San Francisco in 1776 to protect their interests in the bay. In 1822, Mexico took over this land from Spain, but later they abandoned the Presidio fort and moved their central government up to Sonoma County. After the United States took control of California in 1848, the U.S. Army began to construct permanent posts and seacoast fortification.
The Value of Seacoast Defenses
In the 1850s and 1860s, the U. S. Army identified harbor defense as one of the principle means for protecting the seacoast, and therefore the country. If the coast lines were well- protected and fortified against any enemy attack, then the country did not need to support a costly large standing army. Throughout American history, the military and politicians believed that investing time and money into coast defense weapon systems was the best choice for national security.
As a result, Golden Gate National Recreation Area contains an amazing collection of seacoast fortifications that offers examples of nearly every important development in military fortification from the Civil War to the Cold War. No matter how they were constructed, all the fortifications were all built with one purpose - to protect San Francisco Bay from enemy attack. The batteries of Golden Gate National Recreation Area provide physical examples of the nation's changing history and examples of the military's need to constantly modify and update its own technology.
Learn more about the park's individual fortification periods:

Spanish and Mexican period from 1776 to 1846
These fortifications include El Presidio, Castillo de San Joaquin, and Bateria San Jose. Unfortunately, little remains from these structures except for six brass cannon and some foundations of El Presidio.

American "Third System" period from 1850 to 1884
These fortifications include Fort Point, Alcatraz, Camp Reynolds, Fort Mason, and older batteries bordering the Golden Gate.

Harbor Defenses of San Francisco from 1891 to 1945
These fortifications, constructed during the Endicott, Taft and World Wars I and II periods, include Fort Baker, Fort Barry, Fort Cronkhite, Fort Funston, Fort Mason, Fort Miley, Fort Scott, Fort McDowell, Milagra Ridge and Crissy Field.

Cold War Era from 1952 to 1974
Nike Missile sites were located at Fort Baker, Fort Barry, Fort Cronkhite, Fort McDowell, the Presidio and other sites around the bay. Fort Barry's Nike site SF-88L is now a museum, recognized as the nation's finest example of this weapon system.
Last updated: February 2, 2016