Port of San Francisco & National Park Service Announce Milestone for Alcatraz Embarkation Point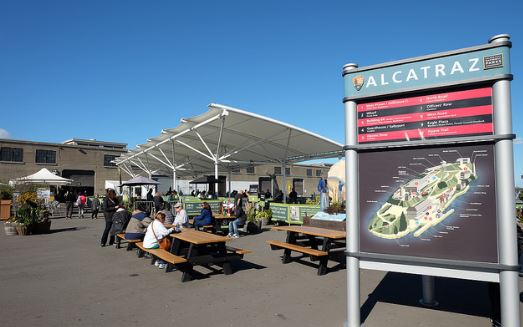 News Release Date:
November 29, 2016
Contact: Nathan Hale Sargent, NPS, 415-561-4732
Contact: Renée Dunn Martin, Port of San Francisco, 415-274-0488
San Francisco Board of Supervisors Unanimously Endorses Financial Terms for 30-Year Use Agreement at Pier 31-1/2
B-roll and images of Port 31 1/2 available here
SAN FRANCISCO -- The San Francisco Board of Supervisors today unanimously endorsed the term sheet for an agreement between the
Port of San Francisco
and the National Park Service (NPS) for a 30-year use agreement with two 10-year options for renewal to continue ferry operation to
Alcatraz Island
from Pier 31-1/2.
"We are thrilled that the Alcatraz Ferry Embarkation point found its home on our waterfront," said Mayor Lee. "Today's endorsement is a major step towards transforming Pier 31 ½ into an experience worthy of the visitors and residents who come to experience Alcatraz and San Francisco every year."
"Alcatraz Island is an iconic landmark that will now have an equally impressive gateway through which to access its uniquely San Francisco experience," said Supervisor Aaron Peskin, whose district includes Piers 31/33. "The waterfront is a public treasure, and our imperative is not only to safeguard it but to encourage its enjoyable use. This agreement does just that, while acknowledging the value of preserving the piers' historical assets and attributes."
Today's approval helps bring to a close a multi-year process by NPS and the Port and City of San Francisco to identify a site for long-term Alcatraz ferry embarkation as well as develop and operate a high caliber welcome facility in partnership with the
Golden Gate National Parks Conservancy
.
"We and the Golden Gate National Parks Conservancy are thrilled to have reached an agreement with the Port and City of San Francisco to turn the Alcatraz embarkation point into a world-class destination," said Jim Milestone, Acting General Superintendent of Golden Gate National Recreation Area. "This new facility will allow us to offer an Alcatraz experience to all visitors regardless of whether an island visit is on the agenda."
Under the agreement, NPS will select a ferry concessioner through a competitive bid process. The agreement includes the addition of a third berth for increased ferry service to sites at Golden Gate National Recreation Area, including Alcatraz Island, which welcomes more than 1.5 million visitors annually.
The use agreement includes the operation of enhanced services for visitors. The acre-sized, open air waterfront plaza will be reconfigured and fully dedicated to visitors.
All service vehicles will be moved inside Pier 31, which is currently closed to the public. The Golden Gate National Parks Conservancy will restore the 1917 neoclassical bulkhead building in front of Pier 31 for food and beverage service.
The twin bulkhead building at Pier 33 will welcome visitors and sell gifts, similar to the
Lands End Lookout
, and the Parks Conservancy will curate new exhibits to orient visitors to Alcatraz. The upper floor will become the ferry concessioner's operational space.
"Alcatraz is an important and historic attraction that brings over a million people to our waterfront each year," said Elaine Forbes, Executive Director of the Port of San Francisco. "I'm proud that with our partners we have created a new agreement that will create more open space for families and enhance the visitor experience on our waterfront, bringing people back again and again."
The agreement and project meet several aspects of the Port of San Francisco's mission and current Strategic Plan including retaining maritime commerce, facilitating the public's enjoyment of the waterfront, engaging in historic preservation and creating a substantial new revenue stream for investing in infrastructure.
The National Park Service and Port of San Francisco worked together for several years to identify a site for long-term ferry embarkation. In July of this year, the San Francisco Port Commission unanimously approved financial terms of the agreement. Final environmental compliance, leases with the Parks Conservancy and a future ferry concessioner will be forthcoming. NPS will complete the plan's Environmental Impact Statement in the spring.
To avoid disrupting ferry service to Alcatraz Island, Piers 31-33 will be transformed in phases over five years.
###
Last updated: November 29, 2016