Muir Woods Shuttle Receives Regional Transit Award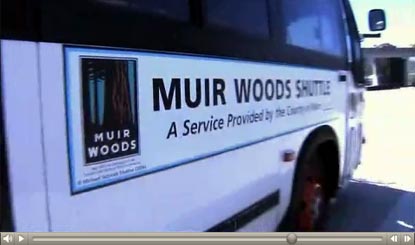 News Release Date:
November 4, 2008
Contact: Alexa Viets, (415) 561- 4933
(SAN FRANCISCO, CA)—On October 22nd, the San Francisco Metropolitan Transportation Commission presented Golden Gate National Recreation Area a 2008 Award of Merit for the Muir Woods Shuttle to Deputy Superintendent, Mai-Liis Bartling, Site Supervisor Mia Monroe, and Transportation Planner Alexa Viets. The Commission is the regional transportation coordinating agency for the nine-county Bay Area. The award recognizes the Muir Woods Shuttle as model for excellence in the transportation field. The number of riders on the service has tripled to 34,536 visitors over the last four years. The shuttle is provided in partnership with Marin County and the Golden Gate Bridge Highway Transit District and Recreation Fees collected at Muir Woods and Alcatraz help fund the shuttle operations. 
Many San Francisco visitors rely on public transportation when visiting the Bay Area.  By linking Muir Woods NM to the regional transit system and the Sausalito Ferry, visitors can add Muir Woods to their trip without adding to regional congestion with an influx of rental cars along the narrow and historic Highway 1 corridor. Visitors who ride the shuttle spend more time at the park and "arrive happy" because they were able to skip long traffic delays on Highway 1 and the shortage of parking at the site. 
View short news video clip about the shuttle (QuickTime video, 2.5 minutes)
Last updated: February 28, 2015