Vehicle Burglaries: What to Know When You Go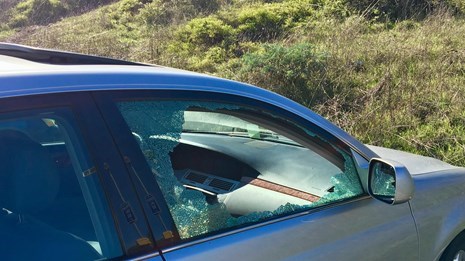 The San Francisco Bay Area, including Golden Gate National Recreation Area, continues to see high levels of property theft from vehicles. In a nearly six-year period between 2015 and September 2021, San Francisco saw tens of thousands of larceny from auto cases. During this time, National Park Service law enforcement rangers and United States Park Police officers responded to more than 3,969 cases in Golden Gate National Recreation Area, Muir Woods National Monument, Fort Point National Historic Site, and Presidio of San Francisco.








When visiting the park, be aware of your surroundings and the people around you just as you would anywhere else.

Protect your vehicle and belongings when visiting the park:
ONLY BRING WHAT YOU NEED FOR YOUR PARK VISIT — Leave your valuables at home or rental/hotel. Make arrangements to drop off luggage at hotel or rental property before visiting the park.

SECURE YOUR VEHICLE — Keep doors locked and windows rolled up all the way. Take ID's, passports, backpacks, cameras, and purses with you. Always lock your vehicle, even if you only step away from it for a moment.
KEEP ITEMS OUT OF SIGHT — Make sure luggage, shopping bags, electronics, cell phones, cameras, and other items are hidden. Never leave anything on the seats, dashboard, or floor.
TAKE ELECTRONICS WITH YOU — Thieves can find phones, laptops, computers, or other devices by scanning for Bluetooth or wi-fi networks. Turn electronics completely off if you leave items hidden in your vehicle.
SECURE YOUR CAR KEYS — Never leave your keys in your vehicle, even if you're just stepping away for a minute. Be careful of where you keep your spare key. Don't store your spare key on the inside or outside of your car. It can make it easy for thieves to steal your car. A thief wouldn't even have to find the key in the vehicle to drive away if it is the car has a push-start feature.
ACTIVATE YOUR CAR ALARM — Turn on your car alarm so the siren will be triggered if someone opens the car door or attempts to turn the car on. Hopefully, the noise will be enough to deter a thief, since they won't want the attention the alarm brings.
BE ALERT — If you observe suspicious activity or experience criminal activity in the park, call our 24-hour park dispatch center:
Non-Emergency: 415-561-5505
Emergency: 415-561-5656
"If You See Something, Say Something!" Your report could save the next visitor from being a victim of crime.

If you need a copy of your Incident Report see our webpage "How to Request a Police Report" for more details.
Last updated: August 11, 2023