every kid in a park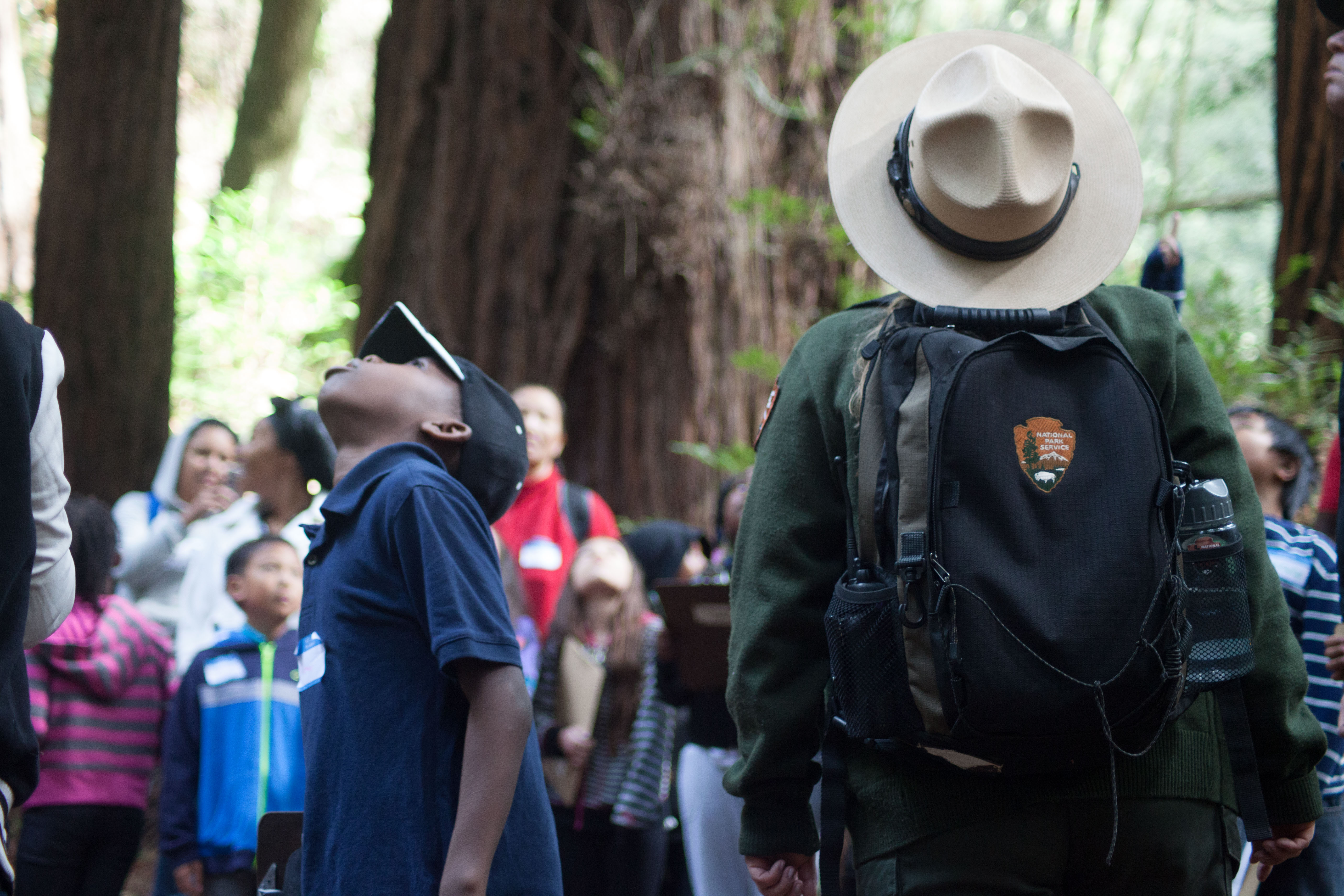 News Release Date:
September 3, 2015
Contact: Alexandra Picavet, 415-786-8021
San Francisco –
The
National Park Service
is turning 100 next year and we want to share the experience with every kid
through the Every Kid on a Park initiative which kicked off this week. The program invites every fourth grade student to visit a national park with their family during this school year, and it is an important part of the National Park Service's 2016 Centennial celebration.
"The National Park Service is inviting every kid in America to find their park as we celebrate our 100th birthday in 2016," Jonathan B. Jarvis, Director of the National Park Service said. "When fourth graders and their families use their free passes, they will discover fun-filled adventures in the outdoors and learn about themselves and our collective history."
Fourth graders can now visit the new EveryKidinaPark.gov website to download learning activities related to national public lands. Kids who participate will get a special pass for free access with their family to all federally managed lands that charge an entrance fee. Nearby national parks with entrance fees include Muir Woods National Monument, San Francisco Maritime National Historical Park, Pinnacles and Yosemite National Parks. Golden Gate National Recreation Area is always free to everybody, but for federal fee areas this program offers free admission to a large part of the population of the country for a whole school year!
The website also includes a section for teachers and youth leaders to use with their fourth grade students. They can download the learning activities and offer vouchers to the students who participate in programs with them.
Leading up to the 100th birthday of the National Park Service, President Obama announced the Every Kid in a Park initiative as a call to action to give all children access to experience America's unparalleled outdoors, rich history and culture. Today, more than 80 percent of American families live in urban areas, and many lack easy access to all of the opportunities our nation's public lands have to offer. Through this program kids can find ways to experience our shared heritage by exploring national parks, including opportunities to be active, spend time with friends and family, and learn in these living classrooms.
There are 11 national parks in the Bay Area to get to know: Eugene O'Neill National Historic Site, Fort Point National Historic Site, Golden Gate National Recreation Area, John Muir National Historic Site, Juan Bautista de Anza National Historic Trail, Muir Woods National Monument, Pinnacles National Park, Point Reyes National Seashore, Port Chicago Naval Magazine National Memorial, Rosie the Riveter/World War II Home Front National Historical Park, and San Francisco Maritime National Historic Park.
Golden Gate National Recreation Area is partnering with the San Francisco Public Library to publicize the initiative so that fourth graders who do not have access to computers at home can use the library's computers to access the program and free passes.
Look for special Centennial programs Golden Gate National Recreation Area is planning which are designed for families in the coming 16 months. There will be six Junior Ranger Days in different parts of the park. Programs will focus on geology, botany, redwood forest ecology, San Francisco Gold Rush history, and stewardship. There is a transportation grant schools that serve students who have not previously been able to participate in National Park Service education programs can apply for through the National Park Service in order to participate.
The park's Park Youth Collaborative received a generous grant from the SJ Bechtel Jr. Foundation to develop a web portal to measure the success and the gaps in the programming so we can learn ways to improve these efforts. This pilot program will track all fourth grade programs offered by National Park Service and our park partners to take a closer look at equity and accessibility for schools serving students who have not had the opportunity to visit the park previously.
OTHER GOLDEN GATE NATIONAL RECREATION AREA CENTENNIAL INITIATIVES
The Centennial is bringing many new ways for everyone to experience their national parks, not just for kids. Golden Gate National Recreation Area will offer monthly Centennial events in the Bay Area for a variety of ages, skill sets and interests. Follow us on Twitter @GoldenGateNPS and like Golden Gate National Recreation Area on Facebook to see what free and fun activities are coming up.
"National parks offer so many different experiences and opportunities," Golden Gate National Recreation Area Superintendent Chris Lehnertz said. "We want to invite you to come and find your next park experience."
PHOTO CREDIT: National Park Service
Follow us on Twitter @GoldenGateNPS , @FortPointNHS, @MuirWoodsNPS, @AlcatrazIsland
Facebook Golden Gate National Recreation Area, Muir Woods,Fort Point,Alcatraz
Instagram
Golden Gate National Parks
YouTube
Golden Gate National Recreation Area
Last updated: September 4, 2015