Every Kid in a Park Pass Returns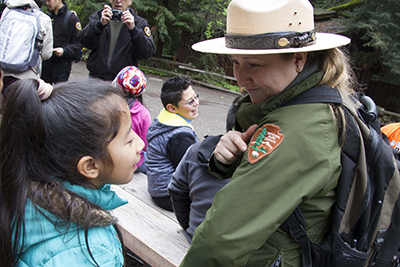 News Release Date:
September 8, 2016
Contact: Nathan Hale Sargent, 415-561-4732
Fourth Graders and their Families Eligible for Free Access to Public Lands and Waters Nationwide
SAN FRANCISCO -- This month the National Park Service launches the second year of the Every Kid in a Park program, which gives fourth grade students and those accompanying them free access to more than 2,000 public lands and waters nationwide for one year. National park sites in the Bay Area are encouraging all fourth graders to participate. 
"Our Bay Area national parks are important places of learning and exploration," said Aaron Roth, Acting General Superintendent of Golden Gate National Recreation Area. "This special welcome mat is out again to fourth graders for a second year to visit all our national parks for free."
This year's Every Kid in a Park pass is valid for a full calendar year starting September 1. Visit www.EveryKidinaPark.gov to get more information. After completing a fun educational activity on the website, the child can download and print a pass.
Locally, the printed pass can be traded for a more durable annual Every Kid in a Park pass at the three national park sites with entrance fees: Muir Woods National Monument, San Francisco Maritime National Historical Park, and Pinnacles National Monument.
The pass grants free entry for fourth graders and up to three accompanying adults to most federally managed lands and waters, including national parks, forests, wildlife refuges and marine sanctuaries.
Field Trip Grants
The Every Kid in a Park program also includes field trip grants from the National Park Foundation, which will support educational trips to Golden Gate National Recreation Area, Rosie the Riveter/WWII Home Front National Historical Park, San Francisco Maritime National Historical Park, and Pinnacles National Monument.
Visit individual park websites to learn more about unique field trip and education offerings.
Every Kid in a Park is part of President Obama's commitment to protect our nation's unique outdoor spaces and ensure that every American has the opportunity to visit and enjoy them. The program, now entering its second year, is a call to action for children to experience America's spectacular outdoors, rich history and culture.
Every Kid in a Park is a crucial component of a multi-pronged approach to inspire the next generation to discover all that our nation's public lands and waters have to offer, including opportunities to be active, spend time with friends and family, and serve as living classrooms to build critical skills.
The Every Kid in a Park program is an Administration-wide effort between the Department of the Interior, the Department of Agriculture, the Department of the Army, and the National Oceanic and Atmospheric Administration.
The program continues each year with the then-current group of fourth graders. After 12 years, every school-age child in America will have had an opportunity to visit their public land and waters for free, inspiring the next generation to be stewards of our nation's shared natural and cultural heritage.
For more information, please visit www.everykidinapark.gov.
###

Dropbox folder with images of schoolkids at Muir Woods NM

Bay Area national park sites include:
Media Contacts:
Golden Gate NRA, Muir Woods NM: Nathan Hale Sargent, 415-786-8021, hale_sargent@nps.gov 
Pinnacles National Park: Jan Lemons, 831-389-4486 x237, jan_lemons@nps.gov 
Point Reyes NS: John Dell'Osso, 415-464-5135, john_a_dell'osso@nps.gov 
Rosie the Riveter/WWII Home Front NHP: Kelli English, 925-228-8860 x6421, kelli_english@nps.gov 
San Francisco Maritime NHP: Morgan Smith, 415-859-6797, morgan_smith@nps.gov
Last updated: September 8, 2016