Rangers, Snakes and Frogs Enter Chinese New Year Parade in San Francisco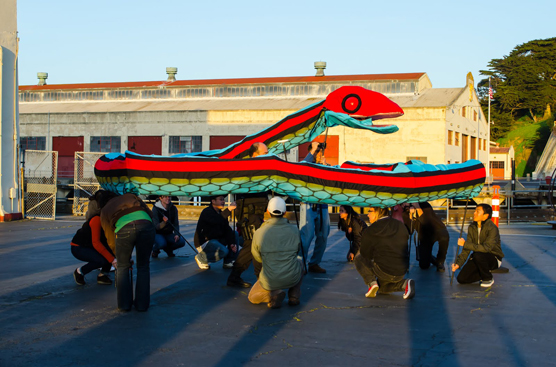 News Release Date:
February 22, 2013
Contact: Alexandra Picavet, (415) 786-8021
San Francisco, CA--Golden Gate National Recreational Area is showing some color and humor with its exhibit in the Southwest Airlines Chinese New Year Parade 2013 in the form of a colorful 60' endangered San Francisco garter snake chasing an equally endangered California red-legged frog. This Saturday, February 23, the National Park Service will join in the celebration by carrying a magnificent handmade fabric snake created by park staff and volunteers.
"Traditionally, interactions with park rangers happen on park lands, and we assume people will come to us, but we are trying to shift that thinking," Chief of Interpretation Michele Gee said. "We are an active part of our local communities, and participating in the parade is a way we can show our support for the large Bay Area Asian-American population, and to show the diversity of people, places, and things to do in Golden Gate National Parks," continued Gee, who is Asian- American and always dreamed of being part of this parade.
Look for the Golden Gate National Recreation Area's snake and supporters in the latter half of the parade of approximately 100 entrants which include large floats, traditional Lion Dancers and dragons. The San Francisco Chinese New Year Parade began in 1860 and is considered one of the top 10 parades in the world, as well as the largest celebration of Asian culture outside of Asia. For more information about the Parade, visit www.chineseparade.com.
Follow us on Twitter at @GoldenGateNPS
Contact Public Affairs Office at 415-786-8021
GOGA_NewsRelease@nps.gov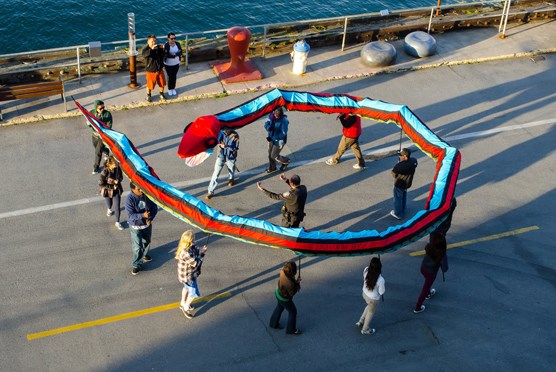 Last updated: February 28, 2015