Salazar Urges Parents to Take Children Out to Parks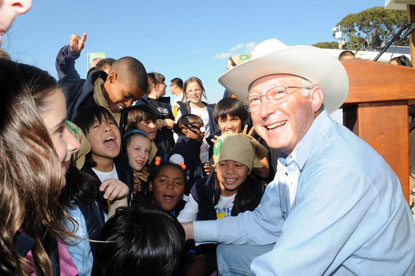 News Release Date:
October 15, 2010
Contact: Hugh Vickery, (202) 208-6416
At "Let's Move Outside" Event at Golden Gate Recreation Area
SAN FRANCISCO—Secretary of the Interior Ken Salazar today urged parents to take their children out to parks for exercise and outdoor recreation as part of a "Let's Move Outside" event with a group of fourth graders at the Crissy Field Center in the Golden Gate National Recreation Area.
"Let's Move Outside" is a nationwide initiative adopted by the National Park Service as part of First Lady Michelle Obama's "Let's Move" campaign to end childhood obesity in a generation.
"With the Let's Move Outside initiative, the National Park Service is highlighting ways to fulfill the First Lady challenging to the country, especially our young people, to get off the couch and get outdoors both for better health and for fuller, richer lives," Salazar said before joining the fourth graders from New Traditions School in San Francisco for exercise and other activities. "Places like Golden Gate National Recreation Area offer wonderful opportunities for families to stretch their legs, fill their lungs with fresh air, and connect with the natural world. Visiting parks can also instill in children a lifelong love of the great outdoors."
As part of the initiative, the National Park Service has instituted the "Let's Move Outside Junior Ranger program, "a modified version of the popular Junior Ranger program that rewards children for participating in healthy activities, such as hiking, biking, canoeing, and swimming.
Now operating in 52 national parks across the country—including a range of cultural and historic sites—Let's Move Outside fulfills the dual goals of improving our children's health, and instilling ethics of stewardship and civic pride.
Salazar noted that Golden Gate is a premier urban national park that offers seven million people in the San Francisco Bay Area an opportunity to experience the beauty of nature and to learn about the region's history and culture. In particular, youth and environmental education programs at the park's Crissy Field Center—a partnership between the National Park Service, Presidio Trust, and the nonprofit Golden Gate National Parks Conservancy—are among the best in the National Park System. Program coordinators engage communities in the development of programs, many of which are tailored specifically for diverse audiences.
"Let's Move Outside" complements President Obama's "America's Great Outdoors" initiative to create a conservation agenda for the 21st Century and to reconnect Americans to nature.
"People take care of what they love," Salazar said. "If we are going to have a successful conservation legacy in the 21st Century, our young people must develop a passion and a love for the great outdoors and all the wonders of the natural world. And, of course, visiting parks is fun and healthy."
#####
Last updated: February 28, 2015