Volunteers Respond to President Obama's Call for Service at Golden Gate National Parks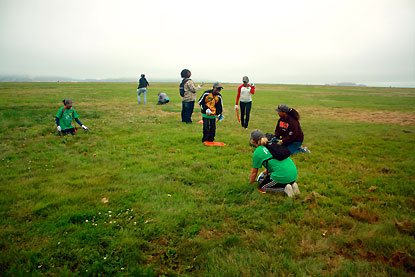 News Release Date:
June 25, 2009
Contact: Chris Powell, (415) 561-4732
(SAN FRANCISCO, CA)—The U.S. Department of the Interior kicked off its "United We Serve" Initiative and Outdoor Youth Mentoring Program with a Youth Service Day in Golden Gate National Parks on Thursday, June 25. As part of President Obama's "United We Serve," a national call for all Americans to do volunteer service in their communities from June 22–September 11, volunteers of all ages turned out to help maintain their park.
Volunteer sites included Ocean Beach, Lands End, Presidio Nursery, Crissy Field, Fort Baker, Muir Woods, and Inspiration Point in the Presidio. Two hundred fifty volunteers turned out to steward their national parks at 6 sites by collecting trash, removing invasive plants, and helping maintain trails.
They volunteered 750 hours in one day—normally it would have taken 1 ½ months to complete the same work. The Golden Gate National Parks has the largest volunteer corps in the National Park Service, with 22,000 VIPS contributing 414,000 hours annually.
The following speakers welcomed the volunteers at Crissy Field: Department of the Interior, Director of External Affairs Ray Rivera, Interim Superintendent of Golden Gate National Parks Frank Dean, Presidio Trust Executive Director Craig Middleton, Kathy Mota, Community Engagement Specialist for Toyota, and Aaron Carpenter, Vice President of Marketing for North Face.
"President Obama's call to service this summer is an opportunity for young people to get outdoors, learn from adult mentors, and to serve their country in a time of need," said Secretary of the Interior Ken Salazar. "By giving back to their communities, young and old alike help restore our parks while gaining a greater appreciation for our treasured landscapes and historic sites, from the Muir Woods and Fort Baker to the Presidio, Lands End and Ocean Beach."
The environment, energy education and health are four key areas in which President Obama calls for serving in our communities this summer as part of United We Serve—see www.serve.gov.
Golden Gate National Parks Volunteer Program is a model program for volunteers nationwide—a cooperative effort of the National Park Service (an Interior agency), Golden Gate National Parks Conservancy, and the Presidio Trust.
This event is being co-sponsored by Interior's Take Pride in America®, which is taking the lead in the Department's 2009 Summer Service initiative by promoting an Outdoor Youth Mentoring Program with the mission of providing young people positive outdoor experiences with an adult mentors.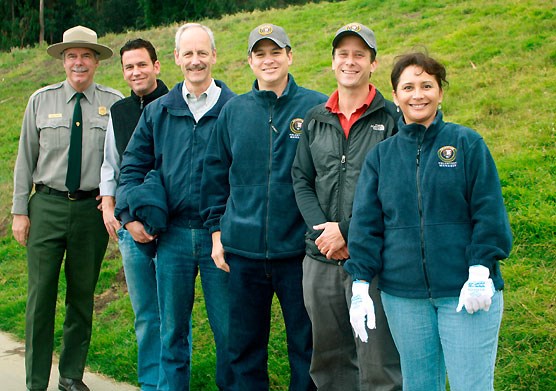 Last updated: February 28, 2015