Sustainable Alcatraz
There are no electrical or water lines that connect Alcatraz to the mainland. Water and diesel fuel for electric generators must be ferried to the island. Garbage and sewage must be carried back to the mainland. These inefficiencies all add to the island's carbon dioxide (CO2) emissions.
The National Park Service has installed photovoltaic (PV) panels and a battery system on Alcatraz to reduce these carbon emissions.
How the Photovoltaic System Works
When sunny, 959 PV panels located on the cell house roof power the island. Any surplus electricity is used to charge a bank of batteries, storing it for later use. A controller maximizes renewable energy use by directing PV power to inverters that convert the DC to AC power to meet the island's electricity demands. If photovoltaic power can not meet the island's needs (about 70-80 kilowatts), the batteries will supply the remaining demand. If PV and battery power is insufficient, the controller will start diesel generators to power the island. Any excess power from the generators is used to recharge the battery bank.
Water Is in Short Supply on the Island
Water is used for drinking, irrigation and in the sewage system. To reduce water transport to the island, the gardens are irrigated with captured rainwater, and the toilets are flushed with saltwater. Desalinization and on-site sewage treatment are under study.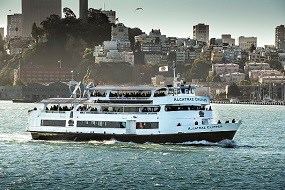 What Comes on the Island Must Go Off
Garbage and sewage must be carried back to the mainland. The park and our partner Alcatraz Cruises are committed to diverting waste from landfills. Recyclables and compostables are separated out of the trash generated here after its return to the mainland.
Hybrid Ferries
Alcatraz Cruises is pioneering the use of hybrid ferries. They have built ferries that use a combination of solar, wind and diesel power to transport visitors to and from Alcatraz and Angel Islands.
Last updated: October 8, 2021