Becoming a Carbon Neutral Park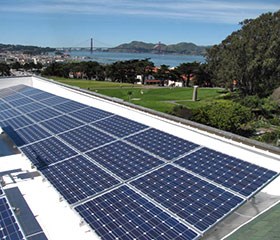 In accordance with the Climate Change Action Plan, our goal is to achieve carbon-neutral park operations and contribute no net release of heat-trapping gases into the atmosphere.

Sustainability projects at Golden Gate have focused on reducing the amount of carbon dioxide (CO2) and other heat-trapping gases generated from our park operations. When we burn fossil fuels for energy and transportation, we add more and more CO2 into the atmosphere. This buildup acts like a blanket that traps heat around the world, disrupting the climate and ecosystems.

Major efforts undertaken by the park to reduce these emissions include using 100% renewable electricity and improving the efficiency of the park fleet with electric and hybrid vehicles. However, the park still relies on natural gas, propane, and diesel for certain operations. In addition, organic materials sent to landfills release methane, another heat-trapping gas. The park will continue working to reduce CO2 emissions and its contribution to climate change. As an interim measure, the park purchased carbon credits to offset its carbon emissions for the 2018 fiscal year. A grant from our non-profit partner, the Golden Gate National Parks Conservancy, funded these offsets.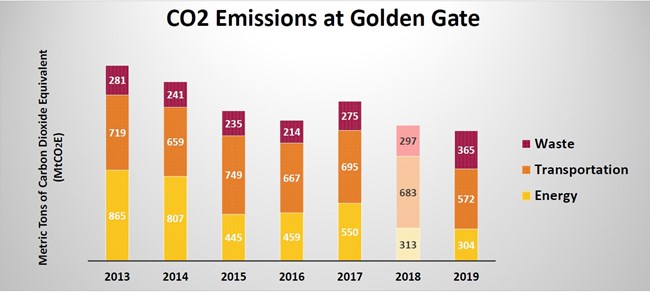 Carbon Footprint from Park Operations
The park measures emissions from three different sectors:
Energy, Transportation, and Waste.
Purchased Electricity (Energy)
: this is the electricity we get from our energy providers. As of 2017, the park purchased
100% renewable electricity
, creating a carbon footprint of zero from electricity.
Stationary Combustion (Energy)
: this includes the propane, diesel, and natural gas that is used to heat our buildings and run emergency generators.
On-Road and Off-Road Fleet (Transportation)
: these are the vehicles we use for our park operations. Light duty vehicles transport staff to various park sites, and heavy duty equipment is used to mow, pave, and move sand on beaches. Most of our sedans are hybrids or electric, while the heavier equipment uses gas or diesel.
Solid Waste (Waste)
: the waste that goes to landfills, especially organic materials, will generate methane, a potent heat-trapping gas.
Wastewater (Waste)
: the methane created from sewage is also counted in our carbon footprint.
Last updated: September 30, 2021