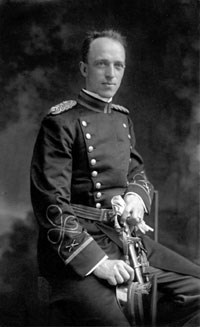 Crissy's Dream of Flying
Crissy Field, located in the Presidio of San Francisco, is named after Major Dana H. Crissy. In the early 1900s, Presidio coast artilleryman Dana H. Crissy was full of ambition and fascinated by the new invention of human flight. Imagine the sensation of being lifted into the air, just above the ground, and magically transported somewhere else. At that time, air travel was a very new concept and, as with many new technologies, people seriously doubted its possibilities. Most did not believe a person could fly in the air and safely return to the ground. Crissy's dream was to fly airplanes, in in doing so, prove to the world that air travel advancements made it an effective, reliable, and, most importantly, a safe mode of transportation.
By 1917, he was pursuing his dream when he transferred to the Aviation Section of the Signal Corps. He became a Major and the Commander of the Mather Air Field in Sacramento. This promotion put him in an excellent position to participate in the Army's most important long-distance demonstration flight to date. Crissy wanted to be involved in a flight that would challenge the equipment, test the skills and endurance of the pilots, and defy the public's uncertainty.