Crissy Field (page 1/2)
The story of Crissy Field is inexorably linked to the early history of aviation in the United States. Named in honor of Major Dana Crissy, Crissy Field was the military's first Air Coast Defense Station on the Pacific coast. Between the World Wars, research and innovation at Crissy Field helped develop the air power that proved essential to the Allied victory in 1945. Here, flying records were set, long-distance flights started and ended, and early aviators charted territory above the clouds.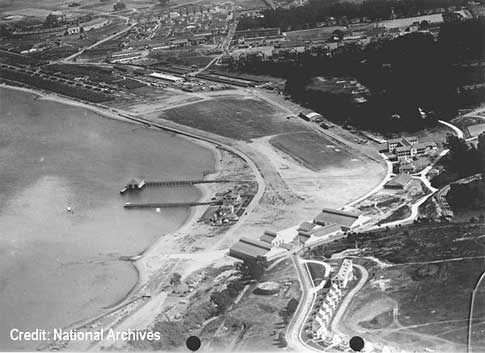 Following the conclusion of the 1915 Panama-Pacific International Exposition, a board of army officers recommended the vacant bayfront site for an Air Coast Defense Station to supplement the artillery defenses of San Francisco Bay. The plan was approved in 1921 and implemented under the supervision of Henry "Hap" Arnold. Facilities were simple at best—a grassy, kidney-shaped field on which the outline of the Panama-Pacific International Exposition racetrack was still visible. In an era of canvas-wing biplanes, however, the site was ideal for an airfield—a wide expanse of grass to soften landings and slow the planes after touch-down.
Along the southern edge of Crissy Field, the army constructed hangars, workshops, and a garage. Farther east, a cluster of structures included an administration building, enlisted barracks, flagstaff, and a guardhouse. On top of the bluff were bachelor officers' quarters and a row of small homes for married officers.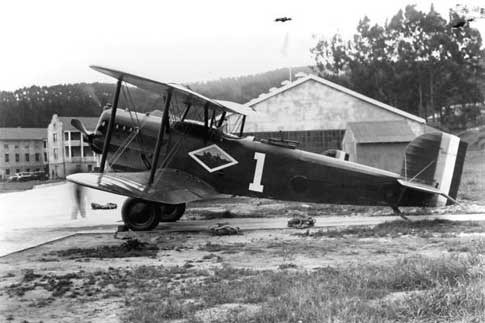 In the early years, operations at Crissy Field consisted primarily of observation of artillery fire, aerial photography, liaison flights for headquarters personnel, special civilian cooperation missions (such as search-and-rescue and publicity flights), and support for the U.S. Air Mail Service. The first Western aerial forest fire patrols were undertaken by Crissy Field pilots, who also checked for diseased trees, identified archeological sites in remote southwestern deserts, and participated in the dedication of Lassen National Park from the cockpits of their aircraft.
Last updated: July 27, 2021