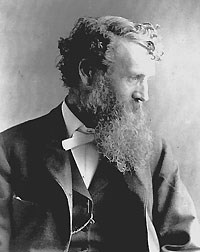 "Everyone needs beauty as well as bread, places to play in and pray in where nature may heal and cheer and give strength to body and soul alike" - John Muir, 1869
John Muir was one of the country's most famous naturalist and conservationist and Muir Woods, part of Golden Gate National Recreation Area, is named in his honor. Muir is credited with both the creation of the National Park System and the establishment of the Sierra Club. He educated Americans about the value of the country's wilderness, inspiring generations of wilderness advocates.
Early, self-taught education
John Muir was born in Dunbar, Scotland on April 21, 1838, as the oldest son in religious shopkeeper's family. From an early age, Muir was fascinated by nature and was eager to learn about his environment. His family immigrated to America in 1849 and settled into farm life in Milwaukee, Wisconsin. His family did not have enough money to send him to school, so after completing his daily farm chores, Muir spent his spare time teaching himself algebra and geometry. As a child, he designed many inventions that would ease the family's work.
Passion for nature
As he grew older, Muir became increasingly excited about what plants and nature could teach him. At university, Muir focused his studies on chemistry, geology and botany. Restless to explore more of the country, he left school for what he would call "the University of the Wilderness". He came to the San Francisco area in 1868 and there he discovered the Sierra Mountains. Muir fell in love with the immense beauty of the mountain landscape. Armed with a plant-press and a blank notebook, Muir wandered for weeks at a time, through the mountains that would later be Yosemite National Park.
During his lengthy wanderings, Muir contemplated man's relationship to nature. He concluded that all life forms have inherent significance and the right to exist. Humans, Muir decided, are no greater or lesser than other forms of life. He also realized how fragile nature was; how people's impact on the land, through grazing, lumbering and commercial developments, was slowly destroying all the beauty in the wilderness. He wrote many magazine articles and books, inspiring other people to love nature and drawing attention to the need to protect the environment.
Creation of Yosemite National Park
Muir became politically active to protect Yosemite from being threatened by commercial developments. After several legal battles, Congress established Yosemite National Park in 1890 in order to protect thousands of acres of forest land from further destruction. In 1892, Muir and other private citizens banded together and established the Sierra Club to increase awareness about the potential destruction of the country's wilderness.