Bernice Farington Collection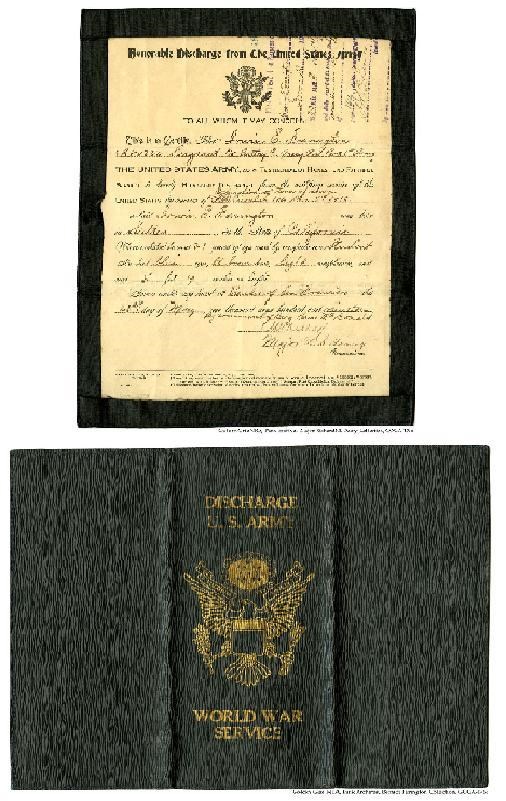 Irwin E. Farington was born in Sutter, California. During the Spanish American War, he traveled to San Francisco to observe troop activities, visiting the Cliff House to watch troop ships travel through the Golden Gate and going to Market Street to see the 1st California Volunteer Infantry Regiment triumphantly parade home. As a 21-year-old student, he enlisted in Battery C of the First Army Artillery Park at the outbreak of World War I. An Army Artillery Park included a motor section to supplement the ammunition service of artillery units, a depot section which served as the repository for all spare materials used by the units, and an attached mobile ordnance repair shop to facilitate important repairs individual units were unable to complete locally. Organized from various companies at Fort Winfield Scott in San Francisco, the 1st Army Artillery Park embarked for St. Nazaire, France from the Port of Embarkation in New Jersey aboard the transport USS Kroonland in June of 1918. While overseas, they participated in the St. Mihiel and the Meuse-Argonne Offensives, and then returned to San Francisco. Sergeant Farington's unit marched down Market Street on its way to the Presidio of San Francisco for demobilization, marching in the footsteps of the very same volunteers he had come to watch so many years prior.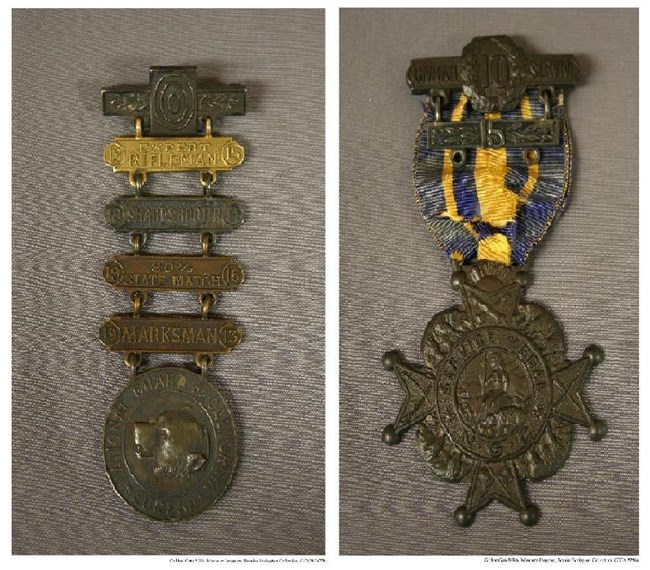 After a brief enlistment with the Third Company, Coast Artillery Corps, Farington joined the 184th Infantry Regiment of the California National Guard which was assigned to the Defenses of San Francisco. During this time he spent summers training at Fort Winfield Scott. In 1927, a small group of Folsom Prison inmates, frustrated by a failed escape attempt, began a riot among 1,200 prisoners who were watching a film at the prison. The prisoners quickly took over a majority of the prison, taking five guards hostage. Governor C.C. Young asked Colonel Wallace A. Mason, commanding officer of the 184th Infantry, for assistance. At Colonel Mason's request, General R.E. Mittelstaedt ordered all military units to the Sacramento prison, one of which was Company H from Yuba City, commanded by Captain Irwin Farington. In the early hours of November 25th the prisoners were given an ultimatum to surrender. When they refused Company E stormed the prison, aided by a touring car equipped with machine guns brought by Captain Farington's company. Shortly afterward the prisoners released all hostages and returned to their cells.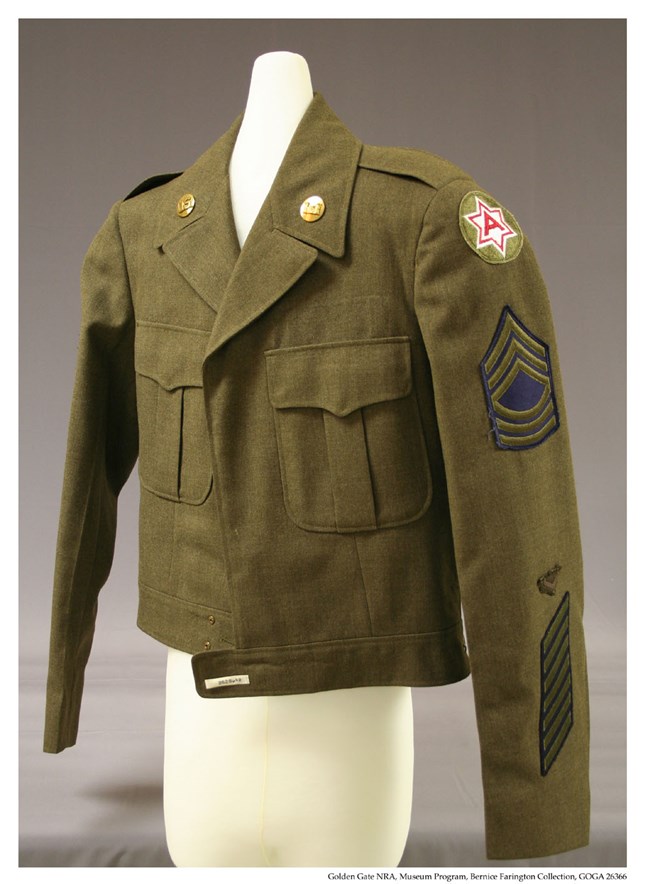 Irwin Farington served with the 6th U.S. Army during World War II. He passed away on February 20, 1973 and is interred at Sutter Cemetery. His wife, Bernice, worked as a volunteer for the Presidio Army Museum for many years and donated her late husband's belongings over the span of ten years. The collection includes a variety of objects used by Farington during his career, including footlockers (trunks used by military personnel), uniforms, awards and decorations, accessories such as canteens and whistles, as well as discharge certificates and postcards.
Last updated: February 28, 2015