Centuries of Defense - World War II Era (1933-1950)
The U.S. Army looks inwards as the world enters war. Tremendous pre-war mobilization effort expands and develops military bases for the thousands of men processing through San Francisco on their way to the Pacific Theater.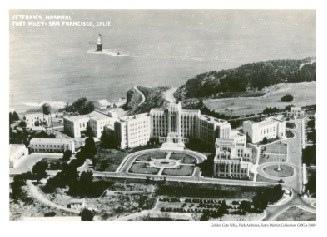 1933 - Alcatraz Federal Penitentiary

Army closes its military prison; Alcatraz Island transfers to Federal Bureau of Prisons.


1934 - Veteran's Hospital built at Fort Miley

All but one military building is demolished to allow construction of the hospital


1936 - Crissy Army Airfield is closed to all flight operations but light aircraft and helicopters


1938 - Battery Davis and Battery Townsley constructed

These new battery defenses are high sercurity weapons, capable of shooting a 2,100 pound, armor-piercing projectile 25 miles out to sea. These and other WWI batteries are covered by dozens of feet of concrete and earth to protect them from air and naval attack.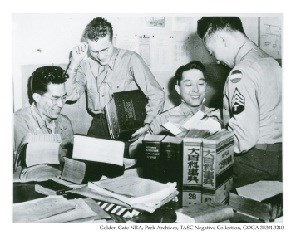 1939 - 1945 - World War II


1940 - Fort Cronkhite constructed

As coastal defenses expand, an additional post is created to accommodate them. Quick construction and standardized design used at this fort is the best example of a Mobilization Post.


1941 - 1942 - Military Intelligence Service Language School

Nisei (second generation Japanese-American) soldiers are trained to serve as military linguists and translators for the Pacific Theater. One class graduates from the Presidio school. The school is moved to Minnesota in 1942 due to the relocation order for all Japanese immigrants and Japanese-Americans.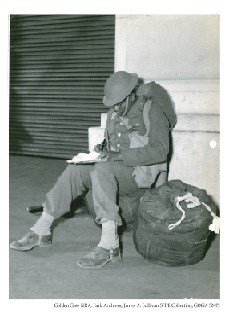 1941 - 1944 - San Franicsco Port of Embarkation (SFPE) at Fort Mason

During 45 months of war, 1,647,174 passengers and 23,589,472 measured tons of meterial moved through San Francisco Port of Embarkation to the Pacific (two-thirds of all troops sent into the Pacific). The SFPE also administered ports in Los Angeles, Portland, and Seattle.


1942 - Women's Army Corp signed into Public Law, thousands of women enlist


1946 - U.S. Army Coast Artillery School

Army moves its Coast Artillery School from Fort Monroe, Virginia to Fort Winfield Scott.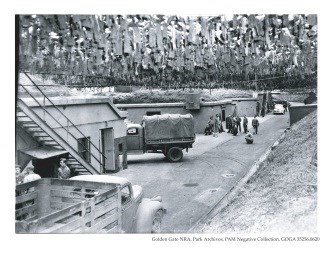 1950 - Coast Artillery deactivated

Coast Artillery system becomes obsolete due to weapons technology and military operations developments.
Last updated: February 28, 2015