Artifacts and Archeological Collection at Golden Gate

Learning from Artifacts

At the Golden Gate National Recreation Area, we have more than 370 archeological sites. From these sites, we have found almost 500,000 artifacts, including arrowheads, children's toys, old medicine bottles, buttons and buckles, figurines, tools, horseshoes, building materials and jewelry. In addition to artifacts, we also can learn exciting information from buildings, structures, layers of soil, or groupings of different artifacts.
Archeologists carefully study artifacts to learn about past people and their lifestyles, cultures, and beliefs. They study "material culture" which is the term for the objects and things past peoples created and left behind - buildings, tools, house wares, etc. But the artifact alone can't tell them everything. Archeology is about looking at the larger context, the whole picture of how an object was made and used in everyday life.

At the GGNRA Archeology Lab, a team of archeologists and museum professionals carefully catalog and analyze artifacts to learn more about the ways people once lived and worked in the lands surrounding the Golden Gate.

Click on any of the following samples of park artifacts to understand how archeologist can learn a great deal of information from artifacts:

Archeological Collections

The following archeological collections are some of the largest and most noteworthy recovered from the GGNRA over the past 40 years:

Alcatraz Tidepool Finds, c. 1982
SS Tennessee Shipwreck Excavation, c. 1982
Black Point Battery Excavation, c. 1985
Sutro Heights Parapet Excavation, c. 1987
Crissy Field Prehistoric Site Excavation, c. 1999
Crissy Field Quarter Master Landfill Dump Excavations and Monitoring, c. 1999-2001
Muir Beach Prehistoric Pelican Site Recovery, c. 2006
Ocean Terrace Excavation, c. 2006
Golden Gate Dairy Recovery, c. 2008
Point San Jose Ossuary Pit Recovery, c. 2010
Merrie Way Stands Excavation, c. 2011

A number of other collections have been recovered with great value to the GGNRA archeology and museum program as well, including numerous field discoveries from around the park. The collection is constantly growing as new discoveries are made in the park each year.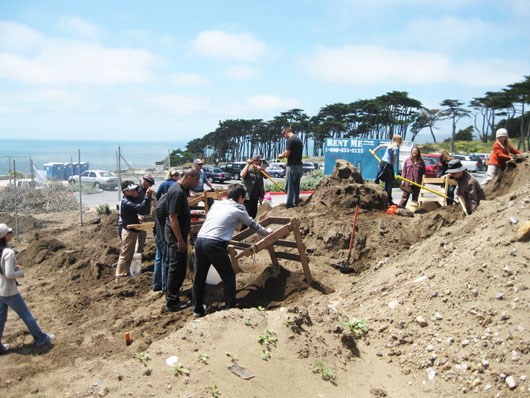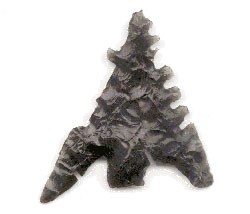 Think like an archeologist!
Let's pretend that you are an archeologist and you were working at a historic native American Coast Miwok excavation site near Crissy Field. Great news: you have just uncovered a stone tool!

Now you have to ask all sorts of questions to learn more about this great artifact discovery:

1. What type of stone is the artifact made of?


(in fact, this artifact is made of obsidian, a glasslike volcanic rock commonly used in tool making.)

2. So then you should ask, where is the nearest source of obsidian to Crissy Field?

3. What is artifact's general shape and form? Does it have serrated edges or smooth?

4. Is it possible to determine what sort of function it had, like a scraper or cutter?


5. Where can you look to get more information? Are there other similar sites nearby that have provided good information? Can you find other reports, books or scholarly work that teaches you more about stone tools and Coast Miwok sites?

6. What information can you learn from the other artifacts that you have you gathered from the same archeological site? Perhaps you have already identified other tool fragments, soil samples, plant remains, animal bone, fish vertebrae, and fragments of sea urchin shell. How many different species of animals or plants are represented? Are they all local, or from different places? What is the soil like?
7. How did you find this artifact from the site? Where was it found? How was it found in relation to these other artifacts? How do you think that this artifact got here?

Studying all the different pieces of the puzzle gives archeologists a more complete picture of how people once ate and prepared food at this site before Spanish colonization changed life in the Bay Area forever.
Last updated: February 28, 2015