Elementary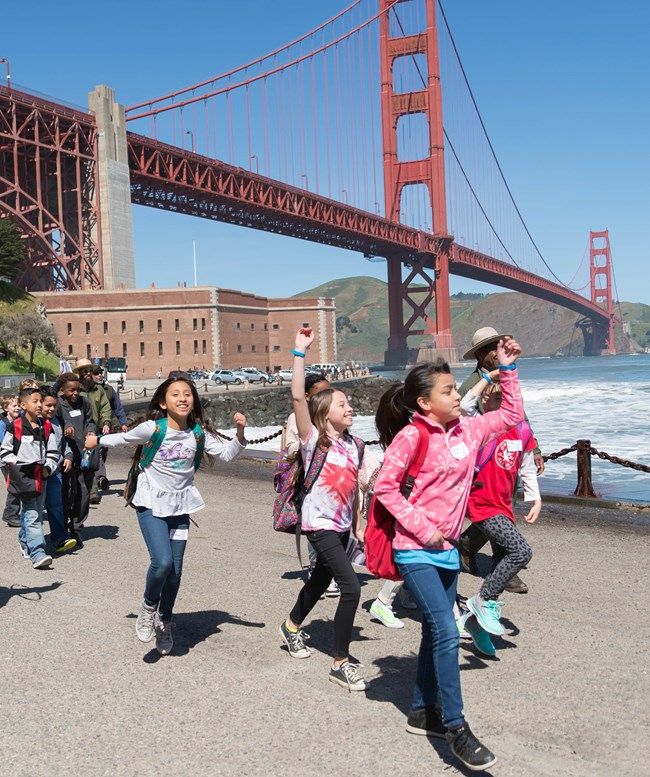 Inquiry With A Ranger
Habitat Detectives takes K-1 nature detectives on an intriguing investigation near the Golden Gate to uncover the rich diversity of human, plant, and animal life.

Seeds to Flowers invites K-2nd grade students to discover the plant life cycle while cultivating their own connection to nature at one of the Park Nurseries.

Petal Pushers brings 2nd-3rd grade naturalists to Park Nursery for a plant adaptation adventure.

Into the Redwood Forest immerses 3rd and 4th grade clue-seeking scientists in the wonders of Muir Woods, from the very small to the very tall.

Rock! Pattern! Systems! delivers 4th grade geologists to the continent's edge to explore the mysteries of past and present seafloors.

Point of Inquiry transports 4th grade history sleuths to Gold Rush Fort Point to discover and imagine another time and place.

Green Thumbs Up! awakens the restoration ecologists in students as they explore the relationship between people, plants, and pollinators.

Alcatraz Uncovered initiates 5th grade archeologists into the mysteries of time as they uncover layers of human history on the island.
To apply for a field trip, please submit an application here.
Investigate On Your Own
Rings, Ripples, & Echoes
guides K-5 species spotters on a magical journey through Muir Woods and other natural communities along the Redwood Creek Watershed.
Behind the Bricks
sends 4th through 5th grade crafty time travelers in search of everyday life in a Civil War Era fort.
Last updated: November 20, 2019