Updates
The National Park Service, the Golden Gate National Parks Conservancy, and Presidio Trust are thankful for your participation in shaping the next chapter of Crissy Field.

It's been an inspiring and informative journey brainstorming and sharing ideas together. In October 2018, we celebrated Crissy Field and heard your ideas about you want to see next at Crissy Field Day and, at the Open House in June 2019, we shared our first round of design concepts and gathered your feedback. We also kept the conversation going with our Crissy Field Next Pop-Ups at East Beach and West Bluff. Because of your participation, we heard from over 1,000 people on how they envision the future of Crissy Field – thank you!
Here's What You Told Us:
The infographic below captures the community feedback we received on our preliminary design concept presented in June 2019.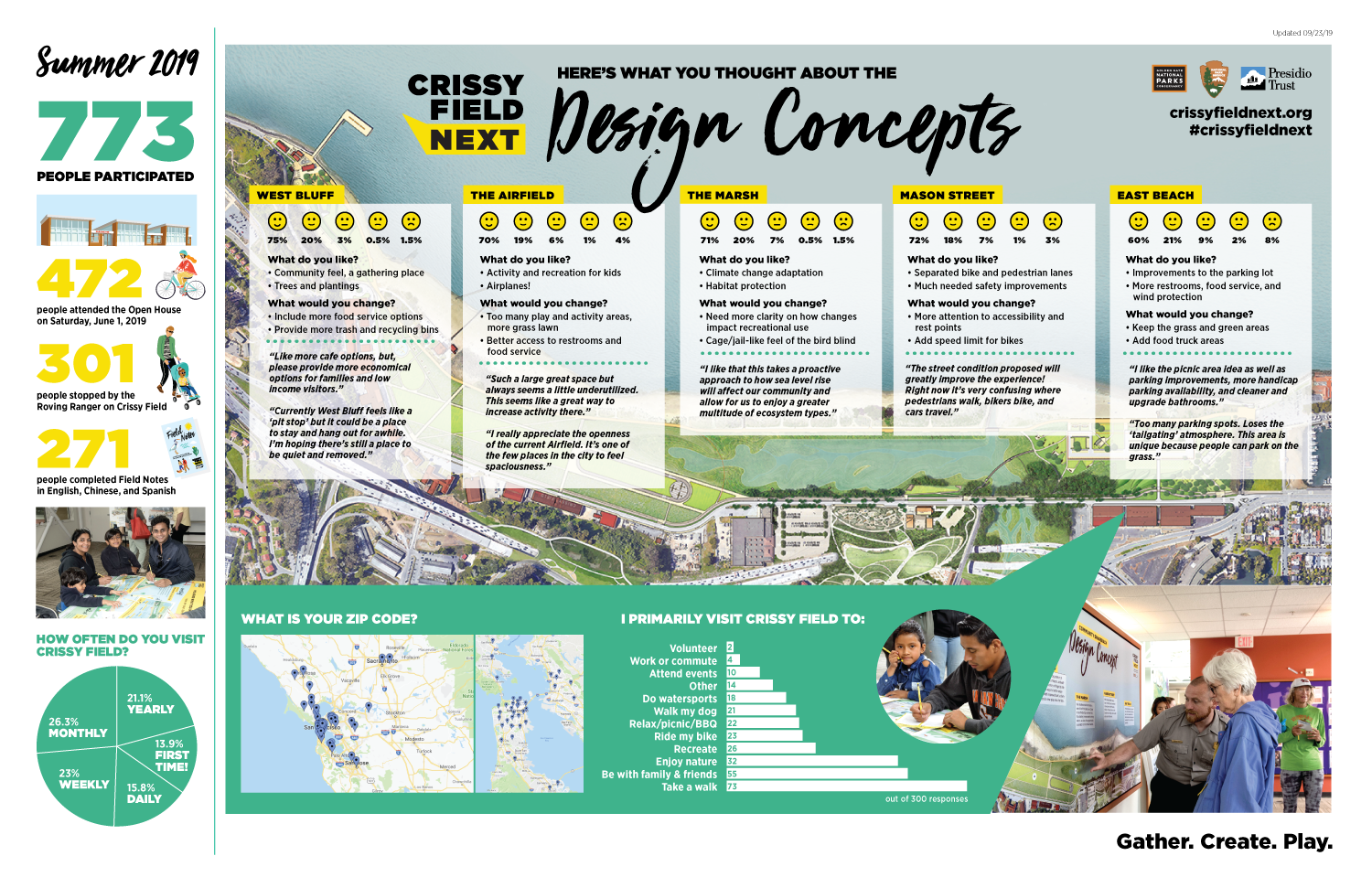 CRISSY FIELD - Gather. Create. Play. crissyfieldnext.org #crissyfieldnext Community Feedback on Summer 2019 Design ConceptsSummer 2019773 people participated this summer472 people attended the Open House on Saturday, June 1, 2019 301 people stopped by the Roving Ranger on Crissy Field271 people completed Field Notes HOW OFTEN DO YOU VISIT CRISSY FIELD? 26.3% MONTHLY21.1% YEARLY13.9% FIRST TIME!15.8% DAILY23% WEEKLYHERE'S WHAT YOU THOUGHT ABOUT THE Design Concepts WEST BLUFFSmiling Face: 75%Slight Smile: 20%Neutral: 3%Slight Unhappy: 0.5%Unhappy Face: 1.5%What do you like?Community feel, a gathering place Trees and plantingsWhat would you change?Include more food service options Provide more trash and recycling bins"Like more cafe options, but, please provide more economical options for families and low income visitors.""Currently West Bluff feels like a 'pit stop' but it could be a place to stay and hang out for a while. I'm hoping there's still a place to be quiet and removed."THE AIRFIELDSmiling Face: 70%Slight Smile: 19%Neutral: 6%Slight Unhappy: 1%Unhappy Face: 4%What do you like?Activity and recreation for kidsAirplanes!Too many play and activity areas, more grass lawn Better access to restrooms and food service"Such a large great space but always seems a little underutilized. This seems like a great way to increase activity there.""I really appreciate the openness of the current Airfield. It's one of the few places in the city to feel spaciousness."THE MARSHSmiling Face: 71%Slight Smile: 20%Neutral: 7%Slight Unhappy: 0.5%Unhappy Face: 1.5%What do you like?That it addresses climate change Protecting habitatWhat would you change?Need more clarity on how changes impact recreational use Cage/jail-like feel of the bird blind"I like that this takes a proactive approach to how sea level rise will affect our community and allow for us to enjoy a greater multitude of ecosystem types."MASON STREETSmiling Face: 72%Slight Smile: 18%Neutral: 7%Slight Unhappy: 1%Unhappy Face: 3%What do you like?Separated bike and pedestrian lanes Much needed safety improvementsWhat would you change?Attention to accessibility and rest points Add speed limit for bikes"The street condition proposed will greatly improve the experience! Right now it's very confusing where pedestrians walk, bikers bike, and cars travel."EAST BEACHSmiling Face: 60%Slight Smile: 21%Neutral: 9%Slight Unhappy: 2%Unhappy Face: 8%What do you like?Improvements to the parking lot More restrooms, food service, and wind protection Keep the grass and green areas Add food truck areas"I like the picnic area idea as well as parking improvements, more handicap parking availability, and cleaner and upgrade bathrooms.""Too many parking spots. Loses the 'tailgating' atmosphere. This area is unique because people can park on the grass."WHAT IS YOUR ZIP CODE?I PRIMARILY VISIT CRISSY FIELD TO:Volunteer: 2Work or Commute: 4Attend Events: 10Other: 14Do Watersports: 18Walk my Dog: 21Relax/Picnic/BBQ: 22Ride my Bike: 23Recreate: 26Enjoy Nature: 32Be with Family & Friends: 55Take a Walk: 73Out of 300 responses Updated 9/23/19

We have received a generally positive response from the community and experts in the field. Therefore, you'll only see a few changes in this next round of designs, driven by these comments and additional design study:
New beach restroom and enhanced group picnic area with the removal of Building 1199 at East Beach
Improved relationship between the Marsh and Airfield to balance ecological function and recreational access
Improved bird blind/Marsh viewing area design
This improved design concept will be a part of the "Proposed Action" – the collection of projects and improvements proposed for the next chapter of Crissy Field. The National Park Service will welcome public comments on this Proposed Action once the compliance process begins.
How Can You Get Involved?
Email:
Email us anytime with your ideas and feedback. We are logging these as they come in!
Stay Connected:
Sign up for our Newsletter to stay in the loop on project updates.
Last updated: October 6, 2021