Updates
The National Park Service, the Golden Gate National Parks Conservancy, and Presidio Trust are thankful for your participation in shaping the next chapter of Crissy Field.

It's been an inspiring and informative journey brainstorming and sharing ideas together. In October 2018, we celebrated Crissy Field and heard your ideas about you want to see next at Crissy Field Day and, at the Open House in June 2019, we shared our first round of design concepts and gathered your feedback. We also kept the conversation going with our Crissy Field Next Pop-Ups at East Beach and West Bluff. Because of your participation, we heard from over 1,000 people on how they envision the future of Crissy Field – thank you!
Here's What You Told Us:
The infographic below captures the community feedback we received on our preliminary design concept presented in June 2019.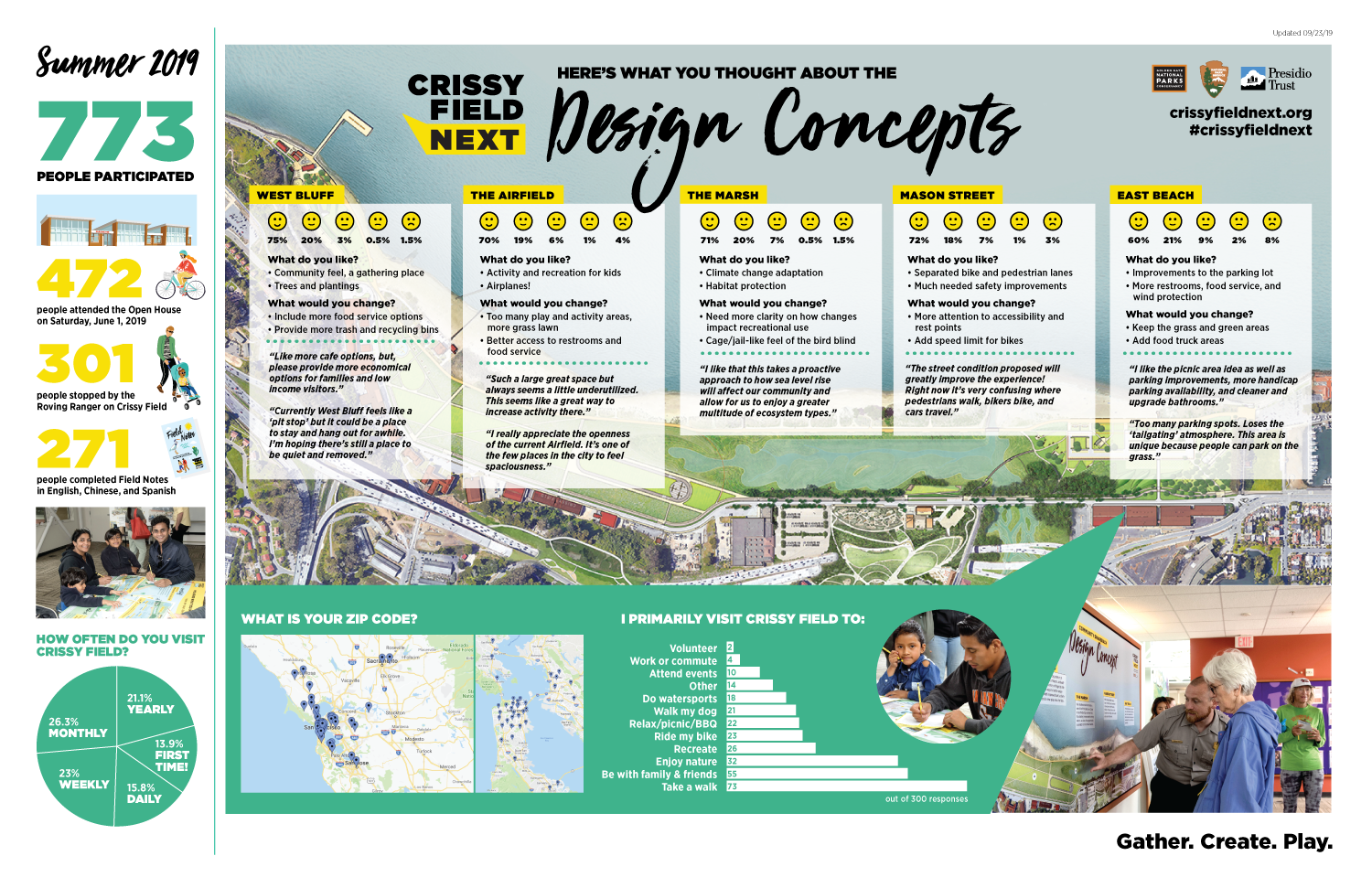 Download a full-size infographic here.
Download a screen readable text of the infographic.

We have received a generally positive response from the community and experts in the field. Therefore, you'll only see a few changes in this next round of designs, driven by these comments and additional design study:
New beach restroom and enhanced group picnic area with the removal of Building 1199 at East Beach
Improved relationship between the Marsh and Airfield to balance ecological function and recreational access
Improved bird blind/Marsh viewing area design
This improved design concept will be a part of the "Proposed Action" – the collection of projects and improvements proposed for the next chapter of Crissy Field. The National Park Service will welcome public comments on this Proposed Action once the compliance process begins.
How Can You Get Involved?
Email:
Email us anytime with your ideas and feedback. We are logging these as they come in!
Stay Connected:
Sign up for our Newsletter to stay in the loop on project updates.
Last updated: December 3, 2019