Water Quality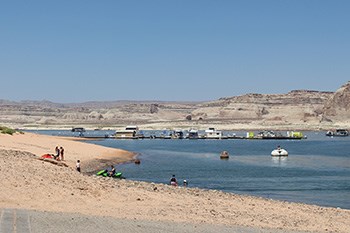 Humans depend on clean fresh water for many purposes. Clean water is needed for drinking, irrigating crops, industry, wildlife, and recreational uses such as swimming, boating, water skiing, and fishing. While water is the most abundant feature on the surface of the earth, the amount of useable fresh water is limited. Having good water quality is vital for human life and the health of the environment. Water quality is influenced by many factors including the surrounding environment, weather and climate, and almost all human uses. It is important to monitor and study water quality so we can detect and prevent contamination in order to have a clean useable supply of freshwater into the future.
Lake Powell is one of the largest man-made reservoirs in the U.S.A. With 96 side canyons, nearly 2,000 miles of shoreline, high summer temperatures, and fluctuating reservoir levels, its waters experience a wide range of water quality conditions. It would be impossible for the NPS to monitor all beaches within a reservoir of this size. Therefore education and temporary advisories at regularly monitored beach sites are the best tools for making the public aware of the possibility of water quality issues developing and the safety measures to reduce the likelihood of health issues.
Conditions That Can Lead to Water Quality Issues
A number of conditions can cause potential water quality issues, including elevated Escherichia coli (E. coli) counts, on Lake Powell, at Lees Ferry, and Colorado River tributaries. These include:
High visitation at beaches, at popular houseboat sites, and at other frequently visited areas.

Rising reservoir waters that come in contact with previously deposited human waste, pet waste, and livestock manure.

Headwaters of the many canyons along the lake (that are experiencing snow melt, rainwater runoff, or intense monsoonal storms coming from the plateaus and mountains) can pick up E.coli from livestock and wildlife waste and transport it to the reservoir.

Frequently visited areas (Antelope Canyon, areas near Lone Rock, popular house boat and accessible shoreline beaches, etc.) where visitors fail to use portable toilets, wag bags or other approved waste disposal methods.

Illegal dumping of septic tanks from private houseboats and larger recreational boats with bathrooms. All rental houseboats are now outfitted to not allow illegal dumping.

Sandy areas and water frequently used by wildlife such as geese, gulls, ducks, ravens, herons, coyotes, rabbits, and desert bighorn sheep can harbor E.coli.

Slot canyons, water pockets, and beach areas with warm pools of water cut off from flowing water or the reservoir can be hotspots for E.coli from wildlife, visitors, or other sources. These are often areas where children prefer to play – help steer them away from these areas and ensure their hands are washed before they eat.
Safety Precautions for All Visitors Enjoying Lake Powell's Waters
Anytime that you do recreational activities in the waters of Lake Powell you are strongly encouraged to follow basic hygiene practices including:
Do not ingest the water

Wash your hands before eating and touching your eyes or mouth

Shower with soap after participating in any water activities

Wash your hands after handling fish, gathering up your water gear and toys, changing out of your swimming suit, etc.

Do not enter the water if you have open sores or cuts or if you are currently sick with diarrhea as one of your symptoms
Help do your Part in Protecting Water Quality
It's the Law.
Specific to protecting Water Quality the following is prohibited in the 2018 Glen Canyon National Recreation Area Superintendents Compendium:
Disposing of solid human waste within ¼ mile of the shore of Lake Powell, the San Juan River, Escalante River, Dirty Devil River, or the Colorado River in any manner other than into a human waste container such as a toilet or human waste disposal facility designed for that purpose.

Use of a plastic or paper bag as a receptacle for solid human waste and/or disposal of a solid human waste is prohibited unless part of a specifically engineered bag waste containment system containing enzymes and polymers to treat human solid waste, capable of being sealed securely and state approved for disposal in ordinary trash receptacles.
Use the available facilities
Please use the land-based or floating restrooms, houseboat bathrooms, portable toilets, or portable toilets with Wag Bags that are available to all recreationists! Some people may think that digging a hole in the sand behind a bush or boulder is good enough. However, the reservoir lake level fluctuates throughout the year, and the cathole you dug months ago could be covered with water today, resulting in your human waste or its bacteria entering the lake.

Don't dump your tank in the lake.
It is illegal to use a boat on Lake Powell that can discharge sewage overboard. If your boat has a Marine Sanitation Device capable of overboard sewage discharge, it must be completely disconnected from the discharge port, the holding tank must only be connected to a deck mounted pumpout fitting, and sewage holding tanks have all discharge outlets capped or plugged.

Please report any sanitary concerns to the GLCA Environmental Water Lab at 928-608-6539.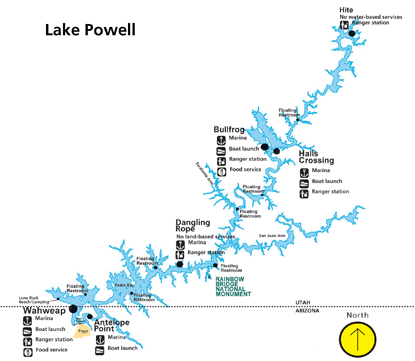 Compliance is easy.
With eight floating restrooms/dump stations, and six areas within Lake Powell's marinas, you are never too far from a place to empty your portable toilet. If you and everyone else uses their portable toilet properly, you will never have to worry about a smelly camp, stepping in something nasty in the middle of the night, or swimming in contaminated waters.

Check our Changing Lake Levels page for the latest information about what facilities are available at the current lake level.


Last updated: July 19, 2023