Rafting in Glacier Bay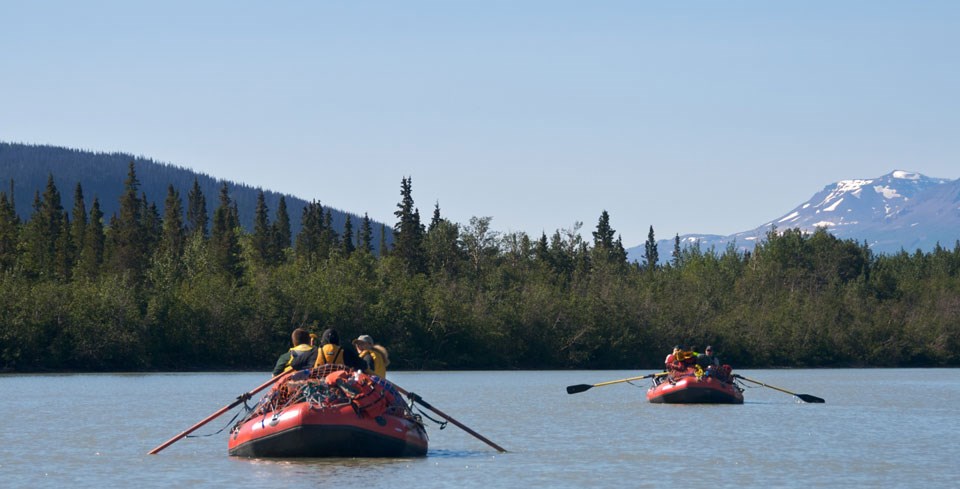 The Alsek River and its major tributary, the Tatshenshini River, are large volume, swift glacial rivers. Beginning in the interior, it is one of a small number of river systems which breach the coast range, offering boaters uncommon environmental diversity, impressive scenery, and an outstanding wilderness experience.

Most trips begin on the Tatshenshini at Shawshe (Dalton Post), the last road accessible put-in off the Haines Highway in Yukon Territory, Canada. From here it is 153 river miles to the normal take-out at Dry Bay, Alaska. A six-mile long canyon immediately below Shawshe (Dalton Post) offers continuous Class III whitewater, Class IV at high water (International Scale, Class I-VI). The remainder of the river is generally Class II with large eddies and folds at normal volumes. The Alsek River above its confluence with the Tatshenshini is Class IV above Turnback Canyon. Turnback Canyon must be portaged by rafters during the summer months. Tatshenshini trips average 9 days.

Tatshenshini-Alsek trips starting at Shawshe (Dalton Post) travel through private Champaign-Aishihik Tribal lands, Yukon Territory lands, Tatshenshini-Alsek Provincial Park in Canada and Glacier Bay National Park. Upper Alsek trips travel through Kluane National Park, and Tatshenshini-Alsek Provincial Park, Canada. For travel on the upper Alsek contact Kluane National Park, Parks Canada, Haines Junction, Yukon Canada Y0B 1L0, (867) 634-2329 extension 201.

For a list of commercial operators authorized to operate in the park and preserve see the Glacier Bay Visitor Services Directory. A permit is required for private trips. You may get on the waiting list for private trip permits by contacting GLBA_Alsek_Info@NPS.gov. There is a $25 (U.S.) administrative charge to be placed on the waiting list. See Permits- Application Procedures for further details with contact and payment information. Please note that the National Park Service cannot accept cash or checks. If you have any questions, please contact the Park at GLBA_Alsek_Info@nps.gov or Alsek River information phone line at (907)697-2603. Overnight camping permits are required by Kluane National Park on the upper Alsek River.

Rafting Permit Application and Information
For non-commercial trips on the Alsek-Tatshenshini rivers


Last updated: November 15, 2023