News Release
Whale Waters Update for Glacier Bay Effective 20 July 2017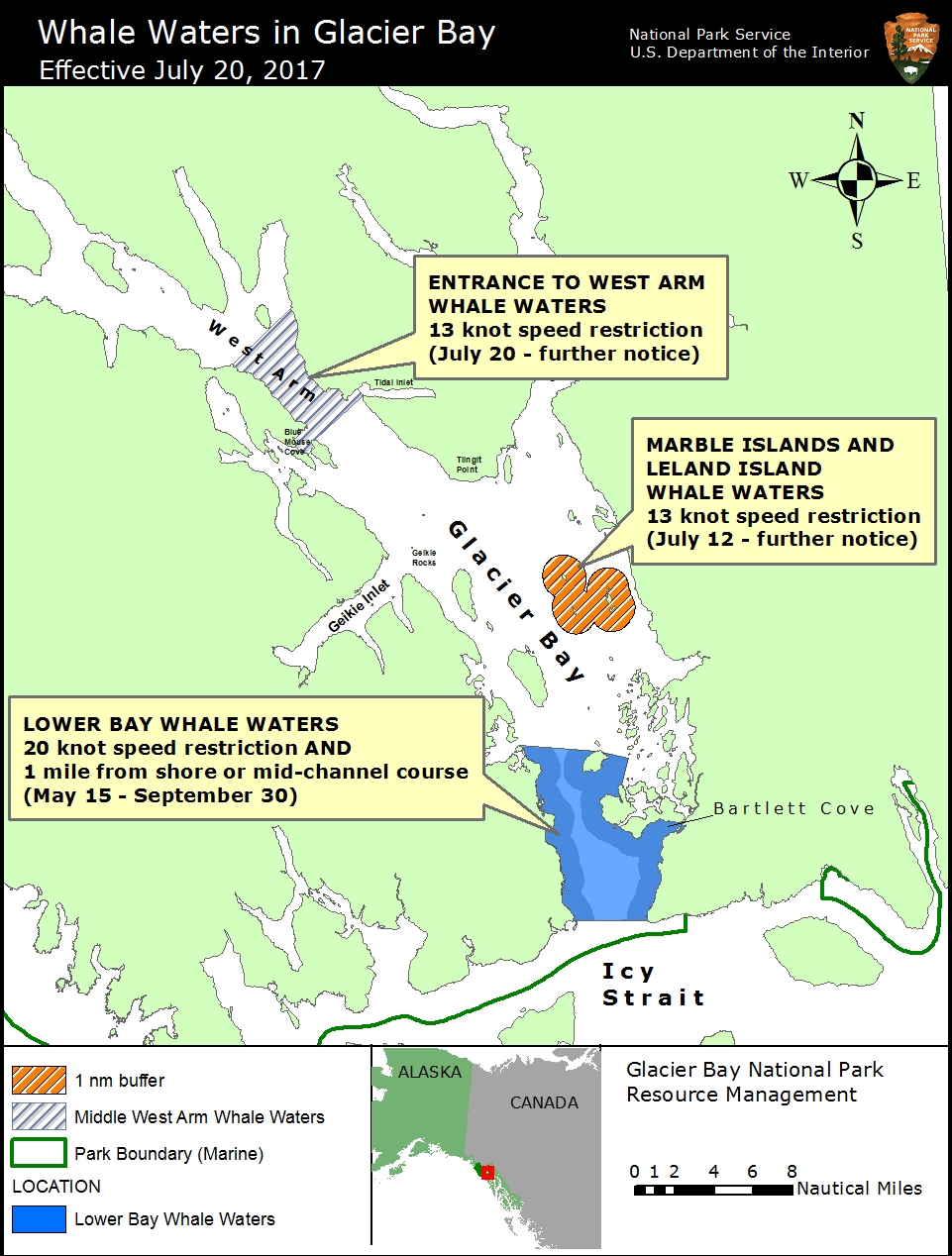 News Release Date:
July 19, 2017
Contact: Albert Faria, Chief Ranger, 907-697-2230
Contact: Chris Gabriele, Whale Biologist, 907-697-2664
BARTLETT COVE, ALASKA
– Today, Glacier Bay National Park and Preserve Acting Superintendent Albert Faria announced that the boundaries of the temporary whale waters area implemented on July 12th in the West Arm have been adjusted to accommodate a shift in whale distribution. Due to a continuing high concentration of whales near the Marble Islands and Leland Island, the 13-knot speed limit in that area remains unchanged.  
These changes go into effect beginning at 5AM Thursday, July 20. As shown on the attached map, the newly designated whale waters are defined as follows:  
Middle of the West Arm
- 13 knot speed restriction only: This area is defined as a rectangle with the following corners:
• The point defining the southern extent of the mouth of Tidal Inlet
• The point defining the southern extent of the mouth of Blue Mouse Cove, including the waters of Blue Mouse Cove.
• A straight line from the easternmost point of Scidmore Cut, past the southern tip of Composite Island, meeting the shoreline of Queen Inlet at 58
o
53.8' N, 136
o
31.1' W            
Current whale waters also include:  
Marble Islands and Leland Islands
– 13 knot speed restriction only: This area is defined as a one mile buffer surrounding the South Marble Island, North Marble Island and Leland Island.  
Lower Glacier Bay
- 20 knot speed and course restriction: Annually from May 15 – September 30, a 20 knot speed and mid-channel course restriction are in effect in the Lower Bay. This area includes all waters between the mouth of Glacier Bay and a line drawn between the northern tip of Strawberry Island and the northern tip of Lars Island. This boundary is shown on NOAA nautical charts of Glacier Bay.
Mariners are advised to verify whale waters designations prior to entering Glacier Bay by telephoning (907) 697-2627 or by contacting KWM20 Bartlett Cove on marine VHF radio. Note that there are also smaller concentrations of whales elsewhere in Glacier Bay. It is important for vessel operators to keep a sharp lookout and reduce speed when necessary. Vessels are prohibited from operating within ¼ nautical mile of a humpback whale in Park waters and are required to reduce speed if they find themselves within ¼ nautical mile of a whale. Speed and course restrictions in whale waters are intended to reduce whale disturbance and lower the risk of whale/vessel collisions, as authorized by Title 36 of the Code of Federal Regulations, Subpart N, 13.1174.    
Please see the
attached PDF for a printer-friendly version
of this announcement.      
Last updated: July 19, 2017