News Release
Whale Waters Update 18June2022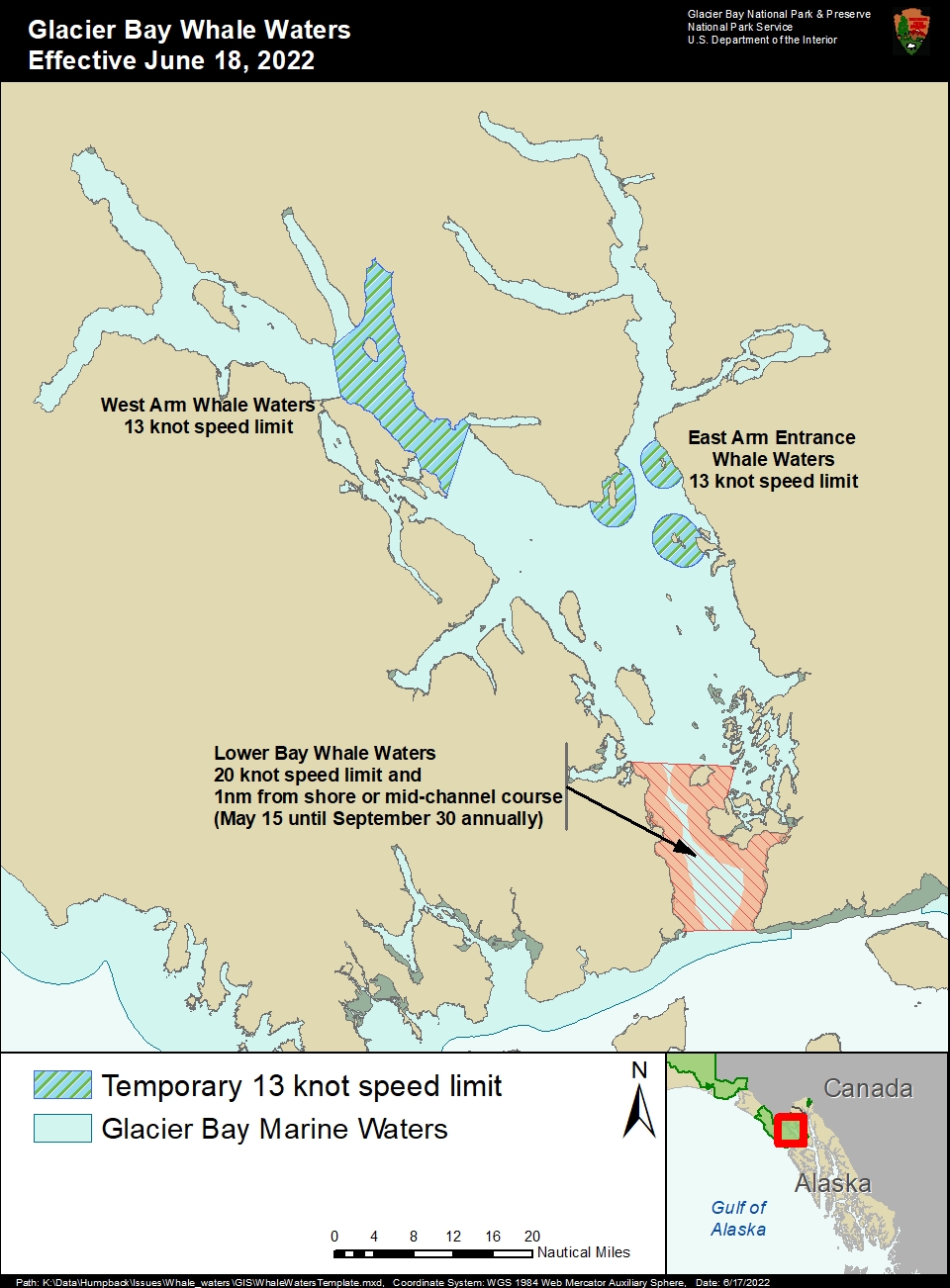 News Release Date:
June 17, 2022
Contact: Matthew Cahill, 907-697-2230
BARTLETT COVE, ALASKA  – Glacier Bay National Park and Preserve Acting Superintendent Jake Ohlson announced today a 13-knot vessel speed limit near the entrance to the East Arm and midway up the West Arm.  Recent surveys indicate that at least 25 humpback whales are feeding along the shorelines and in mid-channel in the West Arm and at the entrance to the East Arm, putting them at risk of collisions with vessels. New whale waters areas are implemented to protect the whales that are using these areas. All vessels in these temporary whale waters are required to travel at a speed no greater than 13 knots through the water.  These updated operating requirements are effective from 5 AM Saturday June 18th until further notice.
Near the entrance to the East Arm, the 13-knot vessel speed limit applies in waters within one nautical mile of shore of Sebree, Garforth, and Sturgess Islands.
In the West Arm, the 13-knot vessel speed limit applies in all waters bounded by:
A line between the mouth of Tidal Inlet and the point of land south of Blue Mouse Cove
A line between the mouth of Rendu Inlet and the northeastern point of the Gilbert Peninsula
A line at the wilderness waters boundary across the mouth of Rendu Inlet
The area includes the waters of Queen Inlet. The area does not include the waters inside Tidal Inlet, Blue Mouse Cove, or Rendu Inlet.
In addition, in the Lower Bay Whale Waters, a 20-knot speed limit and 1 nautical mile from shore course restriction have been in place since May 15
th
. These restrictions remain unchanged.
Speed and course restrictions in whale waters are intended to reduce the disruption of feeding humpback whales and to lower the risk of whale/vessel collisions, as authorized by Title 36 of the Code of Federal Regulations, Subpart N, 13.1174. Vessels should proceed cautiously in all areas where whales may be present. Whales may surface in unexpected locations, posing a hazard to both the vessel and the whale. Boaters are advised to verify whale waters designations prior to entering Glacier Bay by telephoning (907) 697-2627 or by contacting KWM20 Bartlett Cove on marine VHF radio.
Last updated: June 17, 2022