Changes in Vessel Speed and Course Restrictions to Protect Whales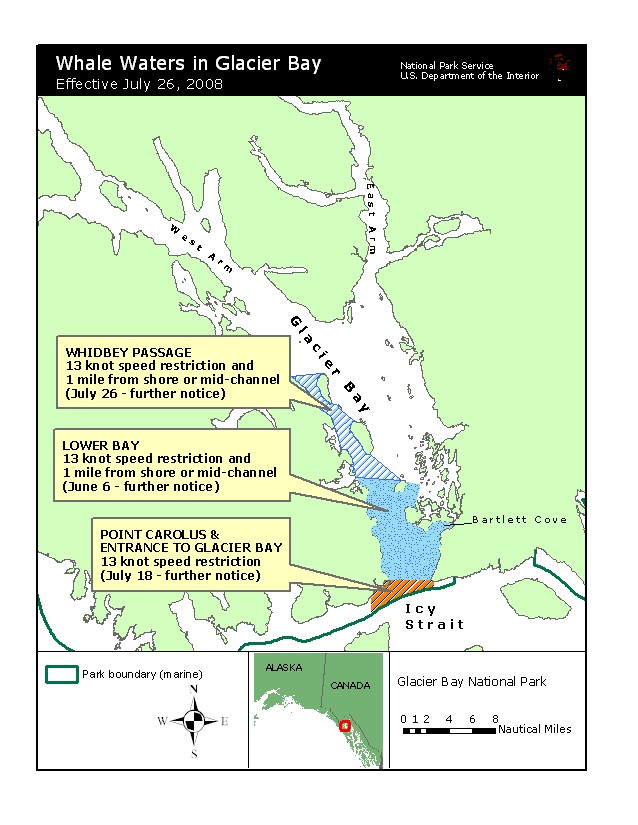 News Release Date:
July 25, 2008
Contact: Allison Banks, 907-697-2300
Acting Superintendent Mark Foster announced today that a vessel speed limit of 13 knots through the water is being implemented in Whidbey Passage in Glacier Bay to protect numerous humpback whales in the area. In addition, vessels greater than 18 feet in length passing through Whidbey Passage are restricted to a mid-channel course or 1 nautical mile offshore. During the past week at least ten humpback whales, including a cow/calf pair, have been observed in the area. These restrictions will apply from 5 AM Saturday July 26 until further notice. At the same time, Foster announced that the 13 knot speed limit for vessels traveling between Willoughby and Flapjack Islands has been lifted. This restriction went into effect on July 9 to protect numerous humpback whales that were frequenting the area. Recently the number of humpback whales sighted in this area has declined significantly, resulting in the cancellation of these special vessel operating restrictions.
Last updated: April 14, 2015