Vessel Speed Restrictions Revised In Glacier Bay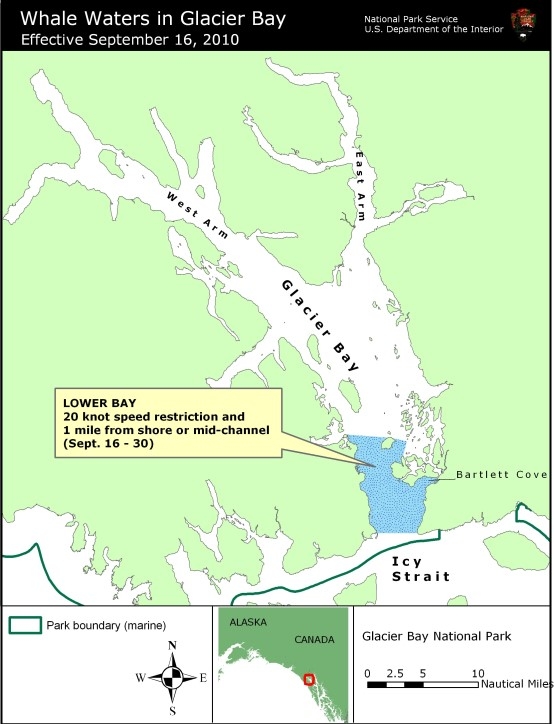 News Release Date:
September 16, 2010
Contact: Allison Banks, Public Information Officer , 907-697-2230
Contact: Chris Gabriele, Whale Biologist, 907-697-2664
 Glacier Bay National Park and Preserve Acting Superintendent Shari Barry announced today that the 13 knot vessel speed limit in lower Glacier Bay and at the mouth of Glacier Bay will be lifted due to a decrease in the number of humpback whales in the area. As of 5 AM on Thursday, September 16, the following changes will go into effect:

Lower Glacier Bay whale waters: Vessel speed restriction revised to 20 knots. Vessels greater than 18 feet in length are required to maintain a mid-channel course, defined as no less than 1 nautical mile from shore or midway between opposite shores. These vessel speed and course restrictions will remain in effect until midnight on Thursday, September 30, at which time the restrictions will expire, per 36 CFR 13.11176.

Park waters at the mouth of Glacier Bay: No vessel speed or course restrictions.

The attached map shows the updated location of all whale waters areas in Glacier Bay National Park waters as of 5 AM on Thursday, September 16.  

Even in areas where no specific vessel speed limit has been designated, NOAA regulations implemented throughout Alaska in 2001 require that "vessels operate at a slow, safe speed when near a humpback whale". In addition, while in all Glacier Bay National Park waters, vessels are prohibited from operating within ¼ nautical mile of a humpback whale. However, whales often surface in unexpected locations. In Park waters, the operator of a vessel inadvertently positioned within ¼ nautical mile of a humpback whale must immediately slow the vessel to 10 knots or less, without shifting into reverse unless impact is likely. The operator must direct or maintain the vessel on as steady a course as possible away from the whale until at least ¼ nautical mile of separation is established.

Boaters are advised to verify whale waters designations prior to entering Glacier Bay by telephoning (907) 697-2627 or by contacting KWM20 Bartlett Cove on marine VHF radio.

Whale waters restrictions are authorized in Glacier Bay National Park in accordance with Title 36 of the Code of Federal Regulations, Subpart N, 13.1174.


Last updated: April 14, 2015