News Release
Temporary Closure for Bear Activity in West Arm of Glacier Bay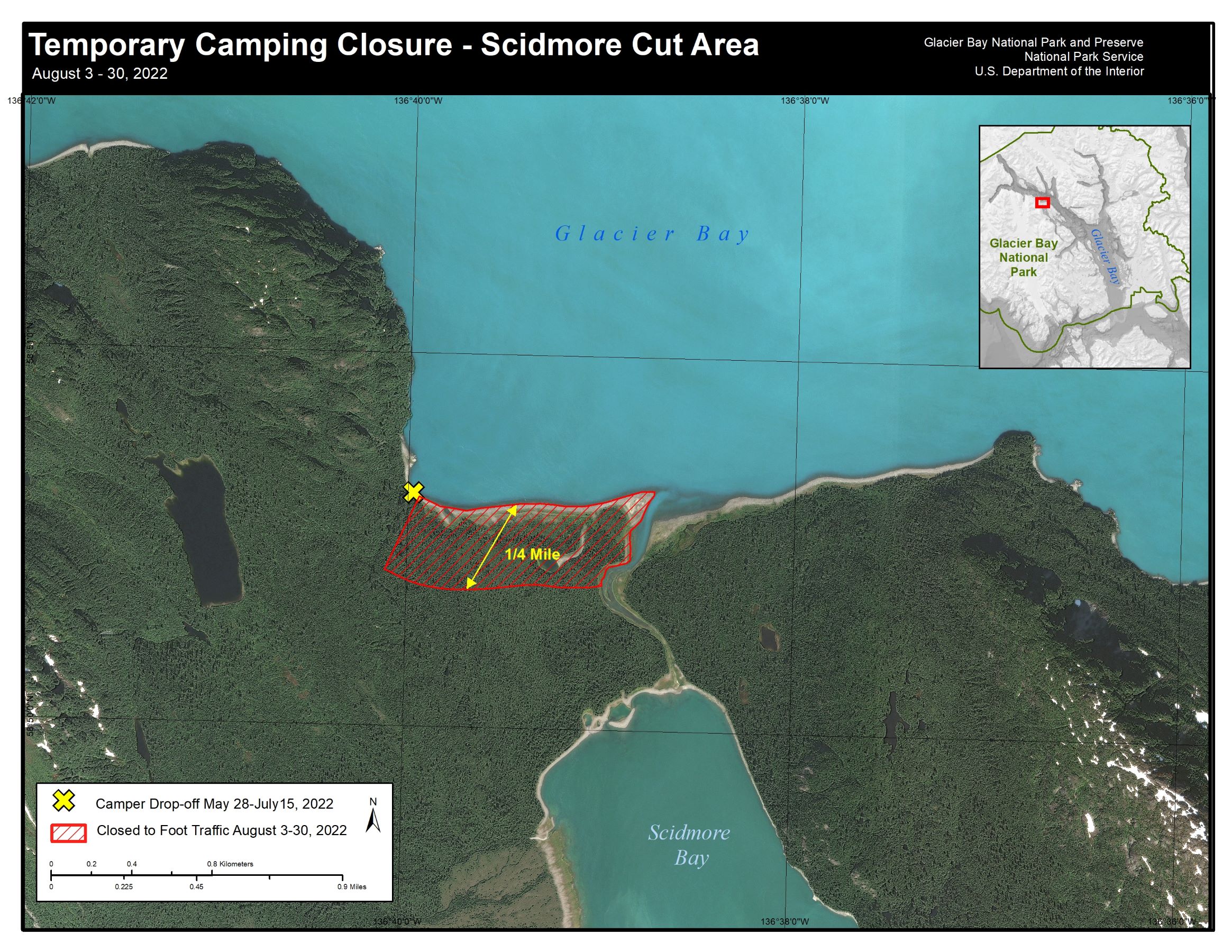 News Release Date:
August 2, 2022
Contact: Matthew Cahill, Public Information Officer, 907-697-2230
BARTLETT COVE, ALASKA – A temporary closure to foot traffic is in effect immediately at the Scidmore Cut area of the West Arm of Glacier Bay due to a bear incident. This closure will remain in effect until August 30, 2022. On July 30th, a brown bear obtained food from campers at this site. No injuries or property damage were reported.
The closure includes the western half of the Scidmore Cut area from the Scidmore tidal cut west to the Scidmore camper drop-off (see map). The closure extends from the intertidal zone to ¼ mile inland.
The goal of this 30-day closure at the Scidmore Cut is to prevent bears from further associating people with food rewards. Because bears travel long distances, camping is not recommended in the entire Scidmore Cut area, both on the West Arm side as well as within Scidmore Bay. Visitors are advised if a bear approaches while you are eating, pack up all food into Bear Resistant Canisters, group together and stand your ground. Bear pepper spray is an excellent deterrent to use if a bear approaches within 20-30 feet.
Bears range widely throughout Glacier Bay National Park and human-bear conflicts can occur anywhere. Two important keys to minimizing the potential for conflicts include storing food and attractants properly and keeping control of gear and property at all times as well as being prepared for bear encounters. Please contact the park's Visitor Information Station (907-697-2627 or 907-697-2495) for the most current information regarding bear incidents, and to report all bear encounters.
Last updated: August 2, 2022