Students Ferry and Fly their Way to Glacier Bay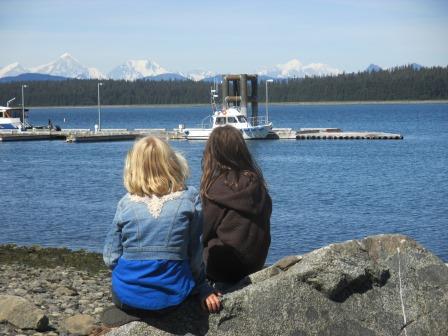 News Release Date:
September 16, 2015
Contact: Steve Schaller, 907-697-2650
Contact: Emma Johnson, 907-697-2691
Glacier Bay National Park is ready to celebrate the Centennial of the National Park Service with the help of local youth. As part of the White House's new "Every Kid in a Park" program, Glacier Bay will host youth from every school in two local school districts. For many of these youth, Glacier Bay will be the first national park they ever visit. The goal of the Every Kid in a Park program is to connect fourth graders with the great outdoors and inspire them to become future environmental stewards, ready to preserve and protect national parks and other public lands for years to come.
Through a grant from the National Park Foundation, youth from the local school districts will fly or sail their way into Glacier Bay in the spring of 2016. Glacier Bay National Park is remote and transportation to the park can be costly, but through the grant, students from the Chatham School District and Hoonah City School will have the opportunity to spend time together in the park. While in Glacier Bay, youth will learn about the mission of the NPS, explore a protected wilderness area, discover career possibilities with the NPS, participate in a service project, and get to know youth from other communities. Additionally, youth will have an opportunity to explore the
Huna Tribal House
before its official grand opening in the summer and learn about some of the cultural connections to Glacier Bay. 
Before and after their visit to Glacier Bay, students will engage with each other and the park through videoconferencing, letters, and more. Glacier Bay National Park hopes that this program will provide underserved and Native Alaskan youth with an opportunity to Find Your Park and become NPS stewards as the Service enters its second century. 
Last updated: September 16, 2015