Humpback Whale Exhibit Complete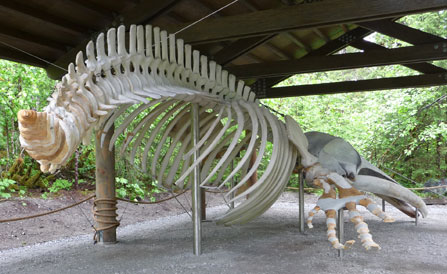 News Release Date:
July 2, 2014
Contact: Tom VandenBerg, Chief of Interpretation, 907-697-2619
Contact: Christine Gabriele, Whale Biologist, 907-697-2664
On June 25th, 2014, Glacier Bay National Park celebrated the Grand Opening of "Snow" the largest humpback whale skeleton exhibit in the United States. Her massive 3,729 pound skeleton is housed in a beautifully constructed outdoor pavilion just a short walk from the Glacier Bay Lodge. The return of Snow to her permanent home in Bartlett Cove was as much a homecoming as a celebration. The event welcomed many Huna Tlingit families back to their homeland to help dedicate the exhibit and conduct a spirit ceremony that included giving Snow a Tlingit name, "Tsalxáan Tayée Yaay," which translates as "Whale Beneath Mt. Fairweather."
The Grand Opening was a culmination of 13 years of hard work by park staff and volunteers, followed by the expert skills of a professional whale articulation contractor. Dan DenDanto and his crew from Whales and Nails, completed the final cleaning and preparation of bones at their facility in Seal Cove, Maine. Snow's skeleton was carefully transported 3,000 miles each way for this work.
The celebration kicked off on Thursday evening, June 24th with a special presentation by Dr. Herb Maschner from the Idaho Virtualization Lab (IVL). In Spring 2013, Snow became the largest specimen ever to be 3D scanned. Her skeleton was added to the Virtual Zooarchaeology of the Arctic Project – a virtual, interactive, osteological reference collection for the study of northern vertebrates.
On Friday afternoon, the park hosted a children's carnival to begin the day's events. Youth of all ages visited with park rangers and SCA volunteers to learn all about whales through fun games and activities. With the help of local high school volunteers, the park created twelve hands-on centers for kids to explore. One of the most popular stations was the bone touch table, but it ranked right up there with face painting!
Later in the day, Chief of Interpretation, Tom VandenBerg, cut the ribbon to signify the official opening of the exhibit and begin the ceremony. Park staff and partners highlighted years of personal experiences and stories ranging from Snow's discovery to exhibit installation. Guest speakers included Dr. Herb Maschner of IVL and Dan DenDanto of Whales and Nails. Speakers from the Park included, Superintendent, Phillip Hooge, whale researchers, Janet Neilson and Christine Gabriele, Chief Ranger Albert Faria, and Education Specialist, Steve Schaller.
The festivities ended with a standing-room only evening presentation by Dan DenDanto. He took the audience on an unimaginable journey through the process and hardships of cleaning a massive, greasy whale skeleton and transforming it into today's world-class exhibit. Displaying this spectacular beautiful skeleton is one way to turn Snow's tragedy into an educational opportunity. We hope that this skeleton will inspire Glacier Bay visitors to learn more about whales and their challenges for decades to come.
To learn more about the story of Snow, please visit:
Last updated: April 14, 2015