Glacier Bay Receives the EPA's Champions of Environmental Leadership and Green Government Award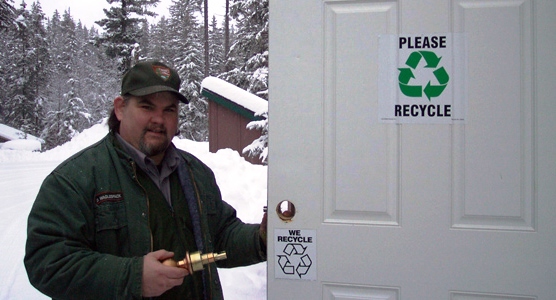 News Release Date:
November 25, 2009
On November 19th, at the Second Annual Green Challenge Symposium, conducted by the EPA, Glacier Bay National Park was presented the EPA's Champions of Environmental Leadership and Green Government Award for exceeding 5 percent reduction in energy consumption and a 5 increase in the percentage of its waste stream that was recycled in FY09.
The Park achieved a 7% reduction in electrical use and a 9% reduction in fuel use, both related to the park's off-grid production of power using diesel generators. The reduction in use is a result of the aggressive electrical energy conservation program initiated by the park several years ago and is also a byproduct of a slight drop in overnight stays and activity at the Glacier Bay Lodge, the largest electrical load in the park. The reduced power demand allowed the park to operate for a longer period of the year on the smallest of the three generators. Operating a smaller generator closer to its rated capacity provides greater fuel economy than running a larger generator at partial load. This helps account for the fact that the fuel savings was greater than the reduction in power consumption.
The award is also for the park's incredible recycling operation. In addition to reducing the overall waste stream, the park was able to increase the percentage of that waste stream that was recycled (called the diversion rate) from 49.8% in 2008 to 57.5% in 2009- a 7.7% increase. By making recycling easy and convenient park staff was motivated to take the extra time required to segregate the waste stream at the time of disposal. Though EPA's focus was on the 7.7% increase, it is important to consider the diversion rates they are achieving. Diversion rates of this magnitude are a huge accomplishment and they have been achieving rates of over 40% since 2004! In comparison, the diversion rate for Anchorage as a whole is somewhere around 12 to 16%. Even in the Anchorage neighborhoods where curbside recycling is available, the diversion rate is around 25%. The Alaska Regional Office's diversion rate is somewhere around 36% and almost all we generate is paper. Glacier Bay's waste stream is much more diverse and their recycling operation has much more significant logistical challenges than Anchorage. They have proven that a remote park can do a great job of recycling! In fact, Glacier Bay has already achieved the FY 2015 diversion goal of 50% established by Executive Order 13514, Federal Leadership in Environmental, Energy and Economic Performance, (http://edocket.access.gpo.gov/2009/pdf/E9-24518.pdf ) signed by President Obama in October of this year.
Also acknowledged at the Symposium were Kenai Fjords and Denali, who renewed their participation in the Federal Green Challenge program. For more information on the Federal Green Challenge, you can refer to http://yosemite.epa.gov/r10/ECOCOMM.NSF/Federal+Green+Challenge/FedGreen
Last updated: April 14, 2015