Glacier Bay National Park Proposes Cruise Ship Quota for 2017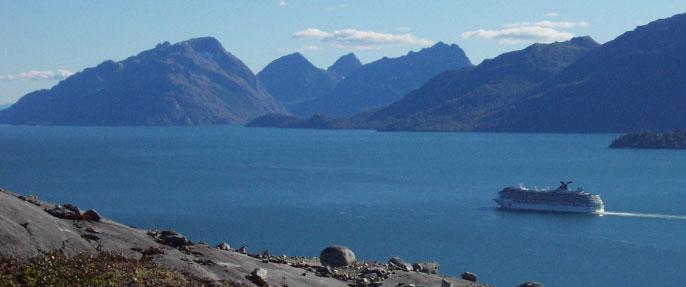 News Release Date:
February 8, 2016
Contact: Philip Hooge, Superintendent, 907-697-2230
In 2003, the National Park Service (NPS) completed the Vessel Quota and Operating Requirements Environmental Impact Statement (VQOREIS) which stipulated that the daily maximum number of cruise ships allowed in Glacier Bay will remain at 2. However,the VQOR EIS, with subsequent regulations, delegated the authority to set annual cruise ship quotas to the Superintendent of Glacier Bay National Park. The current 92-day, June 1 to August 31 'peak' seasonal quota of 153 ship entries could potentially be increased up to a maximum of 184 entries, which would equate to 2 ships per day every day. The VQOR EIS Record of Decision (ROD) states that a determination to increase cruise ship seasonal entry quotas will rely on criteria that define the environmental and social conditions to be met before any additional seasonal entries are approved. 
In 2004, an independent Science Advisory Board (SAB) was appointed to assist in evaluating existing science and to recommend studies that better define these environmental and social conditions. In 2005, the SAB made recommendations for priority research, and several studies were implemented. In 2009, SAB members, principal investigators, and NPS managers met to review results of the first suite of studies. Their assessment indicated that the original impact analyses from the VQOR EIS remain accurate but recommended additional studies that focus on potential impacts to air quality, soundscape, marine wildlife, and the Huna Tlingit relationship to their ancestral homeland.
To date, the results of these additional studies indicate that for the criteria being evaluated, small increases in seasonal cruise ship entries will likely have negligible effects on park resources and values if done in association with mitigation efforts related to the timing, distribution and behavior of vessels.The park has been able to accommodate increased visitor numbers to date with increases in cruise ship size and with increased numbers of ships while still staying within the designated quota. 
Nevertheless, any potential change in vessel mitigations must occur in holistic consideration of all vessel behavior (including tour, charter, and private vessel use) and visitor expectations. Substantial changes in vessel operating requirements will also trigger National Environmental Policy Act (NEPA) analyses. In addition, a significant change in cruise ship business opportunities would result in issuing a new prospectus. Over the next three years,the park will be completing both a Front Country Management Plan and Wilderness Stewardship Plan and performing the legally required competition of cruise ship opportunities in a new concessions contract. Any changes in cruise ship seasonal entries, vessel operating requirements and commercial visitor service opportunities would thus be best evaluated and implemented after these processes are complete. 
As a result, the park proposes that the 2017 seasonal use quota remains set at 153 entries for the June 1-August 31 season and that the quotas be maintained at this level each year until 2020 barring new information. The 61-day, May and September 'shoulder' season quota would remain at 92 entries.The year-round daily quota for cruise ships remains at two per day in accordance with the 2003 VQOR EIS ROD and existing regulations.
The NPS is soliciting public comment on the proposed 2017 day use quotas. Comments will be accepted until close of business on February 26, 2016. You may read more about the proposal and submit comments by visiting the NPS Planning, Environment, and Public Comment website at https://parkplanning.nps.gov/projectHome.cfm?projectID=63273
Comments may also be mailed to the address given above, or submitted by email.
Last updated: February 10, 2016