Glacier Bay: Every Kid in a Park Event!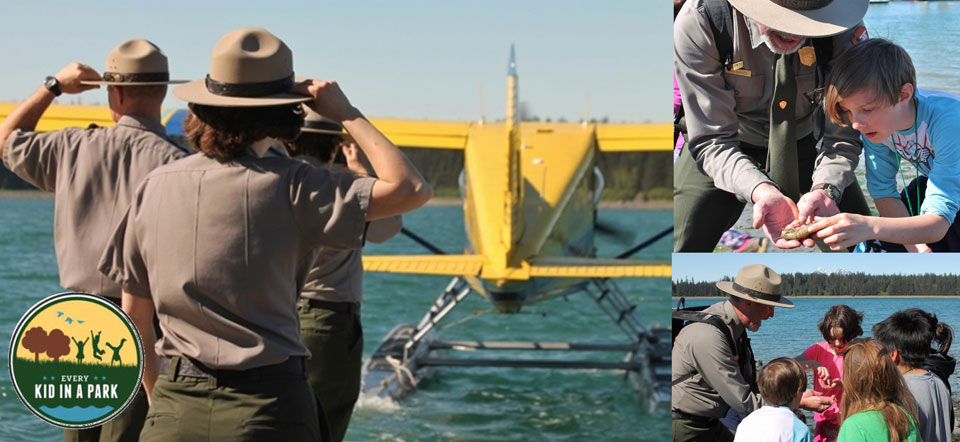 News Release Date:
May 18, 2016
Contact: Education Specialist Emma Johnson, 907-697-2230
Contact: Chief of Interpretation Tom VandenBerg, 907-697-2619
BARTLETT COVE, AK –"I saw something amazing!" "Really? What?" "There's a whale skeleton!" Student excitement and similar exclamations echoed throughout Bartlett Cove on Friday, May 13 as part of a special
Every Kid in a Park
celebration. Forty fourth graders, teachers, and chaperons from Angoon, Klukwan, Hoonah, and Gustavus gathered for a full day of activities and outdoor explorations hosted by park rangers. A Ticket to Ride grant from the National Park Foundation funded the visit.
Few student groups visit Glacier Bay because the park is accessible only by boat or plane. Travel logistics were complicated. Klukwan and Hoonah students flew into Gustavus and drove out to Bartlett Cove. Students from Angoon landed at the Bartlett Cove dock in float planes. The flights into the park were a special part of the students' experience. Bad weather can impede access to and from all the sites, but the day of the visit was calm and clear. 
When rangers asked students what they were most excited about at the beginning of the day, most students stated that they really wanted to meet other kids. All the students come from very remote, isolated Alaskan communities separated by water, mountains, and distance. Rangers and teachers noticed that many students were shy at the beginning of the day, but as they departed many students made sure they said goodbye to new friends. The goodbyes included a number of selfies taken by students of themselves with other students and park rangers! 
While in the park, students participated in a variety of activities. Ken Grant, a Tlingit Raven and Management Assistant to Glacier Bay National Park, led students on a tour of cultural sites in Bartlett Cove. Many of the students who participated in the program descended from the original clans of Glacier Bay. Rangers led sensory hikes around the Forest Trail and students spent a long lunch playing on the sandy beach...a rare treat for kids living in Southeast Alaska. 
In the afternoon, students learned about careers with the National Park Service. Rangers from all park divisions shared information about their careers with students. Students identified whales with a humpback whale biologist, raced to put on fire gear with the chief ranger, learned how to use interpretive techniques to educate their friends about bears, and more. By the end of the day students had new career aspirations, from boat captains to park architects. Glacier Bay National Park hopes to see job applications from these students in the future. 
At the end of the day, students received their Junior Ranger badges. As a final Centennial celebration, students and rangers sang happy birthday to the National Park Service (in English and Tlingit) and shared cupcakes. These activities introduced students to each other, Glacier Bay, and the mission of the NPS. 
Thank you to everyone who made this possible: The National Park Foundation Ticket to Ride Program, Glacier Bay National Park employees, teachers and administrators of Hoonah City Schools and Chatham School District, Alaska Geographic, and many more! 
Last updated: January 3, 2017