News Release
Bear Advisory for Scidmore Cut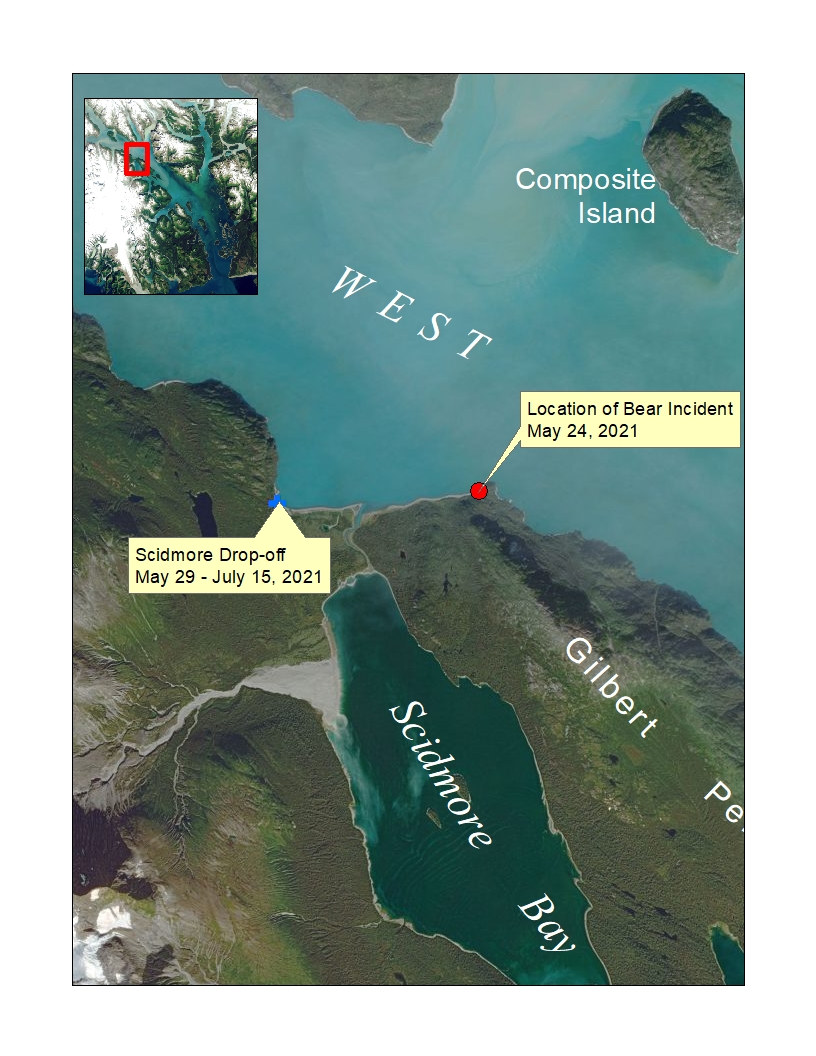 News Release Date:
May 28, 2021
Contact: Wendy Bredow, 907-697-2230
Contact: Tania Lewis, 907-697-2668
BARTLETT COVE, ALASKA – This notice is to inform campers of a bear advisory along the northern shoreline of the land between Scidmore Bay and the west arm of Glacier Bay known as Scidmore Cut (see map).
On May 24, 2021, a group of five campers were cooking in the intertidal zone approximately 1.75 miles east the Scidmore drop-off location. A brown bear approached the group and investigated their tents and kayaks causing damage to a life jacket, water bladder and other gear. The campers tried to deter the bear but the bear remained in the vicinity of their kayaks throughout the night. No food was obtained by the bear.
Visitors are advised to proceed with caution in this area and keep control of gear at all times to reduce the potential for bear-human conflicts. There is still much snow on the ground on the west side Glacier Bay that may funnel wildlife, including bears, toward the shoreline. Look for camping areas with good visibility and stay alert for bears. Please report bear encounters in the vicinity of the Scidmore drop-off location.
Campers are reminded that bears range widely throughout Glacier Bay National Park and that bear-human conflicts can occur anywhere. Two important factors toward minimizing the potential for conflicts include storing food and attractants properly, and keeping control of gear at all times. Contact the park's Visitor Information Station (907-697-2627) for the most current information regarding bear incidents and to report all bear encounters.
This advisory will remain in effect until June 28, 2021.
www.nps.gov
Last updated: May 28, 2021