News Release
Bear Advisory for Reid Inlet Area June 14-July 12, 2019
Date:
June 14, 2019
National Park Service

News Release
Release Date:  

June 14, 2019



Contacts:   


Albert Faria, glba_administration@nps.gov, 907-697-2495 or 907-697-2230 




Tania Lewis, tania_lewis@nps.gov, 907-697-2668
Bear Advisory for Reid Inlet Area June 14 – July 12, 2019
BARTLETT COVE, ALASKA – This notice is to inform campers of a Bear Advisory along the western shoreline of Reid Inlet in the west arm of Glacier Bay (see map). On June 12th, a couple set up their camp and went for a walk. As they returned they saw a large adult brown bear near their unattended tent. The couple made noise but backed away and the bear began investigating their gear. The couple backed away further and the bear prodeeded to claw and chew their tent, sleeping bags, sleeping pads, and a pair of rubber boots causing $1000 in damage. No food was obtained by the bear. Visitors are advised NOT to camp in this area and to proceed with caution and keep control of gear at all times when walking in this area both to reduce the potential for bear-human conflicts.
Campers are reminded that bears range widely throughout Glacier Bay National Park and that bear-human conflicts can occur anywhere. Two important keys to minimizing the potential for conflicts include storing food and attractants properly and keeping control of gear and property at all times. Please contact the park's Visitor Information Station (907-697-2627 or 907-697-2495) for the most current information regarding bear incidents, and to report all bear encounters.
This advisory will remain in effect until July 12, 2019.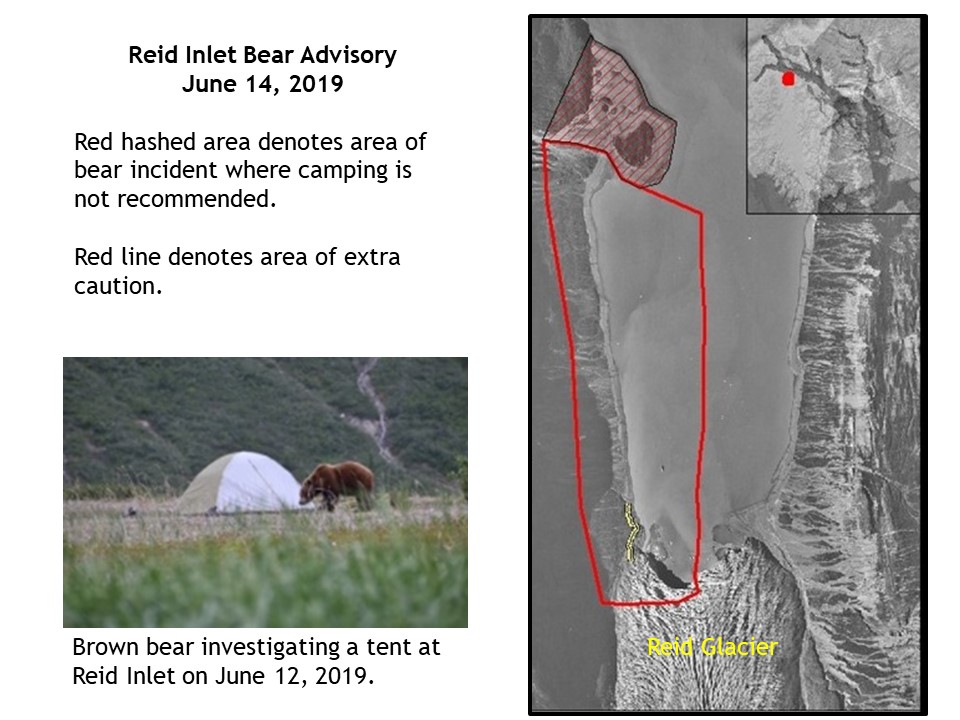 Last updated: June 14, 2019