Alternative Transportation Program at Glacier Bay
Date:
January 7, 2011
Contact:
Janet Neilson, 907-697-2658
Carpooling, Biking, and Walking to Save the Planet
In April 2010, Glacier Bay National Park launched a new program with the goal of reducing greenhouse gas emissions associated with employees commuting to and from work by encouraging the use of alternative transportation including carpooling and bicycling. GLBA employees who participate in the Alternative Transportation Program (ATP) earn credits when they commute to work via carpool, bicycle or moped/motorcycle. The program has been a great success, saving over 15 tons of carbon dioxide from entering the atmosphere while also offering substantial fuel savings to employees and increasing employee health & wellness. In addition, employees are enjoying cashing in their ATP credits for STAR awards (1 ATP credit = $1) and time-off awards (80 ATP credits = 4 hours off).
To date, 53 GLBA employees have participated in the Alternative Transportation Program. Here are summary statistics from 2010, representing the first nine months of the program: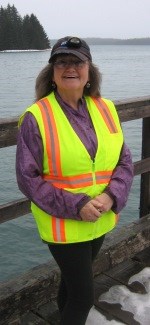 As an additional incentive to encourage employees to participate, at the end of each calendar year, the employee with the highest number of accumulated ATP credits that year earns an 8 hour time-off award. In 2010, Martha T. earned (by far) the highest number of ATP credits at the park. In just nine months, Martha bicycled, ran and walked a total of 2,128 miles!! Please join us in congratulating Martha on this inspiring achievement!
Last updated: April 14, 2015