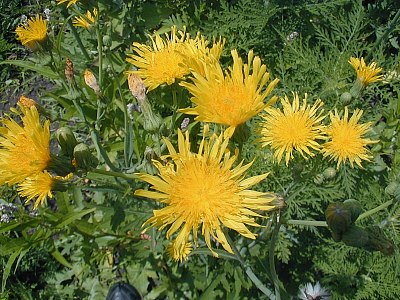 News Release Date:
July 22, 2012
Contact: Lewis Sharman, Ecologist, 907-697-2623
Contact: Shahed Dowlatshahi, 907-697-2652
Glacier Bay National Park and Preserve is currently host to two highly invasive plants species: reed canarygrass on the maintenance hillside and perennial sowthistle on Strawberry Island. Since manual control efforts have proven ineffective in the past six years the sites are scheduled to be treated with herbicide next week.
The first area scheduled for treatment is a 2.39 acre infestation of perennial sowthistle (Sonchus arvensis) located in several dense patches along the southeastern edge of Strawberry Island.  The herbicide to be used is Milestone VM (aminopyralid), a broadleaf specific herbicide that does not affect grasses.  The application rate of this herbicide is very low, meaning that very little of the active ingredient will be on the ground and the compound breaks down very rapidly, leading to a reduced environmental impact.  Half of this infestation was treated with the same herbicide last August and visits to the site in September proved the application to be effective.