Temporary Camping And Foot Traffic Closure In The Scidmore Cut Area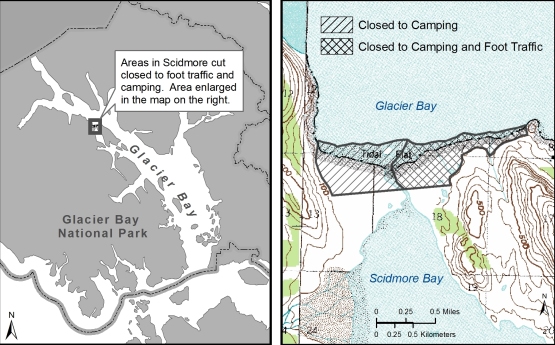 News Release Date:
May 12, 2010
Contact: Allison Banks, Public Information Officer, 907-697-2230
This notice is to inform kayakers and campers  of a temporary closure to overnight camping on the north side of Scidmore Bay and  the West Arm of Glacier Bay, and a closure to foot traffic for non-Park Service employees on the eastern portion of this shoreline, from the high tide cut connecting Scidmore Bay to the West Arm to the northwestern point of Gilbert Penninsula (see map). A carcass of an adult humpback whale has washed up on the shoreline, bears and other scavengers are expected to continue to access this abundant food source as long as it is available.  NPS employees will monitor the carcass and bear activity to determine when the area will be reopened. The closures are both to protect people from potential bear-human conflicts as well as minimize disturbance to animals scavenging on the carcass. 
Visitors are reminded that disturbance to wildlife is prohibitted under NPS Code of Federal Regulations 36 2.2(a)(2), and boaters should not approach wildlife at distances that cause the animals to change their behavior. Visitors to Glacier Bay National Park & Preserve can contact the park's Visitor Information Station (907-697-2627) for the most current information regarding bear activity in Glacier Bay.
Last updated: April 14, 2015