GLBA Superintendent Cherry Payne Retires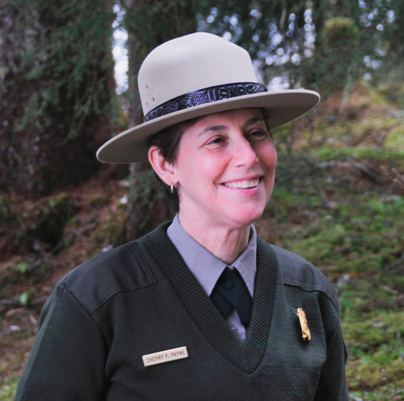 News Release Date:
August 20, 2010
Contact: Allison Banks, 907-697-2611
It seems like she just arrived here in Alaska, and it's already time for us to say farewell.
Cherry's 35-year career with the National Park Service started back in 1976, at the National Mall in Washington D.C., and includes posts at San Antonio Missions National Historic Park; the Long Distance Trails Office in Santa Fe, New Mexico; the Water Resources Division in Fort Collins, Colorado; Grand Teton National Park; the C&O Canal; and Everglades and Dry Tortugas National Parks.
Most of her career has been dedicated to sharing parks' compelling interpretative stories, though she briefly held a law enforcement commission. She completed temporary assignments as an Acting Superintendent at Cape Lookout National Seashore in North Carolina and at Canaveral National Seashore in Florida. She has served at Glacier Bay since 2007.
Throughout her career, Cherry has enjoyed working for the NPS and the many friends she has made. In retirement she will be joining her NPS-retiree husband, Bob Howard, in Santa Fe, New Mexico, when she's not out enjoying the parks or pursuing other interests.
In the best Gustavus tradition, there will be a potluck dinner in honor of her retirement. We invite you to send any stories, photos, or other memorabilia related to Cherry's NPS career to Kris Nemeth at kris_nemeth@nps.gov
When:  Saturday, August 28, 2010
Where: Glacier Bay National Park Maintenance Building (Carpenter Shop)
Dinner: 6:00 pm
Stories & Fun start at 7:00 pm
Please join us to wish Cherry the very best, as she enters a new phase of her life.
Last updated: April 14, 2015