Temporary Closure In The Bartlett River Area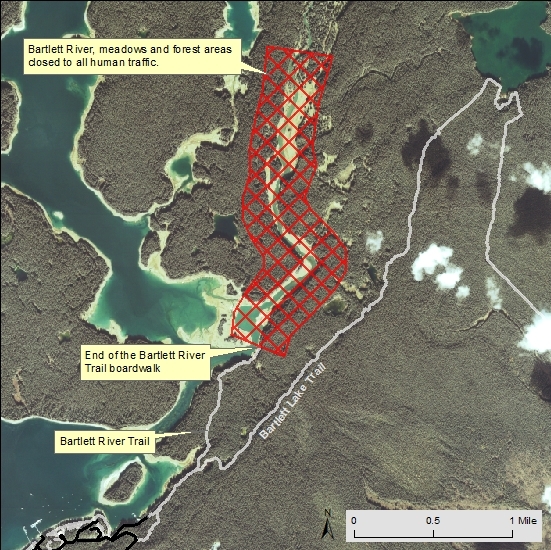 News Release Date:
July 28, 2010
Contact: Allison Banks, Public Information Officer, 907-697-2230
This notice is to inform visitors of a temporary closure to all human use along the Bartlett River upstream of the boardwalk (see map). On July 27 an NPS employee hiking in this area was charged by a brown bear (ran directly towards person at a fast pace) beginning on the other side of the river 150 feet away. The bear charged through the river to within 15 feet, at which time the person deployed a quick cloud of bear pepper spray. The bear immediately veered around the person and continued to run into the forest and did not return. Charging behavior is indicative of a brown bear defending a food source or cubs. NPS biologists are currently investigating the possibility of a mammal carcass or bear cubs in the area. This closure is to protect both people and bears from potential bear-human conflicts and will remain in effect until the investigation has been completed.
Visitors to Glacier Bay National Park & Preserve can contact the park's Visitor Information Station (907-697-2627) for the most current information regarding bear activity in Glacier Bay.
Last updated: April 14, 2015