Vessel Speed Restriction Area Changed at the Entrance to Glacier Bay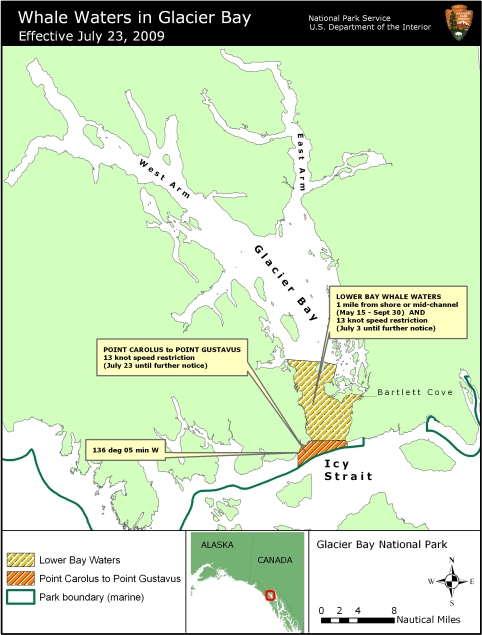 News Release Date:
July 22, 2009
Contact: Allison Banks, Public Information Officer, 907-697-2230
Superintendent Cherry Payne announced  new boundaries for the special whale waters in Icy Strait, just outside the mouth of Glacier Bay.  Due to a decrease in the number of humpback whales using Park waters near Point Dundas and the Salt Chuck,  the 13 knot speed limit area has been reduced to reflect where whales are still feeding on a daily basis. This change is effective beginning at 5 AM on Thursday July 23.   The attached map shows the location of all whale waters areas in Glacier Bay National Park waters as of July 23, 2009. 
The revised whale waters area is bounded on the north by a line between Point Carolus and Point Gustavus, and on the south by the Park boundary in Icy Strait.  The eastern boundary runs due south from Point Gustavus to the Park boundary, and the western boundary runs due south from the mainland to the Park boundary following longitude 136 degrees 05 minutes West.  All motor vessels passing through this area are restricted to a speed limit of 13 knots through the water.
Numerous whales are still present in the Lower Bay whale waters, so vessel operating restrictions continue to be in effect until further notice.  Since July 3, all vessels in Lower Bay whale waters have been restricted to a speed through the water of 13 knots or less, and vessels greater than 18 feet in length have been restricted to a mid-channel course or 1 nautical mile offshore.  The  lower Glacier Bay whale waters extend from the mouth of Glacier Bay to a line drawn between the northern tip of Strawberry Island and the northern tip of Lars Island.  This boundary is shown on NOAA nautical chart 17318 of Glacier Bay.   
Speed and course restrictions in whale waters are intended to reduce the disruption of endangered humpback whales and to lower the risk of whale/vessel collisions. Consistent whale monitoring protocols are used to document  whale distribution, and adaptive management priniciples are used to define areas need to protect whales.
Boaters should proceed cautiously in all areas where whales are present because whales may surface in unexpected locations, posing a hazard to both the vessel and the whale. Vessels are prohibited from operating within ¼ nautical mile of a humpback whale in all Park waters, including those Park waters outside Glacier Bay proper.  In addition, vessel operators positioned within ½ nautical mile of a humpback whale are prohibited from altering their course or speed in a manner that results in decreasing the distance between the whale and the vessel. 
Boaters are advised to verify whale waters designations prior to entering Glacier Bay by telephoning (907) 697-2627 or by contacting KWM20 Bartlett Cove on marine VHF radio.
Whale waters restrictions are authorized in Glacier Bay National Park in accordance with Title 36 of the Code of Federal Regulations, Subpart N, 13.1174. 
Last updated: April 14, 2015