Temporary Camping Closure In The Nunatak Cove Area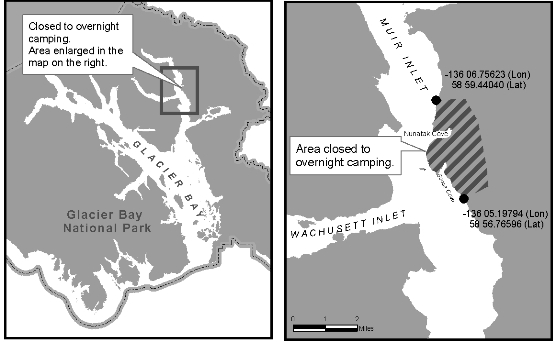 News Release Date:
July 14, 2008
Contact: Allison Banks, 907-697-2230
This notice is to inform kayakers of a temporary closure to overnight camping issued from 1 mile north of Nunatak Cove to 1 mile south of Goose Cove in the East Arm of Glacier Bay due to a recent bear incident. On July 10-11, a pair of kayakers camping at Nunatak Cove encountered a single brown bear who investigated their property on two different occasions and eventually caused significant damage to their gear and kayak. The campers attempted to deter the bear with bear pepper spray but were not able to contact the bear directly. The campers eventually left the shore in one kayak while the bear destroyed the other kayak and much of their gear. This area of shoreline will be temporarily closed in accordance with Code of Federal Regulation Title 36, 13.50 in order to minimize the opportunity for this bear to come into contact with people or their gear in the near future. The closure will also allow park personnel to attempt to monitor this bear and conduct aversive conditioning if necessary. In addition to the closure, the camper drop-off will be moved across the mouth of Muir Inlet to Sebree Island. Campers are reminded that bears range widely throughout the park and that bear-human conflicts can occur anywhere. Two important keys to minimizing the potential for conflicts include storing food and attractants properly and keeping control of gear and property at all times. Please report all bear encounters to the Visitor Information Station. Visitors to Glacier Bay National Park & Preserve are advised to contact the park's Visitor Information Station (907-697-2627) for the most current information regarding bear incidents in the area.
Last updated: April 14, 2015