Whale 68 Articulation Blog Archive - Phase 1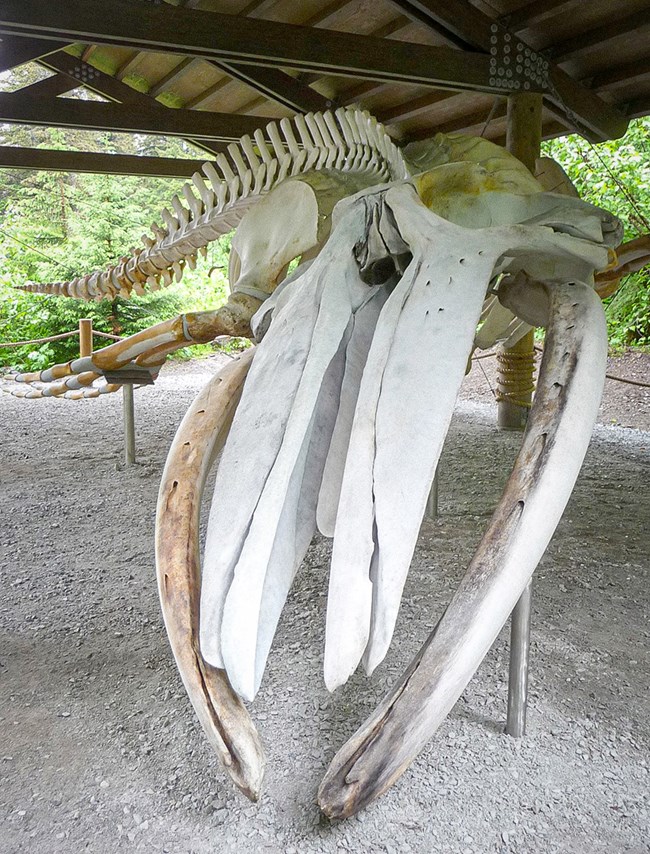 Follow the Journey of Whale 68, aka Snow
Phase 1 - Final cleaning, repair, fabrication of skeleton
This page contains the many blog posts written by NPS Rangers that followed the effort to permanently display and commemorate this incredible animal at Glacier Bay National Park's headquarters in Bartlett Cove. This page contains blog posts from
Phase 1
of the project only.
Click here to read Phase 2.
---
Near the top of this page, you will see the first blog post introducing the Whale 68/Snow articulation project. The blogs will continue chronologically downward on the page, with the final blog post at the very bottom of the page.
Use the
Table of Contents
below to navigate to individual blogs.
---
Whale #68 is on display in Bartlett Cove today, where visitors near and far can visit Snow and see her immense size and beauty.
Online, read more about Snow's journey from discovery to display.
Jump to Phase 2
Click below to read the phase 2 blog posts from the Whale 68 Blog Archive.
Read Phase 2 here

---
September 11, 2012
Meet Whale #68, Also Known As Snow
Blog Authored By: Ranger Kelly
Meet Whale #68, also known as "Snow." When first photographed by pioneer whale researcher, Charles Jurasz in 1975, the white spots on her tail flukes helped give her that name. She was an amazing marine mammal that frequented the waters of Glacier Bay and Southeast Alaska for over 26 years until her untimely death in 2001. On July 16, 2001, park researchers found her floating "belly up" near the mouth of Glacier Bay. Six days later, a necropsy revealed she had received a severe blow to the right side of her head, indicating a fatal collision with a large vessel, later determined to be a cruise ship. Fortunately, she probably died instantly.
Through her untimely death, the scientific community has learned much. And soon, park visitors and local communities will also have the opportunity to share in her story and be a part of giving her a voice again.
Over the next year, Glacier Bay will partner with professionals to do the final cleaning, repair, fabrication and articulation of Snow's bones. Once on display, Snow will be one of eighteen humpbacks on display in the world - the second largest at 45 ft. long!
We invite you to come along with us on the journey through weekly blog posts and a web page dedicated to Snow's story.
Check out our Whale 68 Project Webpage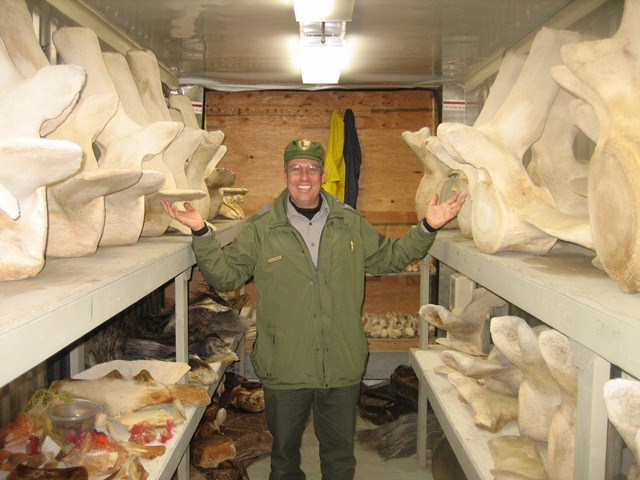 ---
September 18, 2012
Phase I - Cleaning Bones
Blog Authored By: K. VandenBerg
Here we go! Our "Whale 68 Articulation Project" is finally underway. Over the past 11 years, park staff and volunteers have spent over a thousand hours flensing and cleaning her bones in hopes of one day putting her back together for education. This has been no easy task as whale bones are big, heavy, and very greasy. But over time, and by using many different methods, the bones are now ready for final cleaning and repair.
In April, the park hired two Whale Education Specialists to dedicate the time needed to get Whale 68's bones from storage to display. Her enormous skeleton will be put back together in two stages, we call them Phase I and Phase II. Phase I is the final cleaning, repair, and fabrication (replacement) of the skeleton. Phase II is the articulation and display.
Phase I "officially" began last week with the award of contract to Dan DenDanto of "Whales and Nails." He will be traveling to Glacier Bay this week to begin the process of transporting Whale 68's bones to Maine for final cleaning and restoration. Dan has been cleaning, articulating and restoring whale skeletons professionally since 1993 - www.whalesandnails.com . The park is very excited to have Dan join our Whale Team!
Over the next two weeks, the bones will be inventoried and carefully packed into trucks, ferried to Juneau then Bellingham, then driven across the country. It will be a long journey, but we're sure Dan will be sharing her story along the way!
Stay tuned as we have fun with local students tomorrow with an on-site field trip. We are going to be pulling bones out of the ocean
Check out our Whale 68 Project Webpage!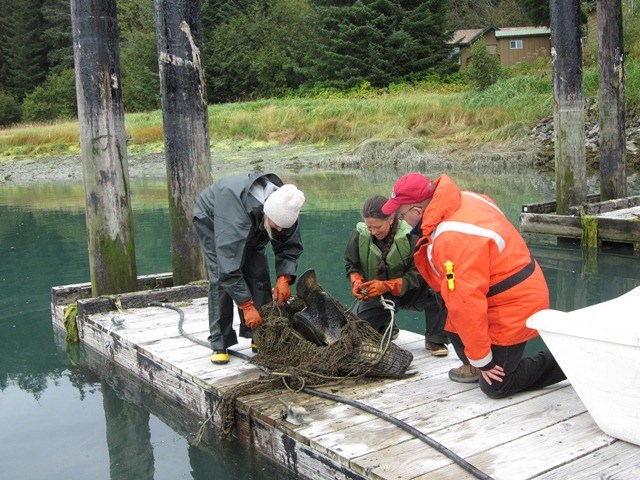 ---
September 19, 2012
Local Students Learn About Whale 68
Blog Authored by: Ranger Kelly
This afternoon, local high school students joined the Whale Education Team for some fun and learning in Bartlett Cove. They gathered in the resource management conference room to learn about the life history of Whale 68 and take a look at the timeline for the Articulation Project. After they all became experts, rangers took them down to the dock where they pulled two bags of Scidmore Cut whale bones from the ocean. The students were amazed by the variety of marine organisms that came up in the nets with the bones.
However, some were not too thrilled by the smell!
The Scidmore bones were obtained from a whale that died in Glacier Bay in 2010. Park biologists thought that maybe some of her bones could be retrieved and become replacements for the missing bones of Whale 68. After comparing the bones, however, it was apparent that they would probably not work. Even though the whales were similar in length, they were very different in age. The bones from the younger whale were much smaller in size. The park's project contractor, Dan DenDento, will make the final decision when he arrives this week to evaluate the skeleton. He may be able to "build" upon one of the Scidmore bones to replicate a neighboring bone in Whale 68.
The students had a "whale of a time" and look forward to the next program scheduled for early October.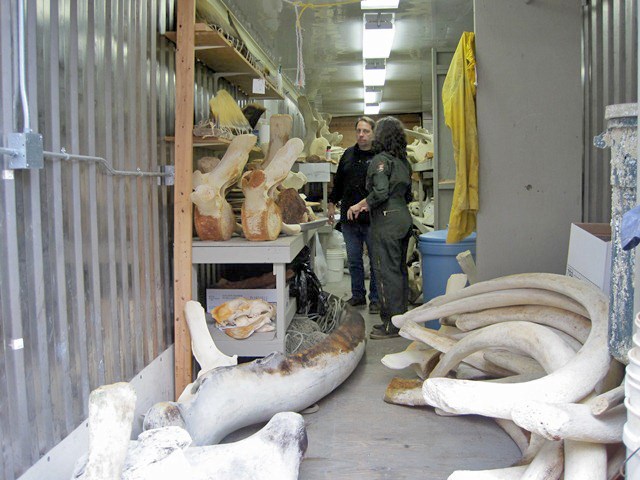 ---
Septmber 26, 2012
Dan DenDanto, Of Whales & Nails Arrives in Glacier Bay
Blog Authored By: K. VandenBerg
Thursday, September 20
Sometimes the weather just doesn't cooperate in Southeast, AK. Our contractor, Dan, had the opportunity to experience this first hand! After traveling for two days from Maine, he quickly had to slow things down upon arriving to Juneau. He had finally reached the end of jet service and had to wait for a small prop plane to fly him to the small "bush" community of Gustavus. Fortunately, the weather cleared just in time for him to make it to Glacier Bay by early afternoon. We were all so happy when he landed! His first words when he arrived were, "Wow! That was quite a commute!"
Today began the first step in packing and moving Snow's bones. Dan presented a plan of action to inventory, move, and pack all the bones into an 8 ft. x 20 ft. U-Haul truck. Next, he spent some time collaborating with the maintenance staff to secure the equipment that would be needed to move Snow's massive skull from its storage shed to the truck. With a plan in place, it would be much easier to move it when the time came.
Much of the afternoon was spent getting Dan orientated to Bartlett Cove and the community of Gustavus. He will begin his initial inventory of the skeleton this evening and early tomorrow morning. Dan will leave on Friday and return next week with all the necessary packing materials, wood, and U-Haul truck to carefully pack Snow's bones for transport to Maine. Once in Maine, the big job of degreasing, repairing, and fabricating new bones will begin. Stay tuned as we load Snow's skull and pack up all her bones next week.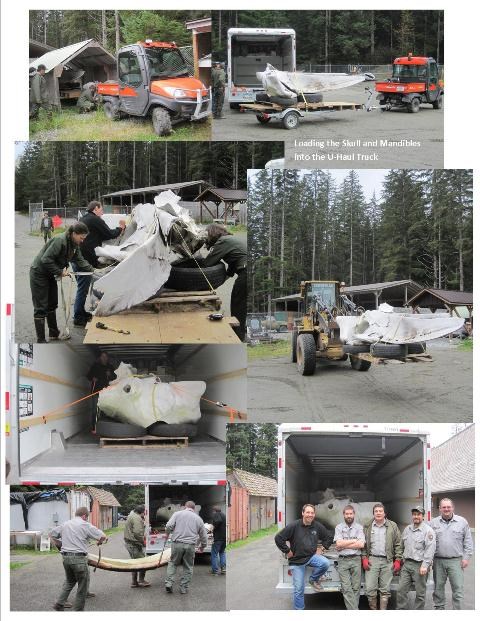 ---
September 26, 2012
Loading the Skull and Mandibles
Blog Authored By: K. VandenBerg
Monday, September 24
Morning
Dan is back! He arrived this morning with Snow's "chariot" (the U-Haul truck) from Juneau. The 8 ft. x 20 ft. vehicle will transport the entire skeleton from Glacier Bay to Maine this Thursday. The goal for this afternoon is to get the fragile skull and mandibles loaded in the truck. Once the largest pieces of the skeleton are loaded, Dan will build a wooden box, or framework, around the skull to support it while in transit. The sturdy framework will also serve as shelving for most of the vertebrae.
Afternoon
What an event! This afternoon Dan and park staff moved the skull from storage to the truck. Snow's skull had been resting on a boat trailer under a temporary shelter for years. Careful planning had to be done. Snow's skull was very fragile and broken in many places. It had also been weakened by sun damage. Dan and park staff took great care to secure the skull to the pallet before moving. This helped to prevent possible shifting during the short transport from the shed to the maintenance yard. Finally, after everyone was satisfied, the skull was ready to be loaded. With care and precision, the forklift lifted the skull right into position. Success!
The enormous mandibles came next. They had being stored on the floor of the bone cache for many years. Any time you entered the cache, you were always one step away from these huge bones! It took a crew of 5 strong people to move and lift them into the truck. Success!
Dan will continue to work into the evening inventorying and packing bones. We will continue to post updates during this process.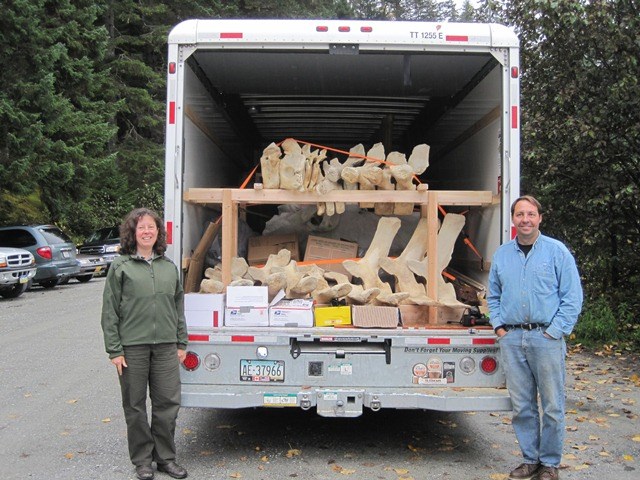 ---
October 01, 2012
It's Snow Hard to Say Goodbye
Blog Authored By: K. VandenBerg
Success! Eleven years of hard work and perseverance pay off! Snow's bones are finally on their way to Maine. Looking back, the two days packing seemed easy compared to figuring out the travel logistics. It took Dan's crew some creative thinking and lots of research to find the most practical way to get a whale from Alaska to Maine! How would YOU transport a huge humpback whale skeleton to YOUR house? They came up with a very creative itinerary: pack the bones in a U-Haul, ferry from Gustavus to Juneau, ferry from Juneau to Bellingham, then drive thousands of miles overland from the coast of Washington to the coast of Maine. She should arrive sometime by mid-October.
Although Snow moved from one storage container to another, this mobile container will bring her bones closer to articulation and an interpretive display that will tell her story.
Once cleaning and repair begin, "Whale and Nails" will be sending weekly updates along with photo documentation. We look forward to seeing the progress. Stay tuned!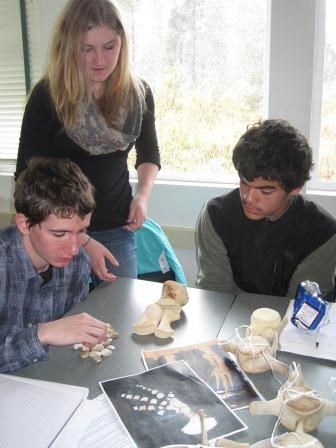 ---
October 18, 2012
Whale 68 on the Move - By Sea
Blog Authored By: K. VandenBerg
Snow is currently on the Alaska Marine Highway traveling south. She will arrive in Bellingham this week and then begin her overland journey to Maine. We wish safe travels to the Whales and Nails team.
With Snow's bones in transit, Ranger Kelly decided to play with killer whale bones for the day! Local high school students from Gustavus were afforded the opportunity to learn about cetaceans by examining the flipper bones and vertebrae of a rare killer whale calf specimen. The calf, a small female, died in 2006 as a result of fishing gear entanglement. She will be articulated in the community at a later date and provide a world class interpretive display for park visitors.
Using real killer whale bones and sketches of human hands, students compared whale flipper bones to the bones in their own hands. Students were able to see the similarities in structure and discuss the differences in function. The fossil record has increasingly linked whales to earlier land dwelling mammals via several physical characteristics: bones in their flippers which resemble forelimbs of land mammals, pelvic bones, vestigial hind limbs, vertical up and down movement of the spine which resembles a running terrestrial mammal, and a blowhole to breathe air into the lungs.
This experience helped the students learn about the process of science - how to recognize the role of predictions and how they lead to tests which can challenge the validity of a hypothesis. Students were engaged and enjoyed the opportunity to solve a few pieces in the evolutionary puzzle!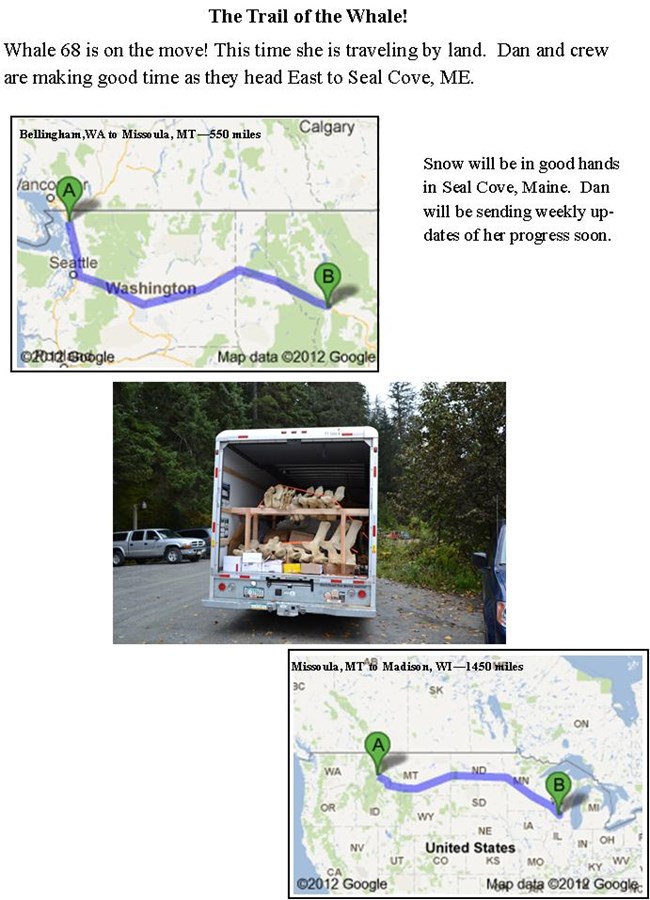 ---
October 22, 2012
Whale 68 Is On The Move - By Land
Blog Authored By: K. VandenBerg
Trail of the Whale
Whale 68 is on the road again! Dan and Snow arrived in Bellingham, WA via Alaska Marine Highway on Friday, October 19th. He said, "The trip was smooth, though wet - rain and fog. We did have orca, humpback, white-sided dolphin and albatross sightings. Not bad for a rainy boat ride."
An early morning arrival gave them a good start to begin their journey east - they traveled 550 miles to Missoula, MT. The next two days were spent coaxing the U-Haul truck up and over the Continental Divide - driving a total of 1450 miles to Madison, WI. Presently, Dan is almost home!
When Snow arrives, her bones will be carefully unpacked and kept secure in the Whales and Nails workshop. Dan will begin the long process of cleaning, repairing, and replacing her bones for articulation and display. His first priority will be to evaluate the broken skull and make recommendations for repair. This will be the most time consuming repair that Dan will make and maybe one of the most important. It will help the park tell the story of Snow's death and her legacy.
Stay tuned for more updates and photos as Dan begins Phase I of The Whale 68 Articulation Project from his Whales and Nails workshop!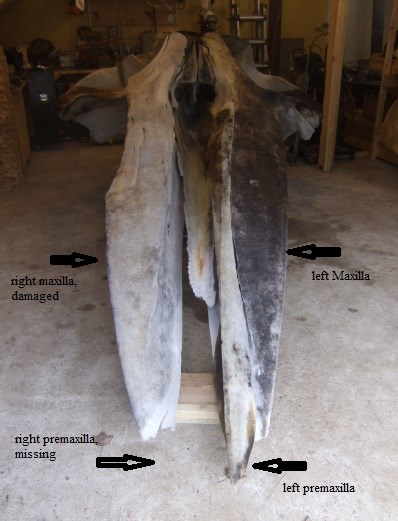 ---
December 6, 2012
Snow Secured Just Before Hurricane Sandy Arrives
Blog Authored By: K. VandenBerg
Dan and his team arrived home just in time to unload the cargo and secure it safely in his facility before the onset of Hurricane Sandy. Fortunately, 'Whales and Nails' weathered the storm and only lost power for a short time. Our thoughts go out to those who suffered personal loss during this natural disaster.
After the weather cleared, Dan was able to take preliminary weights of all the bones. He was able to weigh most of the bones "in house" but had to take the skull and mandibles to a local large truck scale to obtain their weights! What do you think a 45.5 foot humpback whale skull might weigh? Can you believe Snow's skull, including both lower jaw bones, weighed a total of one thousand three hundred and twelve pounds! That's just the skull! One can begin to understand the importance of obtaining accurate weights and measurements when charged with designing a building to showcase such a massive whale.
After weighing the bones, Dan began the process of assessing the fragile, broken skull so park staff could get an idea of the extent of damage and potential repairs. Decisions will have to be made concerning the extent of repair and specifics like color, texture, and material. Because Snow's skull was damaged as a result of a cruise ship strike, there were many small and broken fragments. Arranging the pieces was much like putting a puzzle together. As a park visitor, how would you like to see the skull repaired? Should the repair reflect the tragedy or should it be repaired to it's pristine condition?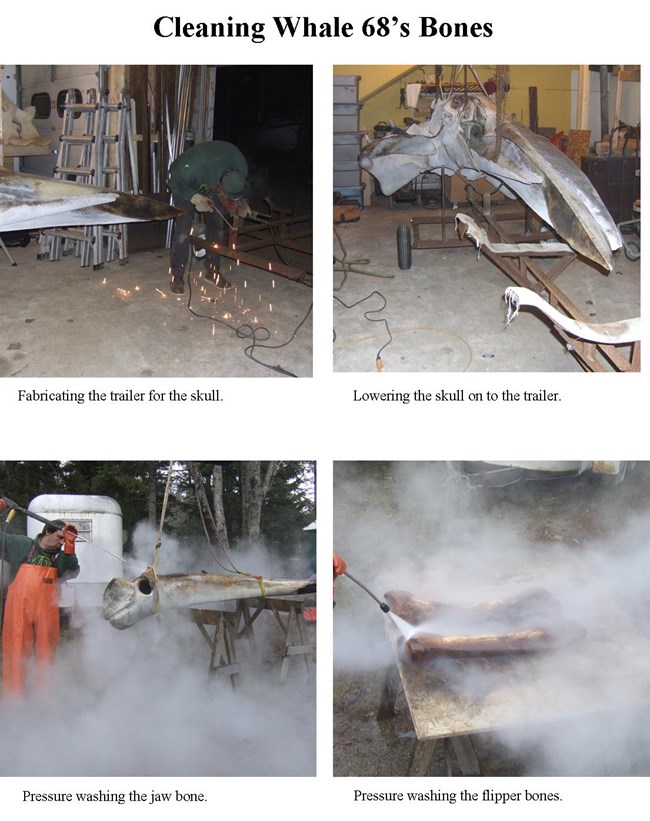 ---
December 18, 2012
Cleaning Whale 68's Bones
Blog Authored By: K. VandenBerg
The arduous task of removing the remaining stubborn oils from Whale 68's bones has begun. Beginning with the smaller flipper bones, caudal vertebrae, and massive mandibles, the oiliest bones are being tackled first.
How do you clean oily humpback whale bones? According to Dan DenDanto and the 'Whales and Nails' team, you first use a pre-soak pressure wash and boil the heck out of them! Well, not exactly because this would compromise the bone making it very weak. A lower temperature, sustained over a short period of time is much better. "Before the bones enter the wash tanks, an attempt is made to remove as much of the surface grease as possible in order to prevent the wash water from becoming prematurely saturated with oil. The steam pressure washer utilizes super-heated water and detergent at variable pressures up to 2000 psi." Each of the bones receive this treatment between each hot water simmer. "Some of the bones will be simmered and washed this way four or five times." It is important to change the wash water when it becomes oily. As Dan states, "My grandmother always used to tell me you can't clean things with dirty wash water!"
Whale 68's massive skull will need the same treatment, but is a great deal more challenging than some of the smaller bones. Dan had to build a rack that could be used not only store the skull, but also move it around. Weighing almost 800 lbs., it is not easy to maneuver. In order to accommodate the skull, Dan made modifications to a trailer that had previously been used for a 50 ft. sperm whale. "In particular, it was necessary to fabricate armatures which would support the asymmetric weight of the skull as much of the right side is damaged, or fragile, due to the trauma of the ship strike. " The trailer Dan modified serves several functions. It provides a storage base for the skull and becomes a dolly to move the skull around the shop and to/from the boiling tanks. Dan also had to fabricate a dolly for the enormous lower jaws - each one weighing 260 lbs! Not only is Dan an expert in every aspect of whale articulation, he's also quite the welder, carpenter and engineer!
Stay tuned for updates as the 'Whales and Nails' team continues to clean and repair the skeleton over the next few months.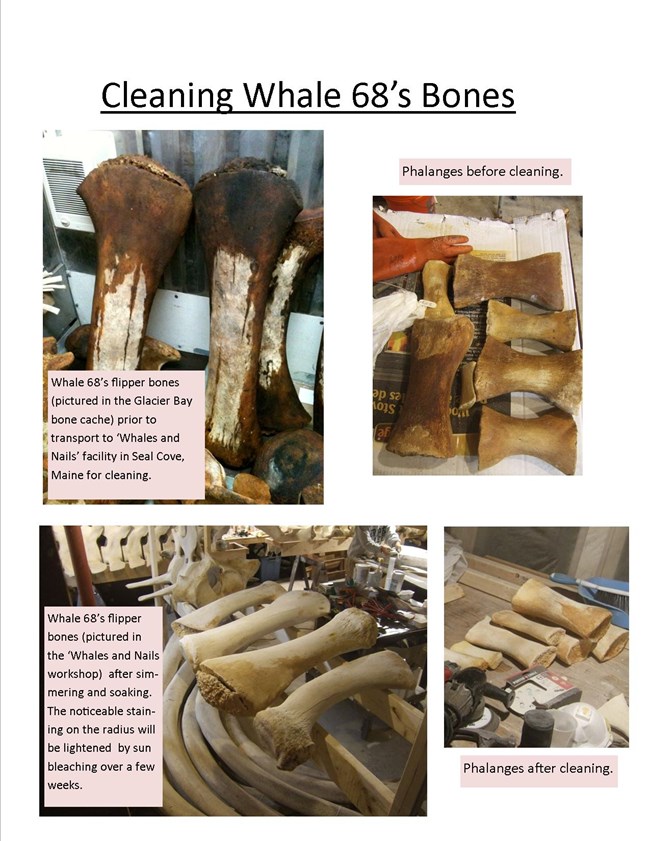 ---
March 19, 2013
Simmering and Soaking Whale Bones
Blog Authored By: Kelly V.
Over the past several months, Dan DenDanto of 'Whales and Nails' has been busy cleaning, repairing, and fabricating new bones for Whale 68's skeleton. He has been keeping the park updated with progress photos and information. These photos are truly amazing and reveal Dan's passion for his work and depth of knowledge of this endangered species.
Dan and his crew, two graduate students, Lindsay and Courtney, have been working all winter in his basement workshop, but with warmer temperatures they will be able to move some of their work outside. The sun will be a welcome relief and important to the cleaning process by organically bleaching the bones. Once the skeleton is completely cleaned and repaired, it will be articulated and displayed in Glacier Bay National Park. Dan will begin articulation in early April 2013. The target date for installation is Fall 2013.
How does one begin to clean smelly, oily whale bones? Dan uses three methods for the final cleaning of Whale 68's bones - pressure washing, simmering, and soaking. First, he removes superficial surface mold, dirt and oil, using a hot water pressure washer. This type of cleaning is done outside using protective gear and a sturdy surface to stabilize bones. Once pre-treated, the bones go into a 140-170 degree hot water tank with a mild degreaser. This will pull grease from the inside of the bone and requires Dan to be somewhat of a "babysitter." He states, "When you are cleaning them (the bones) and you over process (boil) them, you compromise the proteins on the enamel portion of the bone and once you eat that, you will get into the cortex of the bone and this is very soft. You could gouge it out like it's a soft cork." This can be tricky because in order to regulate the temperature of his tanks, he uses a wood boiler - too much heat means over processed bones and too little means the oil is not released. Dan must be diligent in maintaining a 140-170 degree temperature over a 2-4 day time period. Small bones like the phalanges (finger bones in the flippers), may simmer for 2-3 days, while the enormous skull may simmer for up to 4 days.
Once most of the oils are released, Dan will soak the bones at room temperature in a 15% hydrogen peroxide solution. This will brighten them up and give them their natural, creamy bone color. The length of the soak depends on the color, staining and density of the original bone - bigger bones may soak as long as 5 days, the smaller bones 1-3 days. Every couple of days, Dan rolls the bones over to check on their progress. When they finally come out of the soak tank, they are placed in the sun for natural, organic bleaching.
The pictures below illustrate these processes. We think you will agree that Dan and his team have done an amazing job cleaning Whale 68's bones for articulation!
You can follow Dan's progress and learn how he is repairing Whale 68's bones in future blog posts.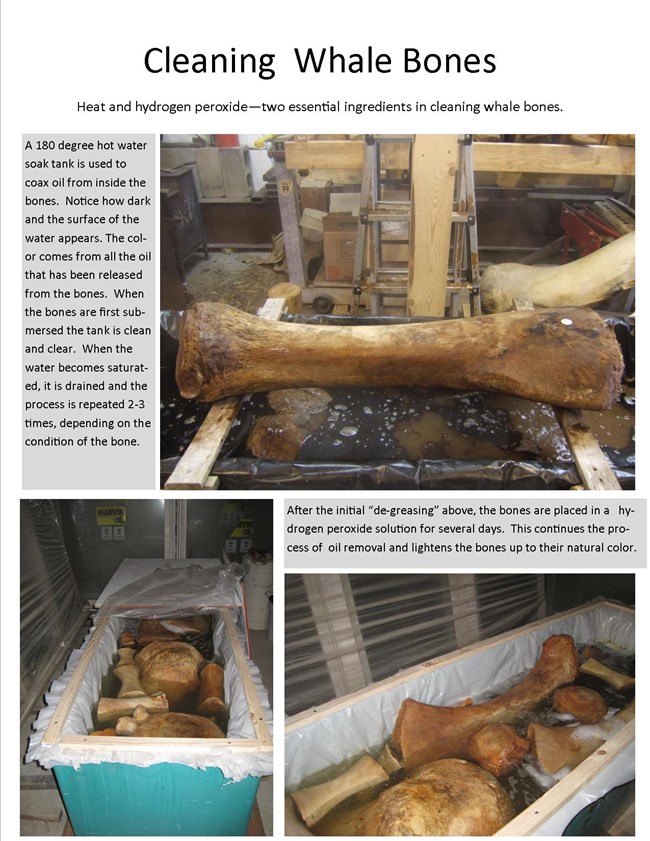 ---
March 25, 2013
The Cleaning Tanks
Blog Authored By: K. VandenBerg
'Whales and Nails' uses two different treatments to coax oil from bones and brighten them up to their natural color. First, bones are immersed in a "hot" water tank (180 degrees) for several days to pull grease and oil from inside the bones. Next, they are placed in a hydrogen peroxide "soak" tank for a few days which allows the degreasing process to continue and brightens them up to their natural, creamy color. Both tanks pictured below were constructed by Dan for this purpose. While these tanks had the capacity to hold most all of Whale 68's bones, a much larger tank had to be constructed for the skull. On the next blog post, we will take a look at how Dan actually built a large soak tank AROUND Whale 68's skull! Keep in mind that Whale 68 is a very large humpback whale, measuring 45.5 feet in length! Her skull alone measures 14 feet in length!
---
March 27, 2013
Constructing the Skull Cleaning Tank
Blog Authored By: K. VandenBerg
How do you clean an oily, fragile 14 ft. long humpback whale skull? Very carefully! In order to accommodate the enormous skull, Dan and his crew had to construct a cleaning tank that was five times larger than any tank they had previously built for this project. The enormous tank was built AROUND the skull with 4 ft. high walls! It was a big job, but necessary.
Building the tank around the skull accomplished several things. First, it allowed the skull to be easily moved from its storage trailer into a hanging position over the tank platform. Dan's goal was to minimize movement of the skull to reduce the risk of further damage. By using straps and a gantry system, he was able to swing the skull from the trailer to the tank platform, located just a few feet away. Second, the gantry provided support for the skull during construction by keeping it just off the tank floor. The gantry also provided support during the soak. And finally, it allowed Dan construct a very large vessel that was mobile.
After four days of soaking at 140-170 degrees, the skull had to be removed from the tank to dry. Dan had to move the tank outside in order to access the heavy equipment he needed to remove the skull. This task was done using an excavator and a very skilled driver! Way to go, Dan! Can you figure out how Dan moved the enormous tank from the garage to the driveway? Think Ancient Egypt!
Whale 68's clean skull is now back on its trailer undergoing repairs for articulation.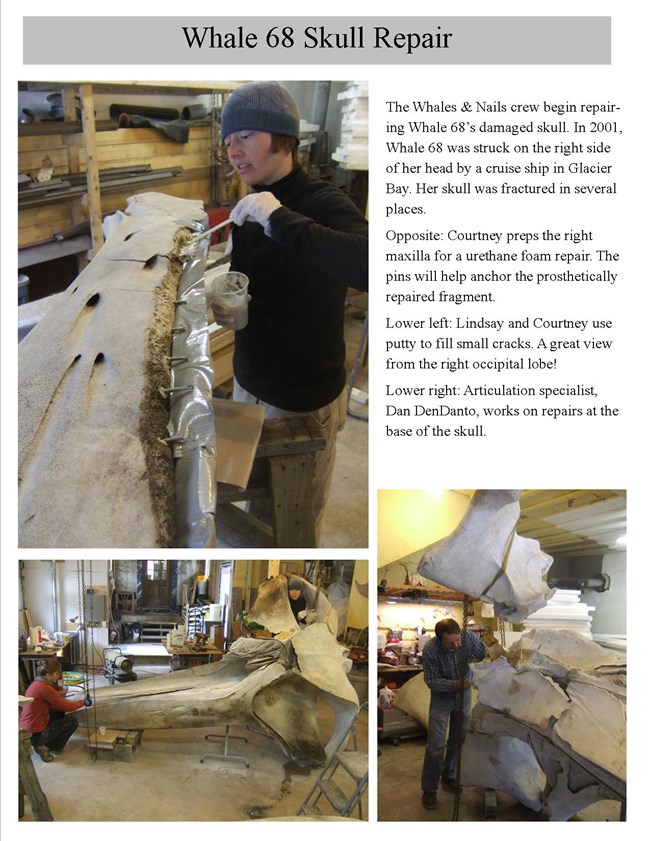 ---
April 9, 2013
Whale 68 Skull Repair
Blog Authored By: K. VandenBerg
When Dan DenDanto of 'Whales and Nails' took on the challenging task of cleaning and repairing Whale 68's skeleton, he knew exactly what he was getting into. Having cleaned and articulated over a dozen whale skeletons prior to Snow, he was well aware of the challenges, especially when it came to repairing the skull.
As a result of trauma from the 2001 cruise ship strike, Snow's skull was broken into three major pieces, with dozens of loose skull fragments ranging from chunks larger than a shoe box, to pieces small enough to fit in one hand. When Dan unpacked the skeleton in his Maine workshop, he counted over 58 individual skull fragments in varying condition, from oily to clean, and from good to cracked or broken. In addition to perimortem trauma, Snow also had various degrees of postmortem trauma that occurred after her death. Some damage was the result of abrasion of bone surfaces against each other, or against another hard surface, while the carcass was adrift or after it was beached. Some postmortem damage was the result of forces exerted on the bone during the retrieval - impressions, or crush damage, from lifting straps. Scavenger damage also occurred, probably by rodents such as squirrels and porcupines. Making repairs to the skull involved using several different techniques.
Dan's desire to use original bone when making repairs required him to be quite versatile in his approach. He used a combination of glue, epoxy putty, and urethane foam to get the desired results. In the photo below, Courtney begins the repair of a long abrasion along the lateral edge of the right maxilla (part of the rostrum). The pins will provide an anchor for the prosthetically repaired piece. Once in place, the prosthetic will be coated with epoxy and painted to match the surrounding bone. Stay tuned for the final result!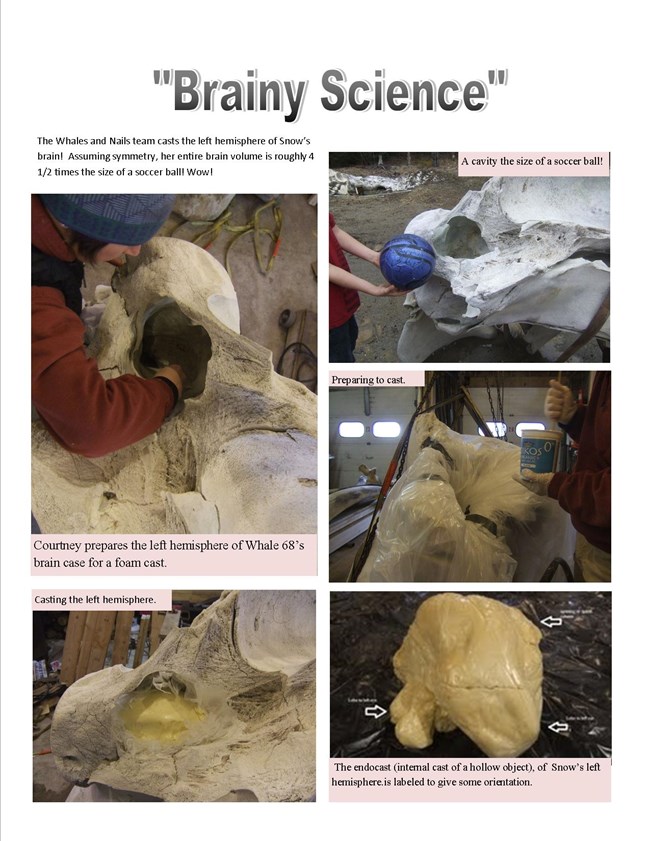 ---
May 1, 2013
A Whale of a Cavity!
Blog Authored By: K. VandenBerg
The 'Whales and Nails' team sure knows how to have fun, and all in the name of science! During final skull repairs, they decided to take a break from "bones" and work on "brains!" The amazingly talented team took advantage of the opportunity to make a model of the left side of Whale 68's brain. Using urethane foam, they created an "endocast" (internal cast of a hollow object) of the left hemisphere. In the picture collage below, Dan has labeled one of the images to give you some orientation - opening to the spinal column, lobe to the left eye, and lobe to the left ear. This could quite possibly be the world's first urethane cast of a humpback whale brain!
How big is a humpback whale brain? Typically, a brain is measured by volume or weight. To estimate the size of Whale 68's brain, Dan lined the left hemisphere with a thin layer of plastic (see photo) and poured a measured amount of water into it until it filled the brain case up. Assuming symmetry, he estimated the total brain volume at 19,400 cubic centimeters, which is equivalent to approximately 5.12 gallons! Wow!
By comparing the relative size of the left hemisphere to an 8" soccer ball, which has an approximate volume of 4,390.7 cubic centimeters, Dan estimates that Whale 68's brain volume is roughly 4 1/2 times the size of a soccer ball! How cool is that?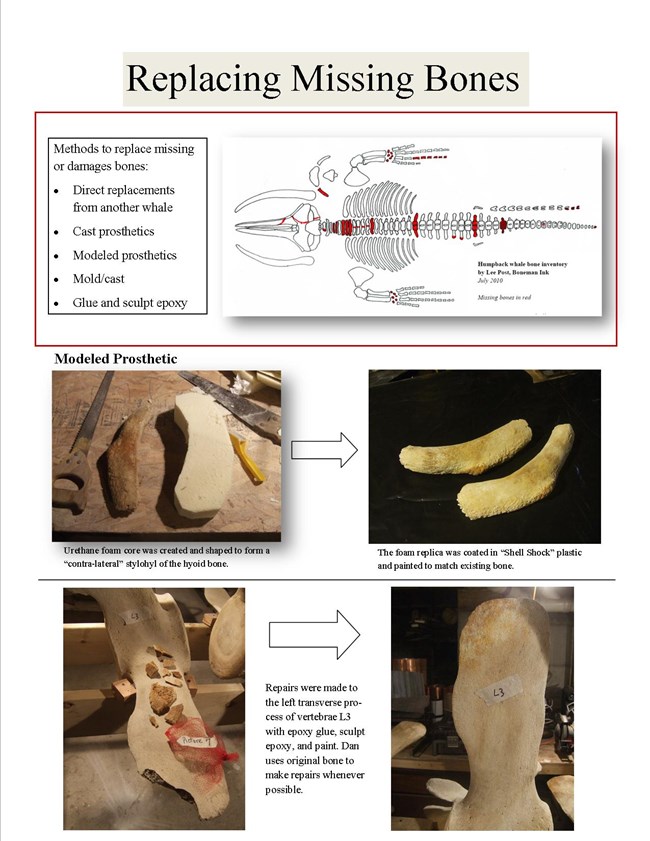 ---
May 28, 2013
Phase 1 Complete! Replacing Missing Bones
Blog Authored By: K. VandenBerg
Phase I is complete! It took six months of professional cleaning and sculpting by the Whales and Nails crew to prepare Whale 68's skeleton for an outdoor exhibit. Every bone received a prescribed treatment depending on severity of oil, staining, and/or damage. Missing bones were fabricated.
Replacements for missing bones were made using several different techniques, including: modeled or cast prosthetics, molding and casting, or glue and sculpt epoxy. Dan and his crew spent hundreds of hours creating new bones for Whale 68's skeleton. Modeled prosthetics were used to form contra-lateral pieces (stylohyl of the hyoid), or for unique pieces such as the two missing vertebrae. It took over 30 hours to create the stylohyl and approximately 45 hours to make one vertebra. How did Dan make a piece of foam look like a real bone? First, a foam plug was made from closed cell urethane foam. Once solid, it was carved into the desired bone shape and coated with "Shell Shock" plastic. Finally it was sanded, tooled, sculpted, and hand painted to resemble the original bone. Cast prosthetics were used to repair several of the spinous processes (tips) of the vertebrae. Dan was able to make a mold of a broken spinous process to create a cast he could us for several broken vertebrae. With some sanding, sculpt epoxy, and paint he was able to fit the cast to the vertebral stump and make a seamless repair.
When a bone had a similar match, like a phalange (finger) bone, Dan was able to make a mold and cast the bone to make a duplicate. Two of the phalanges were created by casting bones for the opposite flipper.
With all the new bones in place, the skeleton was ready for scanning by the Idaho Virtualization Laboratory (IVL). Through a partnership with the NPS, Whales and Nails, IVL, and the National Parks Foundation, Whale 68 was scanned in 3D! Check out the upcoming blog post for more information and cool pics!
Last updated: January 7, 2020